The Truth About Tom Selleck's Marriage To Jillie Mack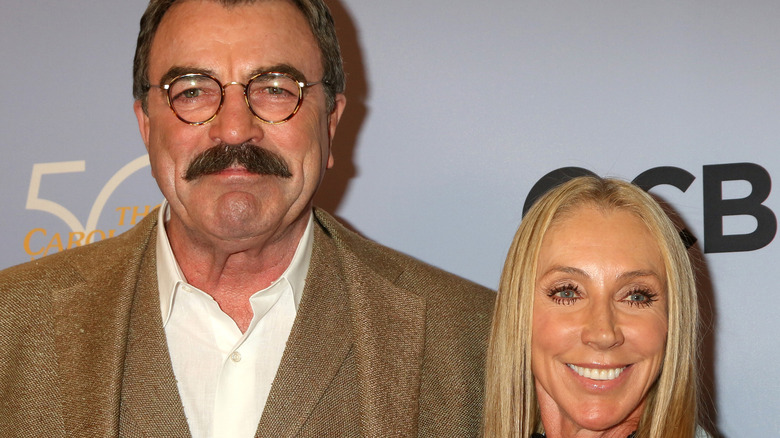 Shutterstock
Tom Selleck and Jillie Mack have one of Hollywood's longest-lasting marriages. The pair got married in 1987 and have been going strong ever since. 
Selleck met Mack while working on-location in London. He attended several performances of the musical "Cats," which a then 25-year-old Mack happened to star in. The pair met, began dating, and got married in Nevada in secret to the shock and delight of family and friends. 
Their wedding officiant, Rev. David Immel, told People that Selleck and Mack were behaving like nearly every other couple he had performed marriages for. "They were both nervous, like any other couple about to get married," he recalled. "He was very concerned that the service be heartfelt, very concerned for her that the service be meaningful. He is a very warm, caring man."
Their daughter, Hannah Selleck, was born a year later, and Selleck immediately decided to slow down his career to spend more time with his family. He told People, "I quit 'Magnum' to have a family. It took a long time to get off the train, but I try very hard to have balance, and this ranch has helped me do that."
Tom and Jillie make a great team
Shutterstock
One reason their marriage has lasted so long seems to be that they truly work as a team. 
Tom Selleck told New York Daily News that they loop each other in on every decision they each make. "We don't do anything or make any decisions without consulting each other," he explained. "And if one of us makes a decision involving Hannah, the other parent completely supports that position, even if you disagree."
While Selleck is happy to discuss his marriage from time to time, it's only to a point. He once explained to People that it's important to him to keep his private life truly private. He noted, "I've found it very difficult to expose my private life and live with it. There are certain things I'm just not comfortable with." Selleck and his wife Jillie Mack even made sure that their wedding was super private. Hello! Magazine reports that the only photos taken at their wedding were polaroids, which they did on purpose so photos of the day couldn't be leaked to the media.