The Truth About Amy Schumer's Relationship With Her Sister Kim Caramele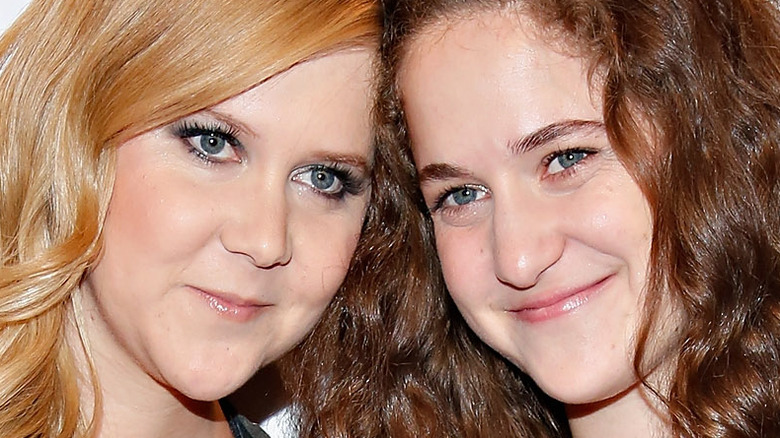 Cindy Ord/Getty Images
Since the premiere of her show "Inside Amy Schumer" in 2013, comedian, writer, and actress Amy Schumer has basically become a household name. Schumer's frank and personal way of discussing sex and gender — and pretty much everything else under the sun — has struck a cord with many. She even brought her personal experiences to the writing of her 2015 film "Trainwreck," including a storyline about her father, Gordon, having multiple sclerosis, dating a wrestler, and being stoned in the midst of a serious relationship conversation (via PopSugar).
Another aspect of "Trainwreck" that's real, Schumer's relationship with her younger sister, Kim Caramele. Despite the sister's closeness, the two had fights that resembled the ones Schumer has in the film with Caramele's on-screen surrogate, played by Brie Larson. In one memorable scene, Schumer and Larson's characters argue about the latter's marriage to Tom (played by Mike Birbiglia).
"I think that [scene] comes from some part of myself for sure," Schumer shared back in 2016. "We grew so close our whole lives. So there is a little bit of a feeling of abandonment when she found someone and was like, 'I want to share my life with you.' I was like, 'I thought we were sharing our lives with each other.' This is real subconscious sh*t, you know?" (viaYourTango).
The sisters are also co-workers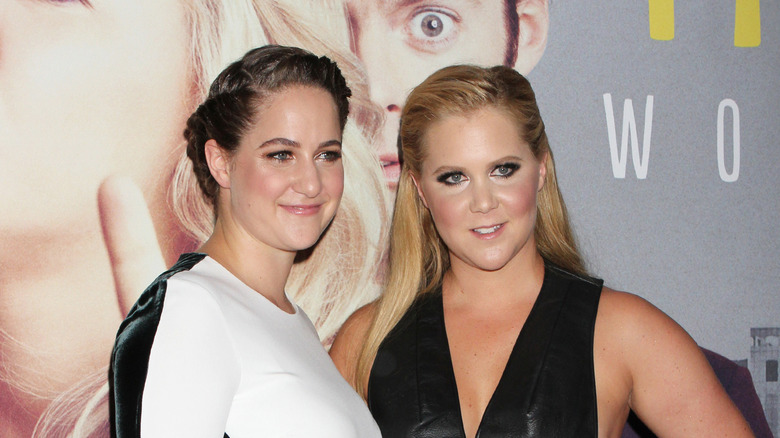 Shutterstock
Despite whatever kind of tension the sisters have had, the two remain close, working together behind-the-scenes on Schumer's projects (via IMDb). Caramele has served as a writer and producer on "Inside Amy Schumer" and has produced Schumer's other projects, like "Amy Schumer: Live at the Apollo" and "Amy Schumer: Growing." Caramele has also pitched in during instances where she might not get her full due, serving as an uncredited co-writer on Schumer's films "Trainwreck" and "Snatched" (via CinemaBlend).
With the debut of Schumer's docuseries — which displays the comedian's struggles with her pregnancy — fans had the opportunity, for the first time, to see Schumer and Caramele's relationship up close, with Caramele joining Schumer on tour.
And while Caramele's Instagram feed is mostly pictures of her adorable dogs (can you blame her?) she has also carved out some space for Schumer and her son, Gene. In December 2019, Caramele posted a picture of the trio and captioned it "Hey hey we're the monkeys #newbandalert."
Whatever Schumer chooses to do next with her career, at least she knows her sister will be by her side.