Ted Cruz's Latest Tweet About The Military Has The Internet Seeing Red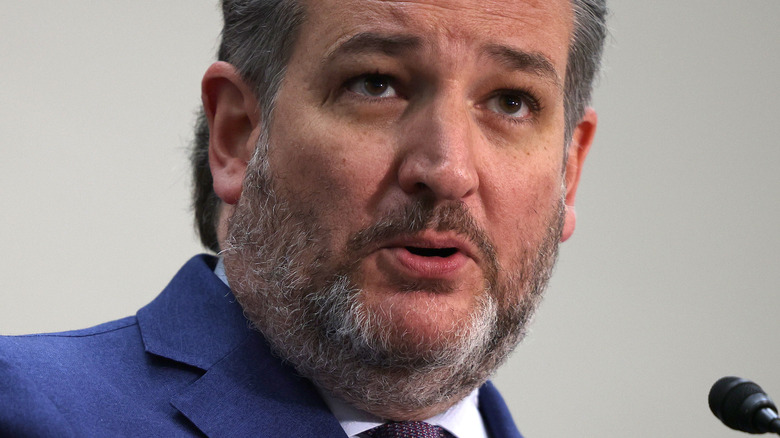 Anna Moneymaker/Getty Images
Social media has taken up arms against Texas GOP Sen. Ted Cruz once again. "Ted Cruz is on a roll today, like if you took a trashcan on fire, put it on its side, and rolled it downhill into a lagoon," tweeted American attorney Seth Abramson, while Vox journalist Aaron Rupar said, "I expect less than nothing from Ted Cruz, but retweeting Russian military propaganda videos is a new low."
The latest barrage of angry tweets fired against Cruz was triggered by what can only be described as an own goal, when he shared a TikTok compilation video comparing the Russian military to that of the United States. The first, displaying male soldiers and guns, the second, depicting a woman soldier. The caption: "Holy crap. Perhaps a woke, emasculated military is not the best idea...."
The internet gave the senator no mercy. One veteran activist tweeted back: "You were an abled-bodied 20 year-old during the buildup to the Persian Gulf War. Did you take a few months to enlist in the Reserves? No, you finished your degree at Princeton. You were 30 on 9/11. Did you enlist? Of course not. Sweetie, you're a coward and hypocrite."
Cruz's comments did not sit well with social media
Others didn't just take aim at Ted Cruz for his military service, or lack thereof, they also baited him for staying true to former President Donald Trump. In a series of tweets, historian and New York Times bestselling author Kevin Kruse fired back: "Also, I'm not sure you want to be calling the military 'emasculated' after you rolled over for the man who mocked you as Lyin' Ted, called your wife ugly, and said your father killed JFK," even as he warned Cruz against sharing what he called Russian propaganda videos. 
Another on Twitter pointed out Cruz's voting record which showed the senator voting to lift sanctions against Russia during Trump's term: "Holy crap. Perhaps TREASON is not the best idea.. Why did YOU vote to LIFT RUSSIAN SANCTIONS during Trump's term!?" the user wrote, while tagging the Democratic Party, the Justice Department, and the FBI. 
To put some perspective on the video, one social media warrior spoke up in the defense of the woman soldier that Cruz had taken a swipe at: "I want to emphasize that Corporal Malonelord is a real person. She's an Air Defense Enhanced Early Warning System Operator. She is on active duty and is sharing her story to inspire others to volunteer to serve their country. CPL Malonelord does not deserve your mockery" while another said, "Attacking an active duty service member on Twitter because she doesn't fit your narrative — very classy of you, senator. US Army Corporal Emma Malonelord is more of a patriot than you will ever be, Ted."