Prince Harry Speaks Out About How Meghan Markle Revealed She Was Suicidal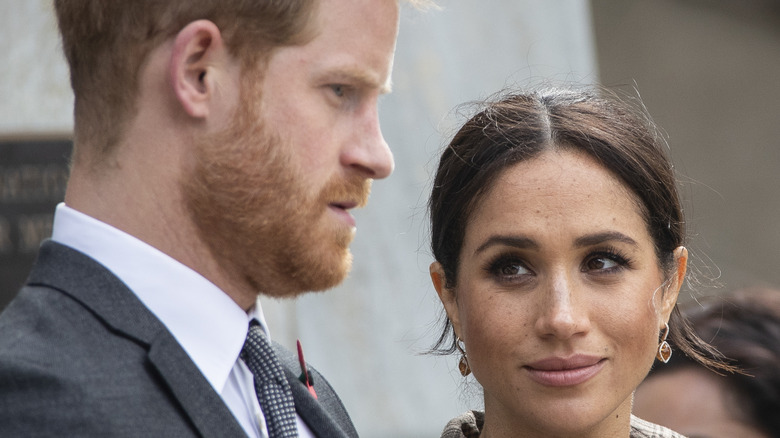 Pool/Getty Images
Prince Harry and his wife Meghan Markle have been speaking out about mental health and the stigmas that surround it. During the couple's surprising tell-all interview with Oprah Winfrey in March 2021, the Duchess of Sussex made a bombshell statement about her own mental health struggles (via The New York Times). Meghan told Winfrey that she was in a bad place after her royal wedding to Harry. In fact, she struggled with suicidal thoughts. However, Meghan said Harry helped her through the darkness.
"I just didn't want to be alive anymore, and that was a very clear and real and frightening constant thought. And I remember — I remember how he just cradled me," Meghan said of the difficult time. Meghan went on to explain that she asked senior royals about the possibility of admitting herself to a hospital for care, but was shot down because it "wouldn't be good for the institution."
Meghan detailed an incident in 2018 while she was pregnant with her son, Archie, where she attended an event at the Royal Albert Hall even though Harry had advised against it. Meghan claimed that she went to the event because she was afraid of what she would do if left alone. The Duchess added that when the lights went down she began to cry. Now, Harry is opening up about his wife's battle with mental health issues.
Prince Harry spoke about Meghan Markle's mental health in his new television series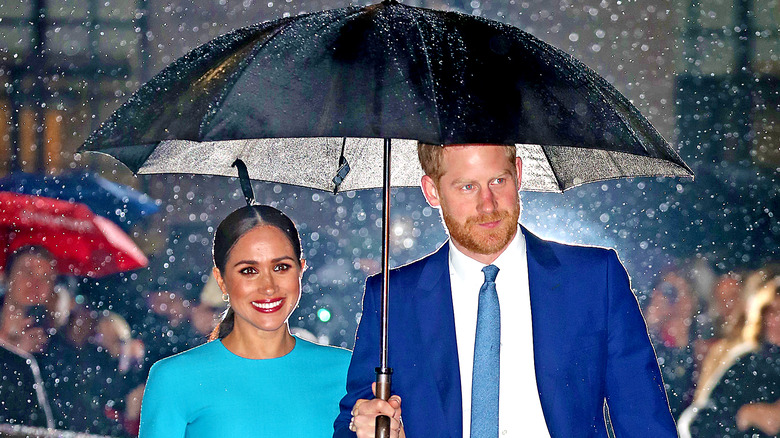 In his new television series, "The Me You Can't See," Prince Harry detailed the scary time when Meghan Markle was struggling with suicidal thoughts. Harry admitted on-camera that Meghan had opened up to him about her depression after their wedding and while she was pregnant with their son, Archie (via the Daily Mail). The Duke of Sussex said that Meghan eventually told him about her suicidal thoughts, but revealed that there were two people stopping her from taking her own life.
"The thing that stopped her from seeing it through was how unfair it would be on me after everything that had happened to my mum and to now to be put in a position of losing another woman in my life — with a baby inside of her, our baby," Harry said. "The scariest thing for her was her clarity of thought. She hadn't lost it. She wasn't crazy. She wasn't self-medicating, be it through pills or through alcohol. She was absolutely sober. She was completely sane. Yet in the quiet of night, these thoughts woke her up," he added.
For his part, Harry admitted that he felt "somewhat ashamed" by how he handled the situation, revealing that the two were forced to cut the important conversation short and head to the charity event. "There wasn't an option to say, 'you know what, tonight, we're not going to go' because just imagine the stories that come from that," Harry said, adding that he felt "angry" to be "stuck" in that situation. Fans can see more by streaming Harry's new mental health series on Apple TV+.