The Main Differences Between Kate And Meghan's Fashion Choices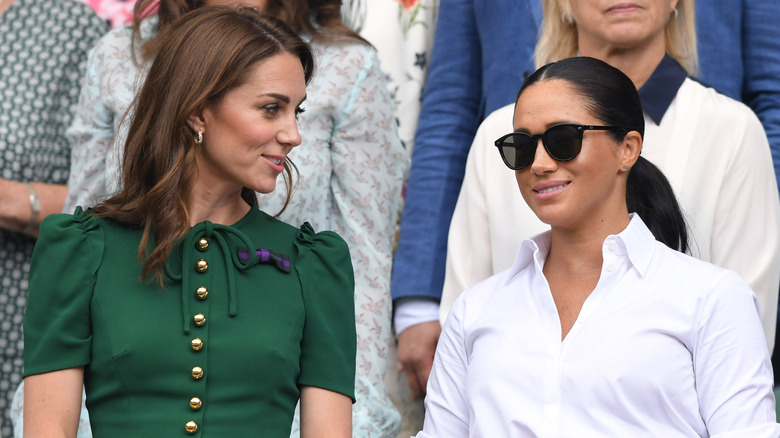 Karwai Tang/Getty Images
As people in the public eye, nonetheless in or associated with the royal family, Kate Middleton's and Meghan Markle's fashions are always sure to be discussed. There's Kate's wedding dress and her outfit for the late Prince Philip's funeral, and there's Meghan Markle's expensive outfits and her royal wardrobe. Still, the two women's styles aren't the same despite both marrying into the royal family. After all, there isn't just one way to dress or present yourself, even in the royal family. 
In 2018, Business Insider declared that Meghan Markle "became an instant fashion icon" after becoming engaged to Prince Harry and that Kate Middleton has been "hugely influential in shaping fashion over the past decade." Both Meghan and Kate attend high-profile events such as film premieres and charity events at which they must dress to impress. Business Insider noted that Kate often goes for looks that are simple yet elegant, while Meghan's looks tend to be bolder, though she can be seen in simpler looks at times as well. Here, they cite Meghan in a simple, black dress on one red carpet while on another she wore a long, bold blue mermaid dress.
Here are the key differences between Kate's and Meghan's styles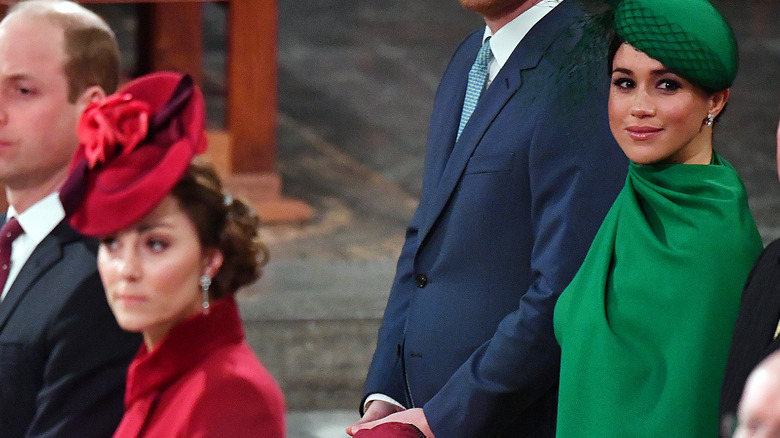 Wpa Pool/Getty Images
Kate and Meghan's wedding dresses are perfect examples of how their styles differ. According to Audacy, Kate opted for a Victorian-inspired dress fitted with lace and a long train, while Meghan wore a simple but stunning bright white dress that let her shoulders peak out. This seems to reflect their overall styles and even their relationships to the royal family. Audacy explained that Kate "combine[d] tradition and modernity" in her dress, which reflects her more conservative fashion and her continued role in the royal family, whereas Meghan's dress was true to herself without worrying about anyone else's opinion or tradition, which reflects her and Harry's path and their divorce from the family.
What's more, the Daily Mail noted in 2019 a few key distinctions between the two's styles. They explained that Kate opts for colorful looks in the same vein as Queen Elizabeth while Meghan typically opts for neutral colors, which again represents their respective proximities to tradition. They further add that Kate isn't afraid to reach for bold patterns, such as floral prints, while Meghan tends to wear solid outfits without too much distraction, though she sometimes does wear a print. They finally add that Kate, like the royals before her, likes to wear "statement pieces" when it comes to jewelry, while Meghan opts for smaller pieces that carry sentimental value.
Both Kate's and Meghan's styles are perfectly valid, and both women always look stunning. Which outfits worn by these two women are your favorites?