The TikTok Makeup Trend You Should Try For A Fun Summer Look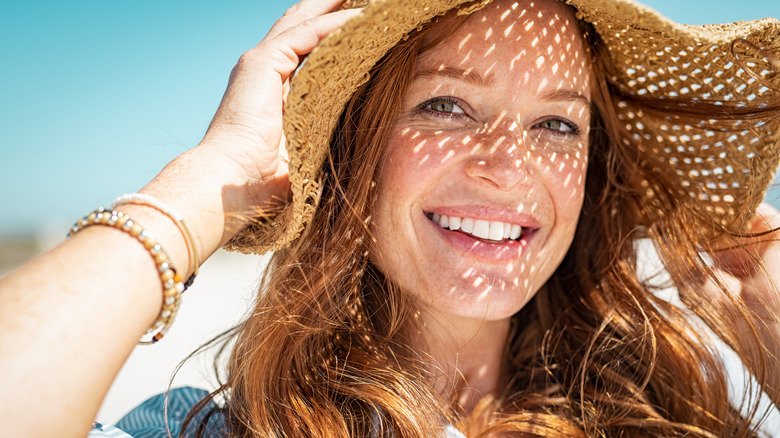 Shutterstock
Freckles never used to be a fashion trend. The small brown spots that naturally appear when some people stay in the sun for too long were actually considered a nuisance more often than they were considered "cute." Everything changed in 2018, however, when Meghan Markle got married to Prince Harry and chose a very natural makeup look.
According to Vogue, Markle's decision to embrace her natural freckles on her wedding day spurred a love for freckles everywhere. A flood of pictures from TikTokers and Instagrammers showing off their natural dark spots spurred a wave of change. Even Kylie Jenner got in on the madness, posting a bare-faced selfie with tiny brown marks dotting her cheeks, chin, and nose.
Now, TikTokers are adding freckles to their faces with artificial color, and the trend doesn't seem to be going anywhere (via Who What Wear). Creating a freckled face might take a little patience, but the look is sure to turn you into a glowing TikTok beauty.
How to add freckles to your face, and which products to use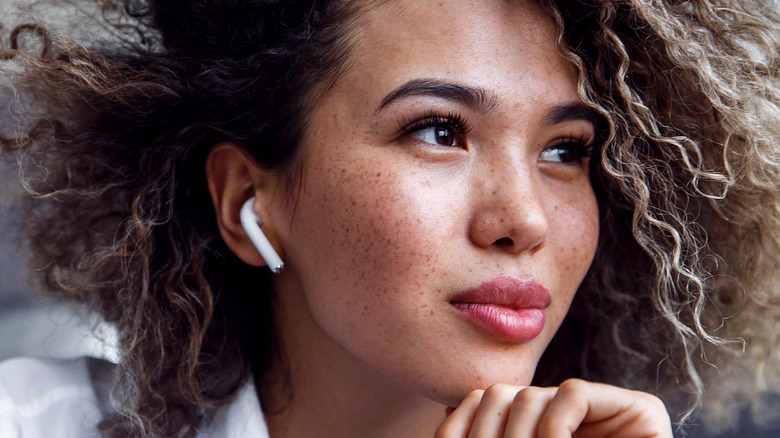 Shutterstock
Adding freckles to your face is relatively easy, though there are a few tips and tricks to keep in mind. According to Ipsy, to give yourself the coveted, sun-kissed look, all you need is an eyebrow pencil. Your eyebrow pencil will likely be the perfect shade, complementing the natural tones that already exist in your brows. Be sure to test out the product on your wrist first, however, to make sure that the color isn't too dark. Extremely dark freckles could look distracting and unnatural.
As reported by Who What Wear, makeup companies have jumped on the freckle trend and created products designed specifically for that purpose. A freckle pen, rather than an eyebrow pencil, can give you tinier freckles in the perfect, smudge-free shade.
Once you've selected the perfect product, Ipsy recommends first applying the rest of your makeup. When your foundation, blush, and concealer are in place, dot your cheeks and nose with your applicator, where the sun naturally hits and creates freckles (via Women's Health). You can also lightly dab on top of the marks when you're done if you want to lighten the color, as shown in a TikTok video by Sarah Novio. Once the product has dried, you'll be ready to rock this hot summer trend.