Who Is Elizabeth Gillies' Husband, Musician Michael Corcoran?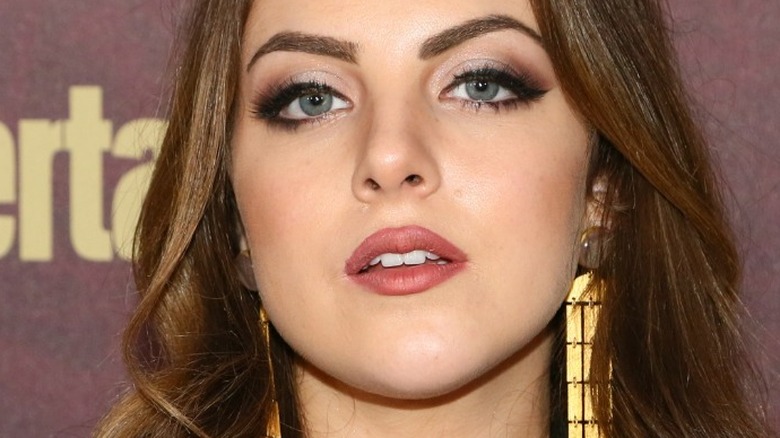 Frazer Harrison & Gabriel Olsen/Getty
On August 8, 2020, Elizabeth Gillies got married to her longtime partner, Michael Corcoran, in a small, secret ceremony. They were originally supposed to marry on April 25, their dog's birthday, but had to postpone due to COVID-19 (via Vogue). They took an RV with their dogs to wed in a fairy tale-like wedding at the Inn at Fernbrook Farms in New Jersey, with 10 guests total.
"It felt good to slow down. Overall, we were very fortunate to be able to safely spend this time with family. It was incredibly special," she told Vogue. She continued, saying, "I'm very happy with the way ours turned out. I don't think I would've had it any other way ... At the end of the day, it's about you and the person you love. The rest doesn't matter." After the pair wed, fans wanted to know more about the "Dynasty" star's husband.
Corcoran has worked with Nickelodeon for years
Michael Corcoran is a songwriter, composer, producer, and actor. So obviously he's a man of many hats, just like his new wife. 
He's most known for producing and writing a bunch of music for popular Nickelodeon shows like "Drake and Josh," "iCarly," "The Troop," and, most notably, "Victorious." He co-wrote fan favorites like "5 Fingaz to the Face," "L.A. Boyz," and "Freak the Freak Out," to name a few. And yes, this is how Gillies and Corcoran met, as per Hollywood Life. 
He's continued to work with Nickelodeon on a lot of musical projects, sometimes even having his band "Backhouse Mike" come in. And on top of that, he was in Drake Bell's band, providing a bunch of different instrumentals. Before Nickelodeon, he wrote music for commercials throughout the 1990's (via Hollywood Life). His most recent work has been composing music for the show "Henry Danger" for the past six years, per his IMDb.
Many fans are concerned with their relationship
While many fans were shocked with the sudden wedding, the couple had actually been together for around nine years (via WhosDatedWho). And that raised some eyebrows. The couple has actually been super controversial as more comes to light. The pair got together when Gillies was newly 18 years old, and he was in his late thirties. So the pair have a 20-year age difference.
Many fans speculate that Gillies was groomed during her time on the Nickelodeon show "Victorious." Gillies told Vogue that she always had a crush on him, saying she had to "play it cool." If you go on Liz Gillies' Instagram posts about their wedding, it's flooded with fans showing concern. One wrote, "You're a victim, I hate this for you. You deserve better my love." Another wrote, "Please don't normalise grooming" on the same post. 
Neither have commented on the accusations, and they seem quite happy together.