Jessica Simpson Shares An Emotional Post On Her Anniversary With Eric Johnson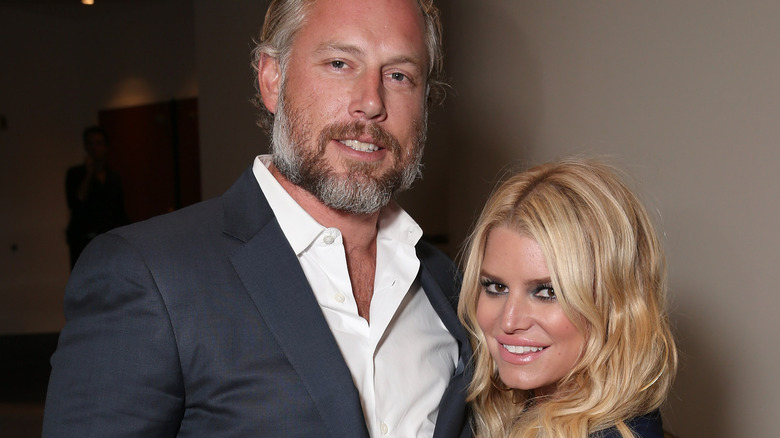 Todd Williamson/Getty Images
Jessica Simpson is waxing poetic about her relationship with her husband, Eric Johnson, after being together for more than a decade. The singer took to Instagram over the weekend to share an emotional post detailing her feelings for the former NFL player (via Hello!).
"11 years STRONG... 11 hearts filled in every passing year with unconditional, passionate, inspired, fascinating, supportive, beautiful, tempting, ravishing, exquisite, sublime, marvelous, honest, happy, adored, ideal, incomparable, powerful, mesmERIC, LOVE," Simpson captioned a sweet selfie of the couple, along with 11 green heart emojis.
"Our connected hearts are praised and celebrated on this serendipitous day," the star continued her tribute to Johnson, adding, "I knew the night we met, the fate of you, locked the key to my searching heart and simply held my soul with love and honor."
"Then, now and for the rest of my life I am fully and always yours and you mine," the mom of three wrote in the deeply personal post. And then, Simpson got even more emotional as she reflected on her relationship with her husband.
Jessica Simpson has always loved Eric Johnson
Simpson didn't hold back as she described her feelings for Johnson, and the significance of their love. "Gaining access to your heart to dwell and reside in, is the greatest gift I will ever rest within until the end of time," she wrote in her Instagram post. "Time goes by, the perfect children you gave me are growing older, but with you and I time does not exist for it only allows space to broaden...expanding beyond horizons just to love and be loved."
She concluded her poetic post by writing, "Happy Anniversary to us, the beauty of us- as is and forevermore."
Simpson previously opened up about how it was love at first sight for the pair when they met 11 years ago, per Us Weekly, which notes the couple got engaged in 2010 after dating for a relatively-short span of six months.
Simpson and Johnson married in July of 2014, according to People. By that time, they were already parents to two kids — Maxwell, age 2, and Ace, age 1. The family would grow by one more in 2019 when a daughter, Birdie, joined the crew (via E! Online).
Here's wishing them a happy anniversary and many more years to come!