Inside Zac Efron And Vanessa Hudgens' Relationship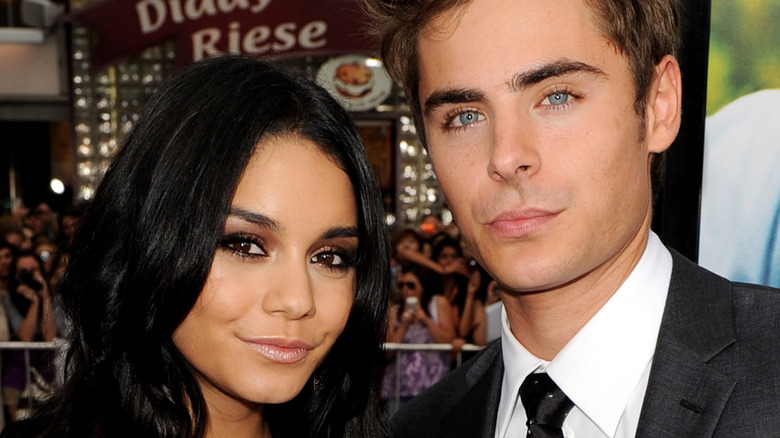 Kevin Winter/Getty Images
They were the ultimate high school sweethearts, although they weren't really in high school. Instead, they played a couple who went to the fictional East High and fell in love by being a part of the annual school musical. Of course, all of this took place in the iconic Disney flick "High School Musical" where stars Zac Efron and Vanessa Hudgens turned reel-life romance into real-life romance.
It was back in 2006 when "High School Musical" was first released. Efron and Hudgens' characters, Troy and Gabriella, met while on a winter break getaway with their parents, without knowing Gabriella was about to transfer to East High. Seasoned singer Gabriella auditions for the spring musical and jock Troy is also encouraged to audition, surprisingly landing a role, according to Disney's official movie website. It was love for the characters and eventually love for the actors, with as much drama off-screen as we saw on-screen (via Elle).
Zac Efron and Vanessa Hudgens had instant chemistry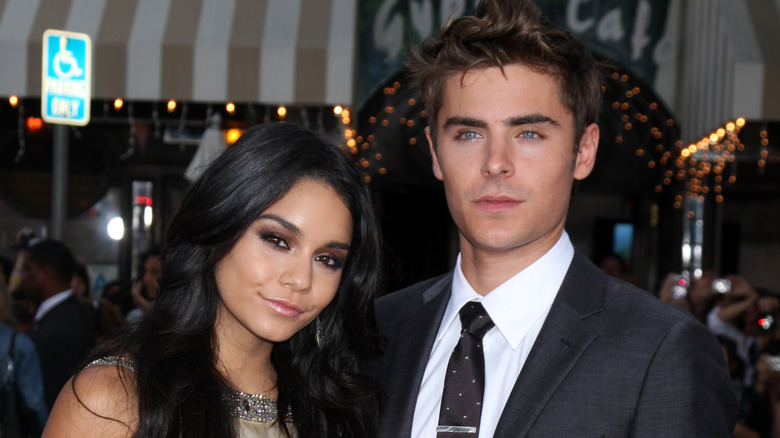 Shutterstock
Just like Troy and Gabriella's relationship being propelled by auditions, so was Zac Efron and Vanessa Hudgens'. As Efron recalled to The Hollywood Reporter of his 17-year-old self of his "High School Musical" audition, "I had no idea what to expect. There were about 40 guys. And we walked in, and [director] Kenny Ortega was there with a piano, and they put everybody in a room together, and we ran through different phases of what we would need to do — first dancing, then singing — and a few of us got tapped on the shoulder [to leave], and I didn't. And next came the scene-reading sections, and I got paired with Vanessa Hudgens."
The scene reading and chemistry between Efron and Hudgens is what landed them the roles, and the two became an item by 2005, according to Elle. They made their first appearance as an official couple at a party thrown by co-star Ashley Tisdale, who played Sharpay in the Disney Channel film.
"We created a bond right from the start. We were like, 'We're doing this, it's us or nothing,'" Hudgens said on The Hollywood Reporter's "Awards Chatter" podcast, according to PEOPLE.
Zac Efron and Vanessa Hudgens were Hollywood's Golden Couple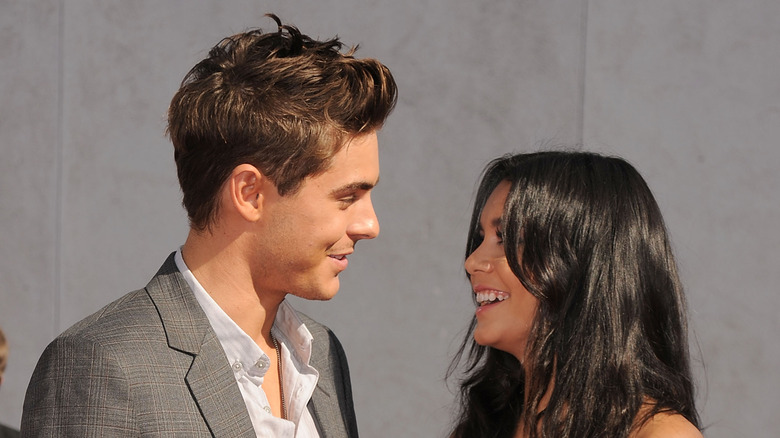 Jason Merritt/term/Getty Images
Zac Efron and Vanessa Hudgens remained a Tinseltown pair for five years, which some consider long in the land of make believe. While they remained together until 2010 attending parties, premieres, award shows, and other red carpet events arm-in-arm, their relationship wasn't without its share of drama, reported Elle.
"Of course, everything is not always happy and dandy," Hudgens said on The Hollywood Reporter podcast (via PEOPLE). "I remember one time we did have a fight and it was while we were at rehearsals. And I remember Kenny Ortega coming around the corner with the most concerned look on his face like, 'Oh no, is our movie going to fall apart right now?'"
When they did finally break up in 2010, a source told PEOPLE they did so as good friends. They even sparked reconciliation rumors the next year when they were spotted kissing at a party, according to Elle, but no real reunion ever manifested.
Even in 2020 when the "High School Musical" cast got together for an ABC-Disney singalong special, Efron did so remotely and didn't even sing. Instead, he sent a message to fans while Hudgens appeared with her other former co-stars.