The Real Meaning Of Emma Stone's New Baby's Name
Shutterstock
On March 13, Emma Stone welcomed her first child with her husband, comedian Dave McCary (via TMZ). The couple met while Stone was hosting "Saturday Night Live" in 2016 and McCary was directing a taped sketch for the episode. After keeping their relationship secret for a while, the pair went public at the 2019 Screen Actors Guild Awards. In December 2019, they announced their engagement and in late 2020 the couple held a secret ceremony (via Cosmopolitan).
Since the birth of their first child, a source close to Stone told People that the first-time parents are very excited about the new addition to their family. They said, "Emma and Dave have a great marriage and both wanted a child. They are a very grounded and private couple and were ready for a family." At the time, the couple was reluctant to share too many details about their daughter's birth. 
However, TMZ just revealed the name of their 2-month-old child.
Emma Stone named her daughter after someone close to her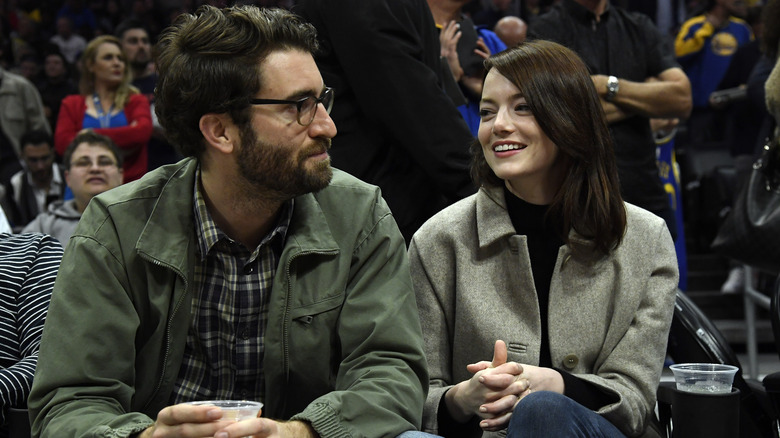 Kevork Djansezian/Getty Images
According to TMZ, who saw the birth certificate of Emma Stone and Dave McCary's baby, the newlyweds named their daughter Louise Jean McCary. Stone's full name is Emily Jean Stone and her grandmother's name is Jean Louise. A source told TMZ that the Academy Award Winning actress gave her daughter the name as a tribute to Stone's grandmother.
The name is a powerful one in more ways than one. Per The Bump, the name Louise has Old German roots and means "famous warrior." The Bump notes that Louise's middle name, Jean, means "God is gracious."
An insider told Us Weekly that Stone is a "very hands-on-mom" and has been enjoying spending time with Emily Jean. They said, "She's soaking in all the precious moments of being a mom for the first time. Her No. 1 priority is to raise a healthy baby, so that's what she's focused on right now. She's super protective as well, so she hasn't had too many people come visit yet." The "La La Land" star is also closer with McCary than ever before. Another source told Us Weekly that the director is "hands-on and helping with their daughter."