The Duggar Theory That'll Change How You Watch 19 Kids & Counting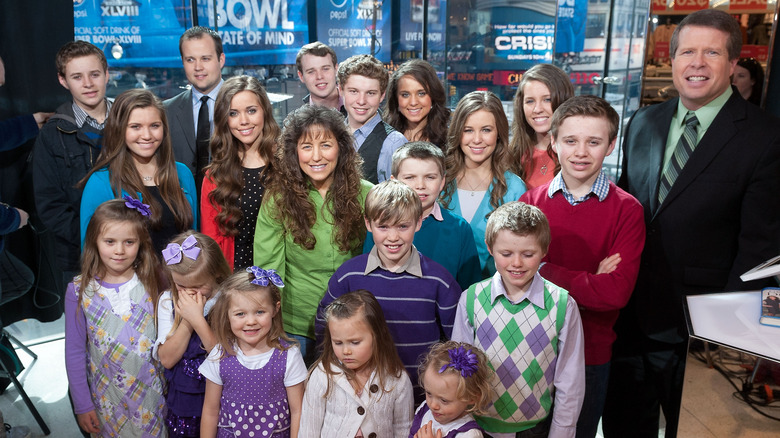 D Dipasupil/Getty Images
When "19 Kids & Counting" first joined the reality-TV world — actually, it began when the kid-count stood at 14, with #15 on the way — viewers were fascinated by the jumbo-sized Duggar family. The show offered a look into the ways the Arkansas clan managed such basic daily tasks as prepping meals, doing laundry, and going on family trips. One strategy that helped streamline the Duggars' lives was a "buddy system" established by mom Michelle. The oldest children — primarily daughters Jana, Jinger, Jessa, and Jill — were paired with specific younger sibs, taking charge of their feeding, clothes, and other basic needs (via CheatSheet). 
Not only did this technique take a load off the busy mother's schedule, it also helped prepare the girls for the future expected of them. Their fundamentalist Christian faith holds that women's highest calling is as wives and mothers running happy households. Since the family also shuns traditional dating — not to mention premarital sex — most of the adult Duggar children have opted to marry and have children in their late teens or early 20s. The one notable exception: oldest daughter Jana. 
At 31, Jana is still unmarried and living at home. Though she doesn't have a full-time job, she does help her brother James with his home renovation business, according to SoapDirt. She also has a thriving greenhouse and garden, and frequently hangs out with her siblings, nieces and nephews. Her other big passion is drinking coffee; the brew figures prominently in her Instagram feed. So why is she still single? Fans have some thoughts on the topic.
Fans think Jana may be the "Cinderella" of the family
Because Jana's situation is so unusual for a woman Duggar, fans have come up with some odd theories over the years. One such speculation is that Jana is the family's "Cinderella," somehow roped into staying home so she can continue being a caretaker and role model for her younger sisters. Johannah, Jennifer, Jordyn-Grace, and Josie are all tweens and early teens. Other fans think that after a lifetime of being surrounded by kids, Jana may be deliberately putting off marriage specifically to avoid having as many children as her mom did (via InTouch Weekly).
There have also been murmurs of a squelched romance involving Jana. Hollywood Gossip reports that Jana and Frank Sun, a member of the show's camera crew, at one time appeared to be taking an interest in each other. Sun was dropped from the crew, and there's talk that dad Jim Bob was behind the decision because he didn't approve of the budding relationship.
But it seems this "Cinderella" may actually have found a Prince Charming who passes muster with her dad: Rumors have been swirling for a while that Jana is quietly courting a man named Stephen Wissman. We may not hear official news about their relationship for a while, though: Per TV Shows Ace, there's talk that the Duggars are holding off on announcing a courtship — or an engagement — until the trial involving scandal-embroiled oldest son Josh concludes in July.