These Are Joanna Gaines' Beauty Essentials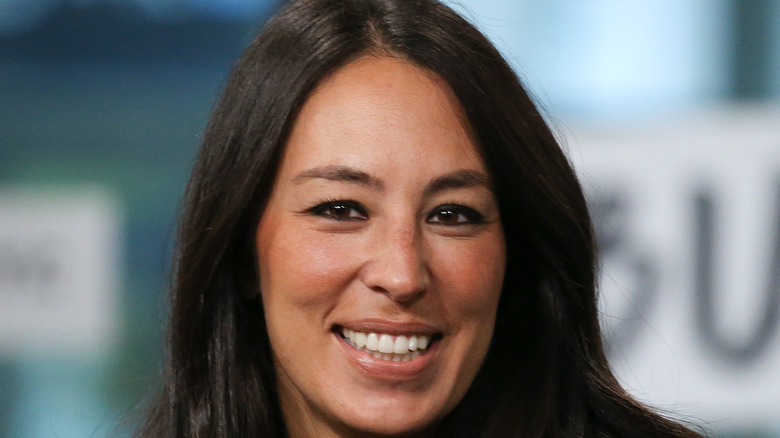 Rob Kim/Getty Images
Joanna Gaines always looks well put together. On one hand, that's a small miracle. A busy mom of five doesn't typically have a whole lot of "me" time, so the fact that she has this effortless, breezy beautiful look about her is certainly an accomplishment. On the other hand, if you look at Gaines' eye for design and style, it's almost no surprise that she can fix herself up as good as any space she's ever worked her magic on.
Like so many working moms, Gaines needs a routine that's quick, easy, and effective. She opened up about how she kept chic during one of the busiest times of her life: while filming the fourth season of "Fixer Upper" (per Magnolia Blog). "The great thing about 'Fixer Upper' is that I'm able to do my own hair and makeup on the go," she wrote. 
"This is actually my choice and I don't really love to have a team of people swarming me to touch up my blush and 'shine spots.' So I just carry around a pretty basic little bag of makeup to get me through the longer filming days."
Joanna keeps 10 products on deck at all times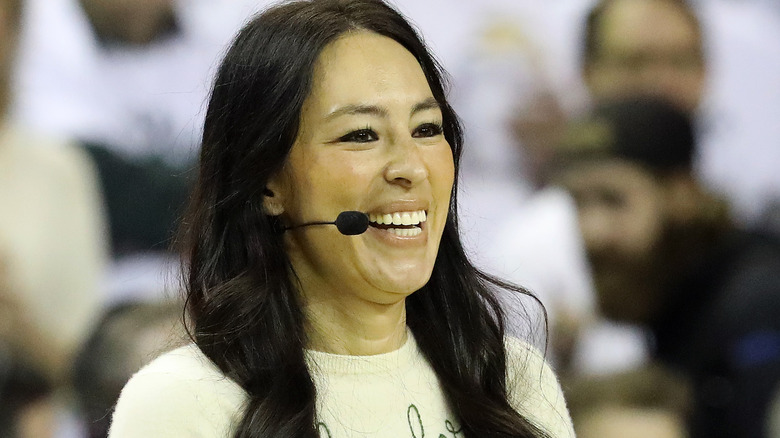 Ronald Martinez/Getty Images
Joanna Gaines gets through her day-to-day with 10 products in her bag at all times. First of, Tweezerman Tweezers. "In case I find a stray," she explained (per Magnolia Blog). She also has Clean and Clear Oil Absorbing Sheets because when you're on the move, as Gaines often is, "shine spots" pop up. 
It may not surprise you to learn Gaines loves a good drug store brand where possible. Also in her must-haves are Lancôme Blush in Mocha Havana and Revlon ColorStay Eyeliner. "My tried and true favorite," she gushed of the eyeliner. "One of our show producers knows I love this so much that she sent me over 100 of these for my birthday last year." She's also got picks from trendier brands, like MAC eyeshadow in Nehru and MAC lipstick in Fresh Brew, or Anastasia Beverly Hills' Brow Wiz. 
Gaines also supports local brands. She raved about Revitalash mascara. "I picked this up at a local beauty boutique on a whim and It quickly became my favorite," she explained. Last but not least, she has Colorscience pro-mineral powder and Jack Black Lip Balm with shea butter and Vitamin E.
Joanna has shut down rumors of her own skincare line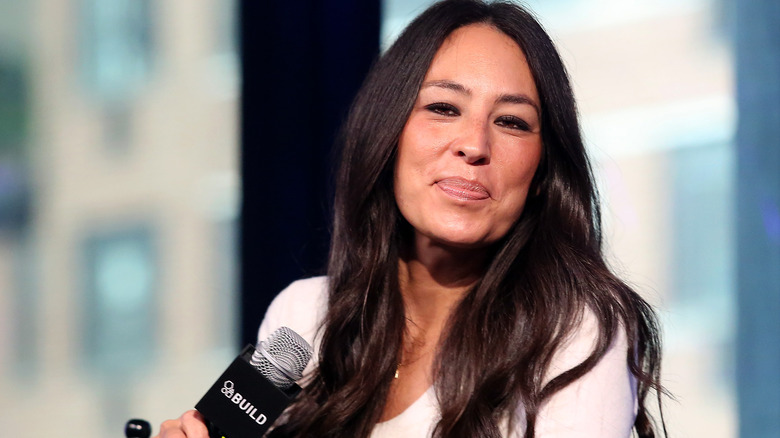 Donna Ward/Getty Images
Joanna Gaines has so many projects going on at any point in time that many fans believed rumors she was launching her own skin care line. In 2017, Gaines shot down rumors in an Instagram post after learning people were getting scammed in relation to the alleged line. 
"There have been rumors floating around about me leaving the show to start a skincare/makeup line. I wanted to take a minute to let y'all know that it's simply not true," she wrote. This is a SCAM! We have nothing to do with it and have been trying to stop it for some time."
Fans reported paying for and being sent products. While they were disappointed that it wasn't the real thing and that there was no such line to come, they appreciated Gaines trying to make things right with her fans anyway.