The Best Makeup Looks To Wear With A Yellow Outfit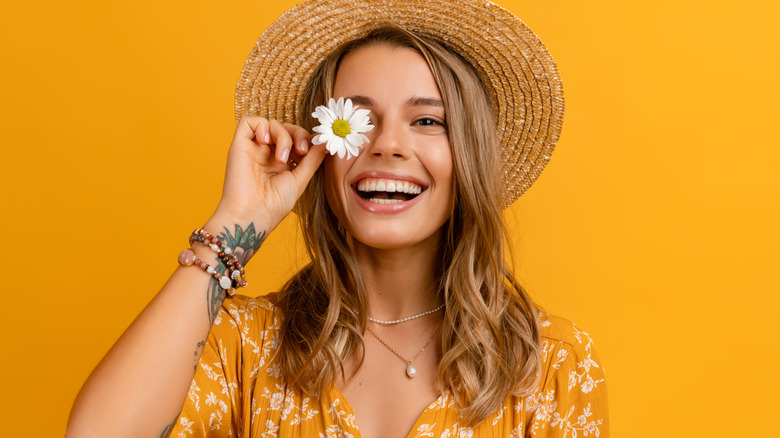 Shutterstock
Incorporating colors that are just the right amount of flattering without being overpowering into your wardrobe can sometimes take a lot of planning and multiple fashion hauls. Every week, you turn to your closet for the perfect outfit that will make you feel happy and confident in your skin. You land on a sweet yellow number that you've been saving for the right occasion, and now have to figure out how to pair the right makeup shades and accessories to elevate your look. But finding the makeup look that best compliments your yellow outfit and skin tone doesn't have to turn into a whole ordeal. 
It's no secret that certain colors play off of each other better, and yellow compliments many different shades including green and purple (Via Bright Side). Depending on the vibe you're going for, there are specific makeup looks that will make your yellow outfit stand out in all the right ways. Here's how you can determine which makeup look is right for you.
This lipstick color will take your yellow outfit to new heights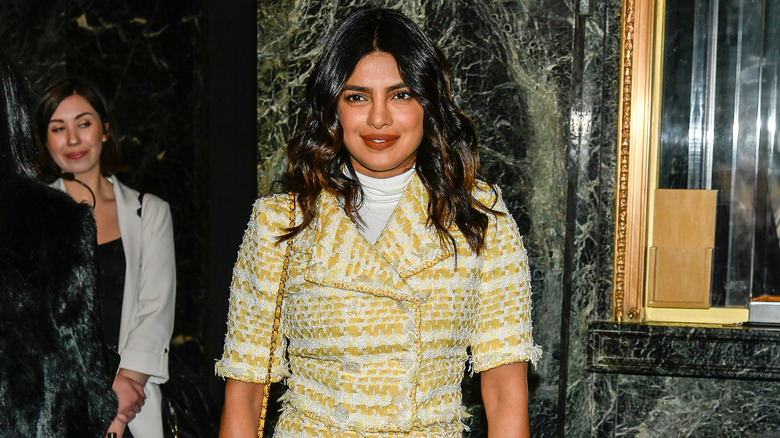 Mike Coppola/Getty Images
Per Refinery29, you can skip the traditional fire engine red lipstick and pair your yellow outfit with a dark red lip instead. Global superstar Jennifer Lopez brought her A-game at the 2016 Golden Globes in a show-stopping yellow gown and ruby lipstick. Makeup artist Mary Phillips told Refinery29 why this unconventional color pairing worked so well for Lopez. "A brighter red would've dulled out the color of the dress, and made it look drab," she explained. She also added that her dark red lip meshed well with her skin tone without overpowering her.
If you're worried that dark red makeup will take over your look, you can also opt for a reddish-brown lipstick. Take a page out of fashion guru and actress Priyanka Chopra-Jonas' style book. She rocked a vintage tweed look with reddish-brown lipstick that was equally as glamorous at the opening night for the 2019 Broadway play "Burn This" (pictured above). Her lipstick color is both low-key and stunning.
Earthy eyeshadows will make your outfit pop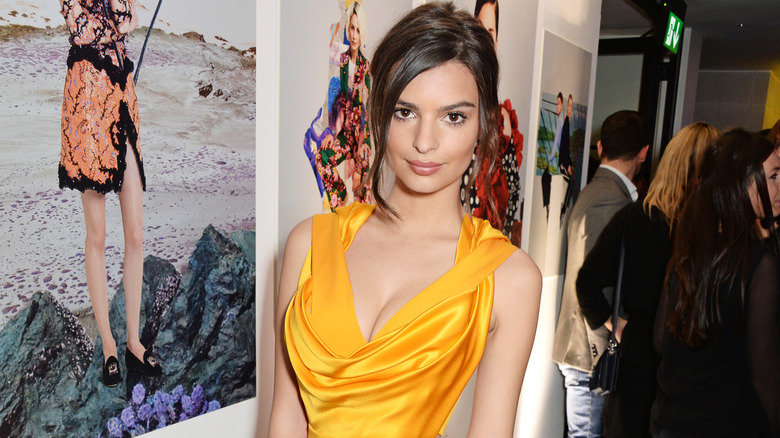 David M. Benett/Getty Images
You constantly find yourself visualizing which makeup looks will give your yellow outfit the spark it needs, only to come up empty handed. If this sounds like you, you need to try this makeup trend. Pick up an eyeshadow palette with metallic gold and/or brown shades on your next trip to your favorite beauty supply store. These earthy tones are warmer and will add a dash of glamour to your outfit (via Love to Know).
When it comes to makeup, sometimes less is definitely more. Actress and model Emily Ratajkowski proved that you don't have to go all out with your makeup and can keep it simple and sexy simultaneously. She rocked a satin yellow dress with bronze eyeshadow at InStyle's 2015 The Best of British Talent Pre-BAFTA party (via Mirror UK). Instead of the usual cherry red lip that we see on the red carpet, Ratajkowski finished off her look with a rosy blush and pink lips. Her flawless makeup came off completely natural and didn't compete with her already gorgeous outfit.