The Truth About Chris Hemsworth & Chris Evans' Relationship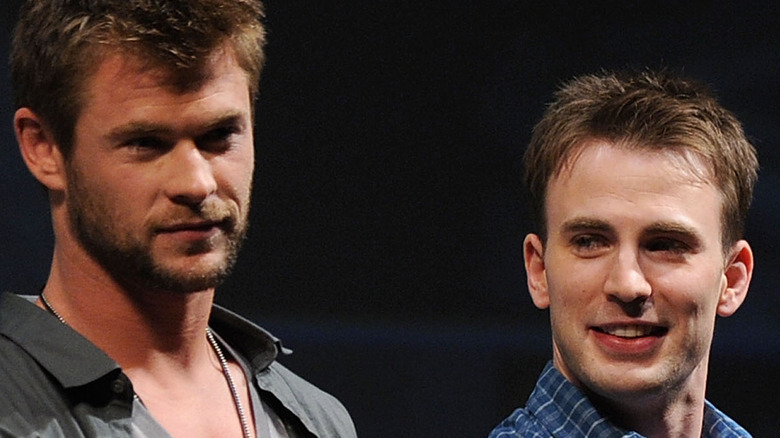 Kevin Winter/Getty Images
As Thor and Captain America, Chris Hemsworth and Chris Evans have been working on the "Avengers" together for well over a decade. Taking their hectic filming schedules and long shoot days into account, are the two actually friends off-screen?
That's a resounding yes. From the get-go, Hemsworth and Evans struck up a bond that has lasted well beyond the sets and press junkets. The two initially met inside a New York nightclub in the early 2010s, sometime after "Captain America: The First Avenger" finished shooting, as the duo told People. They knew pretty much straight away that they'd get along, which set their friendship up perfectly. "We were like, 'Cool, working together will be easy then," Hemsworth said.
In an interview with Variety, Hemsworth described forming a "brotherly bond" with Evans during their time together. So much so that they were actually prevented from doing press together. "We just spend the whole time screwing around and none of it is on topic," Hemsworth explained, which is totally evident in this compilation of their best interview moments (via YouTube).
Both actors helped each other overcome anxiety when first entering the MCU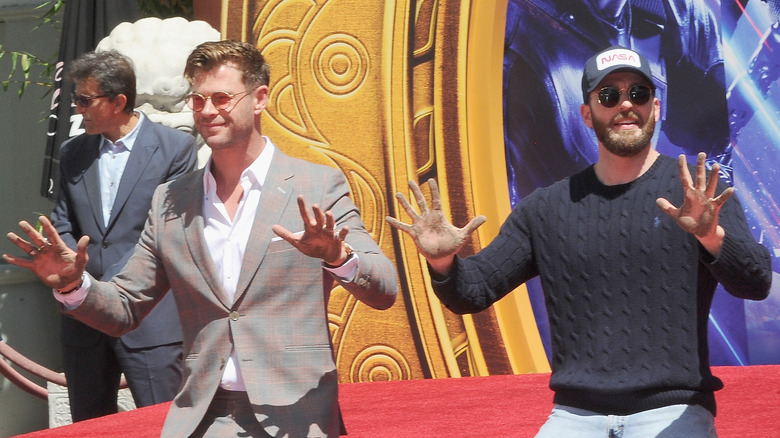 Albert L. Ortega/Getty Images
When Variety asked him about it later, Evans confirmed that this is definitely the case. "We had so much fun together, and truly like kids in school, we were separated because we weren't getting s*** done."
On a more serious note, Evans has cited Hemsworth as the reason he was less apprehensive at becoming Captain America for the first time, as they were both relatively new to the Marvel universe. Describing him as a "brother at this point", Evans told Esquire that he and Hemsworth shared similar feelings of apprehension at the beginning of their Marvel careers. "It's been nice to kind of share this with him," the actor explained. "We each have the standalone films as well, which can be a whole separate element of pressure and anxiety, and he's just been so helpful to me."
They're even up for working together in a project totally outside the Marvel universe, with Evans wanting them to become a comedy duo. "I would love to do one of those '80s buddy comedies, where we could shed the characters we are known for," he told Variety. Same, Evans. Same.