Why Rachael Kirkconnell Gave Matt James An Ultimatum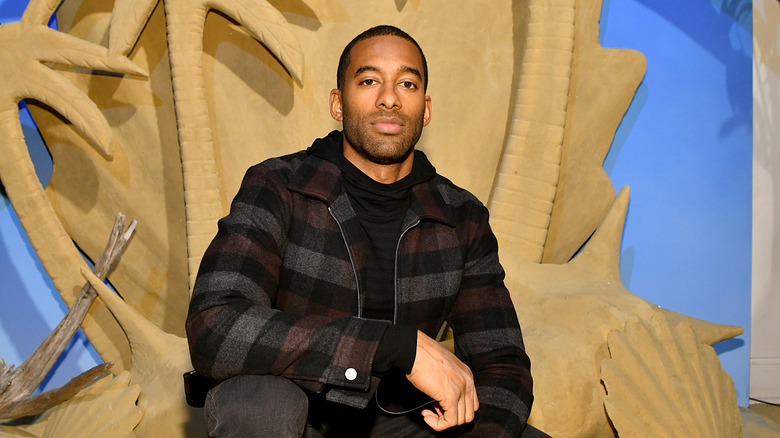 Craig Barritt/Getty Images
Following an intense, and sometimes bizarre, season of The Bachelor, fans watched as Matt James didn't ask Rachael Kirkconnell to marry him, but rather to continue dating after the show's end. With so much animosity throughout the season and confusion over whether or not he should get down on one knee, many wondered if the pair would make it. Kirkconnell faced racism accusations for attending a 2018 antebellum party in college and, when the After the Final Rose episode aired, James revealed that they had broken up.
Fans were quick to blame James for deserting his girlfriend when things got more difficult. Now, after months of rumors, the two have apparently gotten back together. According to People, the couple came to that decision following an ultimatum Kirkconnell presented. "She was like, 'If you're going to make this work, let's do it. But, if you're not going to make it work, I'm going to let you do your own thing,'" the 29-year-old Bachelor said on the Pomp podcast. 
  James also noted that Kirkconnell's question helped them grow into the couple they wanted to be. "That's really all I needed. It was an ultimatum that I needed," he added. "It's been great. It was honestly a commitment that we made to each other that we were going to work on the relationship."
Matt James said he didn't honor his commitment to Rachael Kirkconnell
The 25-year-old apologized for her past actions earlier this year and has since gotten clearer on her relationship. As for her boyfriend, he said, "There came a point in time where it was evident that my working on the relationship looked different than Rachael's because I wasn't really honoring that commitment that I made to working on the relationship," James said.
People reports that James' ex-girlfriend had revealed he reached out to her prior to their reconciliation, making Kirkconnell question their direction. But, since April, the two have seemed back on track after a rocky start. According to Entertainment Tonight, the Bachelor explained, "Me and Rachael's relationship was a little different because a lot of things [in the world] were different. We watched a lot of movies. We worked our way through Disney+. There were rough patches in our relationship [and] we actually broke up for a moment. We're back together [now]."
He continued by gushing about his first choice, "The best thing about Rachael is her heart. She's the most kind, caring person, understanding, I've ever met," he continued. "Everything we've been through, everything she's been through, she's stuck right by my side. She's continued to have a positive attitude. It's one of the many things I love about her."