What Jennifer Aniston Just Said About Working With Brad Pitt On Friends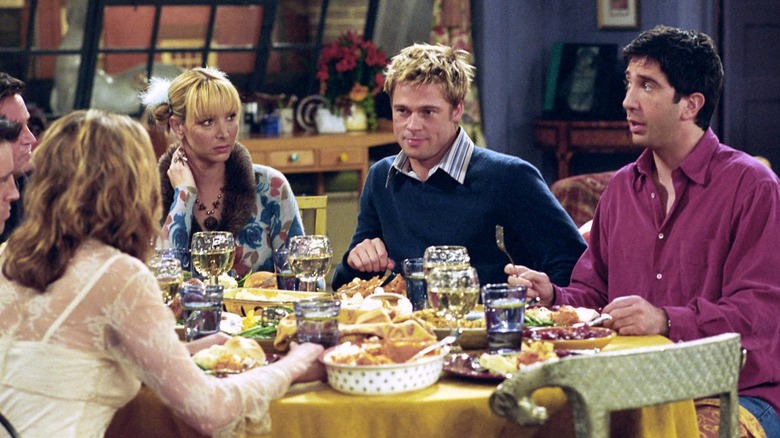 NBC
Over the years, "Friends" featured many wonderful guest stars, from Winona Ryder to Danny DeVito, Jennifer Coolidge to Jon Lovitz. Each made an impression in their own way, but there's no denying Brad Pitt was the biggest get of them all not least because, well, he's Brad Pitt but also he was married to Rachel herself, Jennifer Aniston, at the time and his character hates hers so much he co-founded a club in Rachel's (dis)honor. Naturally, their onscreen interactions were hilarious.
While ranking the ten best guest stars ever to feature on the iconic show, Screen Rant placed Pitt third, behind only Christina Applegate, who played Rachel's self-absorbed sister Amy, and comedy icons Billy Crystal and the late Robin Williams, who played oversharing BFFs who have a massive fight in Central Perk. Although Pitt didn't rank as the #1 guest in their purview, his presence on the show understandably meant a whole lot to then-wife Aniston, who still feels the effects today.
The actress has nothing but fond memories of that time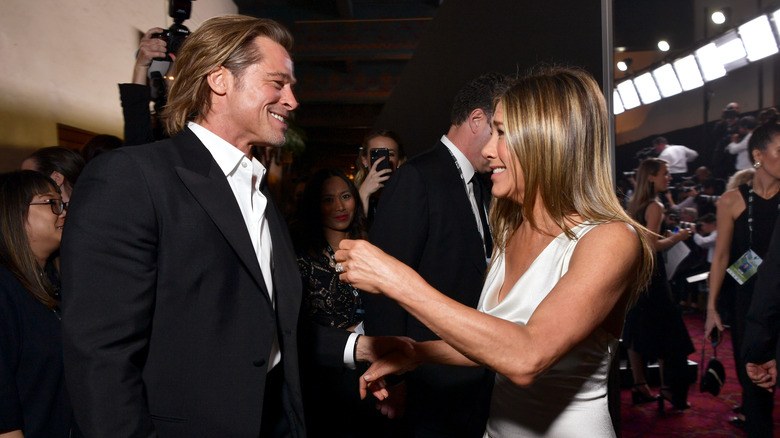 Emma Mcintyre/Getty Images
During an interview with Access, alongside Courteney Cox, who played Monica, and Lisa Kudrow, who played Phoebe, Jennifer Aniston was asked who her all-time favorite guest star was on "Friends." The trio immediately launched into a whole list of people, from Tom Selleck, who played Monica's dreamy older boyfriend, Richard, to Paul Rudd, who played Phoebe's long-suffering husband, Mike. Aniston then name-dropped her own IRL ex-husband, stating, "Mr. Pitt was wonderful," (via YouTube). She added, "He was fantastic" while Cox and Kudrow enthusiastically agreed with her assessment.
Although the "Friends" ladies were thrilled with Pitt's inclusion in the show, it's worth noting back in 2001, when the episode was filmed, the Hollywood hunk wasn't sure he'd be able to do it. According to co-creator David Crane, Pitt was initially hesitant because, as he told Hollywood Life, "he'd never done TV in front of an audience, and it's a very specific skill set. I think it's probably a little intimidating if you haven't done it before." Pitt later admitted to Access Hollywood he was incredibly nervous and messed up his very first line, but in the end, the "Fight Club" star had a great time on set.