Emma Thompson's Stunning Net Worth Revealed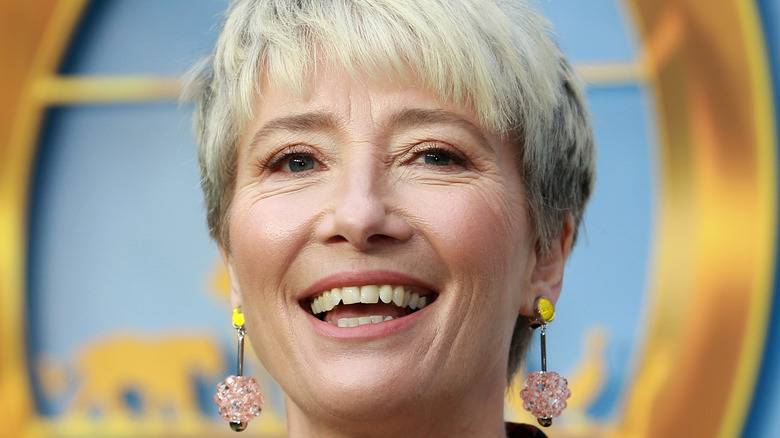 Shutterstock
Emma Thompson, 60, has had one of the most illustrious and successful careers in Hollywood. Gone are the days of the simple "triple threat" — Thompson is the ultimate multitasker, with a plethora of titles on her resume, including actress, screenwriter, producer, activist, author, and comedian. She's accumulated an impressive amount of awards during the decades that she's been in the public eye, including Academy Awards, Emmys, British Academy Films Awards, Golden Globes, and more (via IMDb).
In addition to her career in entertainment, Thompson has joined a long list of infamous women who have received damehood, including Judi Dench, Helen Mirren, Julie Andrews, and Maggie Smith, to name a few. Within the United Kingdom, this honor is bestowed upon those who have achieved exceptional accomplishments within a particular field, such as journalism, politics, academia, or even acting, according to PopSugar.
So with such an impressive career, we can't help but wonder what Thompson's net worth is. Well, the huge number might surprise you.
Emma Thompson has made an impressive amount from her many successful films
According toThe Richest, Emma Thompson has amassed a whopping $64 million throughout her career. The majority of her earnings appear to have come from her long-standing acting career, as the A-Lister began acting in the 1980s (via Britannica). Throughout her career, she has been involved in dozens of Blockbuster films, including "Love Actually," various "Harry Potter" films, "Sense and Sensibility," and "The Children Act," among many others (via The Guardian).
Most recently, Thompson can be seen in "Cruella," in which she starts alongside Emma Stone. Despite Stone's impressive spot as the lead in the film as Cruella de Vil, many reviews say that Thompson completely steals the show with her acting as Baroness, the narcissistic design house boss — essentially Cruella's boss. According to Datebook, "The only downside is that every time the two Emmas have a scene together, in which they must be drippingly arch and very British, Older Emma wipes Younger Emma right off the screen."