The Truth About Daisy Ridley And John Boyega's Friendship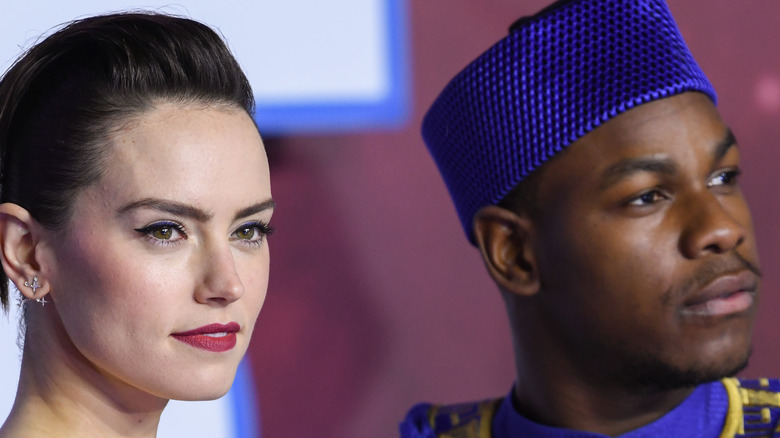 Gareth Cattermole/Getty Images
While Harrison Ford, Carrie Fisher, and Mark Hamill were the original faces of the "Star Wars" franchise, they've been replaced by younger stars in the latest films. 
People reported that for the time being, fans may be saying goodbye to Rey, Finn, and Poe in "The Rise of Skywalker." However, the publication noted that stars of the franchise never really "leave." Filming is intense and draws actors together and that seems to be the case for Daisy Ridley and John Boyega. They entered the series at the same time and have shared the unique experience.
In interviews, Ridley and Boyega have been open about how "Star Wars" was the catalyst for their friendship. Speaking to the Hollywood Reporter, Ridley revealed that the pair had the most fun on set. "We're both the same age and we both come from London," she explained. "And I guess we both have a similar sense of humor." While starring in one of the biggest movie series ever is serious business, Boyega and Ridley definitely had their fun. 
"I'm basically bouncing off of Oscar [Isaacs] and John, Joonas [Suotamo] and Anthony [Daniels] in such a joyous way, just like you're having a chat with your pals," Ridley said at the "Star Wars: The Rise of Skywalker" press conference, per  Cheat Sheet. "So it's not that difficult but it's strange wondering how that general vibe is going to translate into a scene."
Daisy and John became close instantly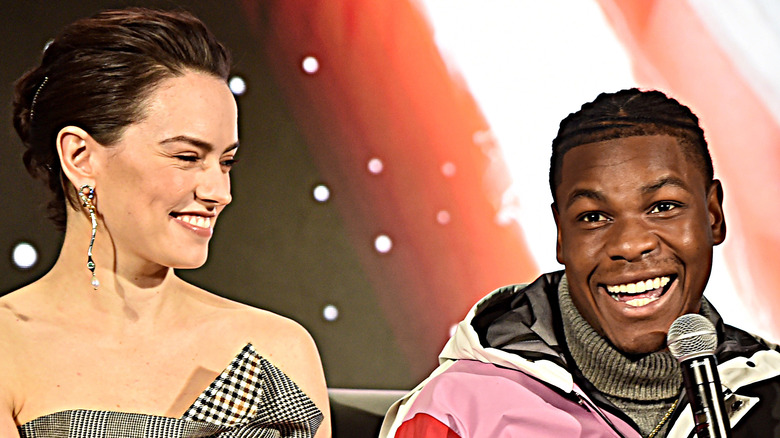 Alberto E. Rodriguez/Getty Images
Sometimes relationships have a little bit more of a slow burn. However, at the "Star Wars: Rise Of Skywalker" press conference in December 2019, John Boyega revealed that he had an instant connection with Daisy Ridley.
"I've been able to chat with Daisy really more than anyone else just in terms of circumstance and understanding of culture, an understanding of our background and where we're from," Boyega said, per Cheat Sheet. "While we were auditioning, I'd see her. I happened to run into Daisy, we were auditioning. We were just able to relate on even that kind of level."
As the cast faced leaving the Star Wars universe Ridley told People, "I would do it again in a heartbeat. I just want to continue working with awesome people."
It's hard not to see the "Star Wars" cast as one big family. They've been part of such an amazing thing together. And Vogue noted that Boyega connected with a legendary cast member too. "Harrison [Ford] is great to work with," he confessed. "It's hard not to admire him, not just as an actor but as a man. He's built an incredible career and being on set with him and learning from him is brilliant. Our characters had quite a lot of scenes together so it worked well that we had a good rapport."
They got up to all sorts of mischief on set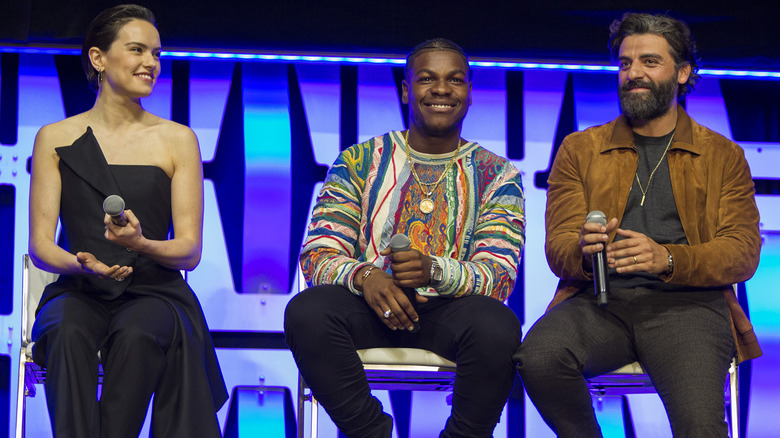 Barry Brecheisen/Getty Images
"Star Wars" was a project that launched Daisy Ridley's career and took John Boyega's to the next level. However, that didn't mean that it was all business on set. Boyega revealed that one day, while they were filming, he stole Harrison Ford's golf buggy. Speaking to the Hollywood Reporter he called Ridley "one of the biggest pranksters on set." The pair also revealed that they call each other "peanut" which is very endearing.
Ridley noted that Boyega is a great impersonator and managed to take on everyone on set pretty well. While it seems that they had a lot of fun while filming, Boyega added that there's a depth to their friendship too.
At the premier, John explained, per Cheat Sheet, "Most of the time actors have this mystery about their personal things. I think having this connection more than anything, if I feel any type of way or if I experience something that's weird or if I'm at a store and I just bought something, I always message Daisy because I just know that's something we'll 100% relate."