The Drugstore Powder That Celebrity Makeup Artists Swear By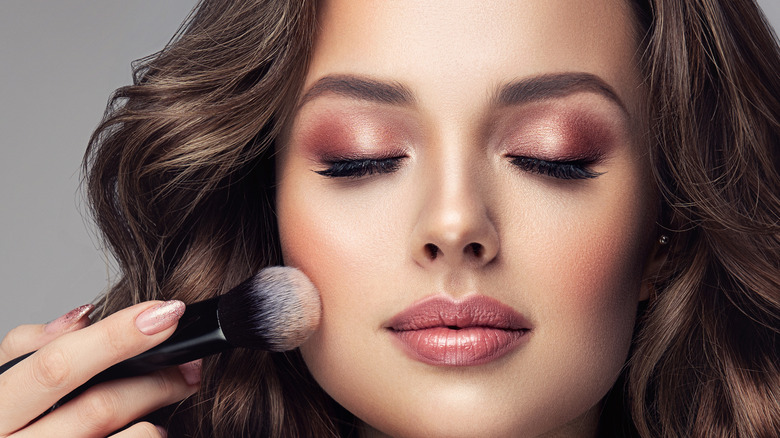 Shutterstock
Celebrity makeup artists are always teaching us how the professionals do it, whether they're showing us how we may have been doing something incorrectly or spilling on which drugstore eyeliners give you the most bang for your buck. When it comes to drugstore makeup products, some naturally leave a lot to be desired, while others truly rise to the occasion. For setting powders, there's a clear drugstore champion. 
According to celebrity makeup artist Brittany Spyksma, the best drugstore setting powder is Nyx Studio Finishing Powder Translucent Finish (via Byrdie). In her endorsement for this product, the makeup artist declared, "This is the perfect setting powder for ladies of all skin tones. A little goes a long way and helps to keep your makeup on all day." Worth noting here is that any person of any skin tone can use this product, not just women as Spyksma said. Because it has a translucent finish, this powder sets your makeup without adding any pigmentation, meaning it lets your foundation, concealer, and your natural skin shine, and this also means it's perfect for literally everyone.
Here's everything you need to know about this drugstore powder
Nyx Studio Finishing Powder Translucent Finish retails for $10 and comes in a 0.28 oz canister. Ulta Beauty's website described this powder as containing 100% silica minerals which helps provide "an impeccable photo ready look." The beauty store further explained that this powder is excellent at managing oil on your face, which means your makeup won't get ruined, all while sealing your foundation and concealer in place so you'll be ready to rock your look all day long. Finally, this powder is cruelty-free and vegan, meaning you can use it knowing that you aren't causing any harm.
Moreover, Byrdie noted that professional makeup artists also love Nyx setting sprays as well. Nyx Matte Finish Long Lasting Makeup Setting Spray retails for $8.50 and is typically used in conjunction with setting powder to ensure a tight lock on your makeup that will give you all day beauty.
Because Nyx's translucent powder is not only effective but also able to be used on everyone, we can see why celebrity makeup artists would keep it on hand at all times. It can be pulled from their makeup bag for any client whatsoever, and they can trust that it will work flawlessly.