The Real Reason DSW Shoes Are So Cheap
Shutterstock
Stores give away items all the time. Or, they might produce their items in a certain way so they can be affordable, like is the case with IKEA. This extends to shoe companies such as DSW, which sells a large variety of shoes at affordable prices. As explained on their website, DSW stands for Designer Shoe Warehouse, and they sell all of the mainstream, popular brands like Nike and Reebok just like any other store. The key term in their elongated name, though, is warehouse.
On the company's Comp. Value Pricing Policy page, DSW explains that DSW stores try to sell items at lower prices than manufacturers' suggested retail price (MSRP), which is typically what their competitors sell the same shoes for, if not at higher prices. This is why DSW customers will see multiple numbers on their receipts. They'll see the price they paid, the Comp. Value, which is the MSRP or their competitors' price for comparison for the same shoe, and then the difference between the two numbers to show you how much you saved.
The reason the word warehouse is so important in DSW's name is because warehouse stores can buy excess products for cheaper and then sell them at a lower price, passing the savings onto the customer and reaching a broader audience.
Here's what consumers think about DSW's prices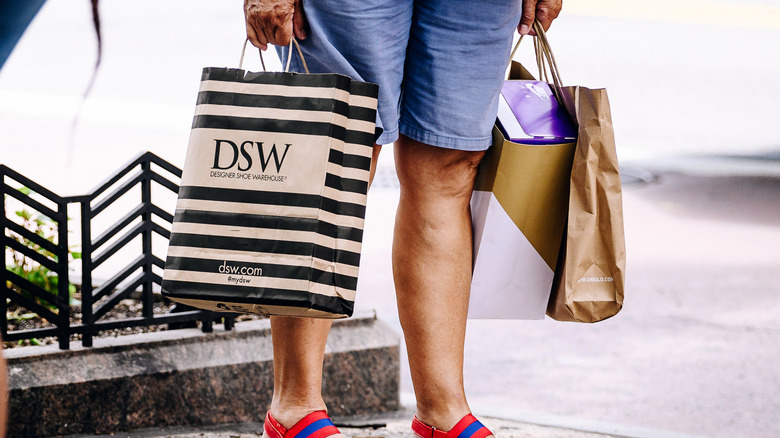 Bloomberg/Getty Images
DSW prices have been the topic of conversation on conversational sites like Reddit and Quora. For instance, one Quora user asked why DSW shoes are so cheap. The top reply to this post explained that DSW is a seasonal store, meaning they carry different shoes depending on the season and then place that season's shoes on clearance sales when the next season comes around. This keeps their inventory moving, and it keeps prices low. This reply also explained that DSW holds contracts with many major brands, so they buy their shoes at lower prices directly from these brands rather than buying from a middleman, which also keeps prices lower.
When a similar question was asked on Reddit, it was met with a similar response. This response explained that some shoes and shoe lines are even made specifically for DSW so they can be sold at a lower price. They further explained that DSW will market their products using competitor's prices that aren't on the market. In their example, they said, "They'll say 'We are selling this for $20, but Nike is selling it for $40.' Well, Nike is not selling that particular product at all. What that really means is that Nike told DSW that if they were to sell that particular product, they would sell it for $40."
The content of these responses on Reddit and Quora offer insights into DSW but they're not from DSW officials, so they shouldn't be taken as absolute fact. Still, they make some sense.