Here's Khloé Kardashian's Most Re-Purchased Makeup Product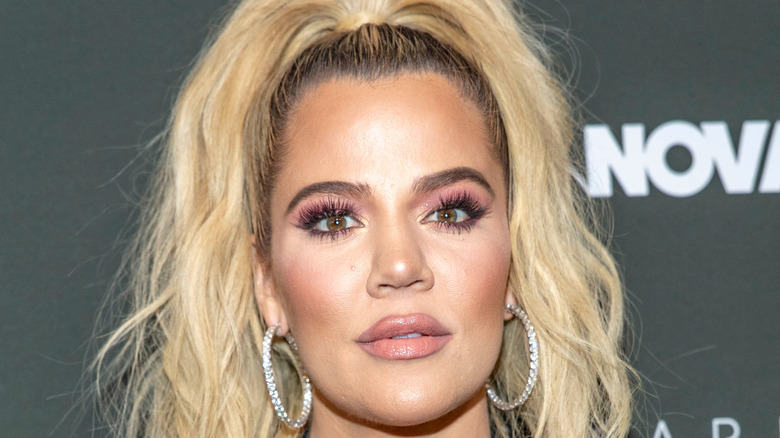 Shutterstock
Khloé Kardashian may not own her own makeup brand like big sister Kim Kardashian, but her beauty secrets are in just as high demand. Khloé opened up to fans about everything it takes to get her ready in the morning in a lengthy video for Vogue, confirming right at the beginning that she's always had a dedicated skincare routine, likely because working on their show, "Keeping Up with the Kardashians," requires intense daily glam. Since becoming a mother to daughter True, Khloé revealed that she, "Had to learn how to do makeup really quickly, and not do too many wet things. Because if it's wet and I have to run after her, it's going to set really weird and then I'm going to look super blotchy."
Although each member of the Kardashian family is glamorous in their own way, Khloé admitted she frequently finds herself "in awe of all their techniques," noting she learned from her sisters over the years. In fact, Kourtney and Kim took makeup classes growing up, but Khloé appears to be self-taught. The Good American founder is proud to use her siblings' products too, whether it's KKW Beauty or Kylie Cosmetics. Although there's plenty of concealing, contouring, and baking that goes into Khloé's routine, there's one thing she will not leave the house without: mascara. And, if you're wondering which particular product the "KUWTK" star uses, we've got you covered.
The reality star's go-to makeup product is reasonably priced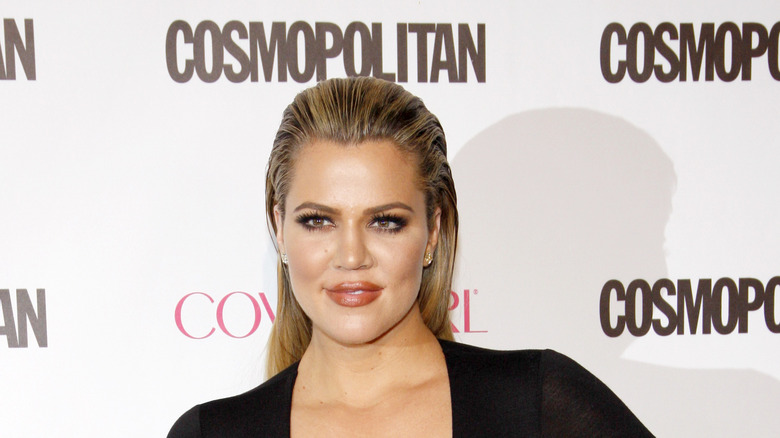 Shutterstock
Beauty journalist Laura Capon, formerly of Cosmopolitan according to her Instagram, took to TikTok to share some of the secrets she's learned from years of interviewing celebrities about their favorite products. When it comes to Khloé Kardashian, Capon revealed the reality star's go-to mascara is Lancôme Hypnôse Doll Lashes which, as per their official site, is the brand's "most flirtatious lash look." The mascara, which retails for $21, promises to provide, "A volumized, extended and full lash fringe for a wide-eye look." According to Capon, this is Kardashian's most repurchased product. She tried it herself and was impressed with the result, confessing to using it for several weeks on the reality star's recommendation. 
Kardashian may be open to sharing her beauty secrets, but it's important to note that what you see with the Kardashian clan isn't always reality. After un-retouched bikini photos were leaked online of Kardashian, she took to Instagram to call out the public's impossible standards of beauty, which she and her sisters are frequently held to purely because of who they are. Asking to be treated with basic empathy, the Good American founder admitted she's never quite gotten used to being picked apart. 
"If you hear anything enough then you start to believe it," Kardashian argued, revealing that years of being called "the fat sister" or "the ugly sister" have destroyed her self-esteem. However, she concluded by noting, "I throw on make-up, get my nails done or wear a pair of heels, to present myself to the world the way I want to be seen. It's exactly what I will continue to do unapologetically."