Inside Kourtney And Kim's Biggest Fights On 'Keeping Up With The Kardashians'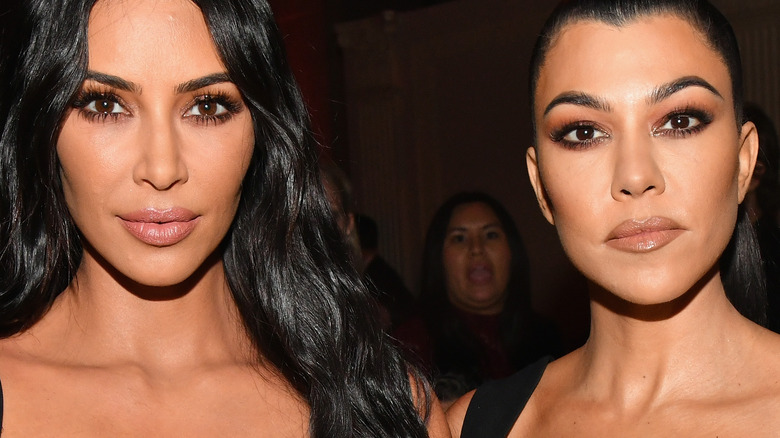 Clint Spaulding/amfar/Getty Images
Throughout the 20-season run of "Keeping Up with the Kardashians," fans have witnessed their fair share of epic sibling brawls. From Kendall Jenner screaming at Kylie Jenner because she didn't want to let her borrow one of her favorite dresses to Kim calling the police when Rob Kardashain "stole" her beloved Bentley to Khloe Kardashian throwing her drink on Scott Disick after discovering he flew a girl in for the weekend on a family trip to Costa Rica, the Kardashian have shared many heated moments.
However, as intense as their screaming matches, purse swinging, drink throwing, and silent treatments may have been, nothing will ever compare to the physical altercation between Kim and Kourtney in the Season 18 premiere. After a conversation between Kim Kardashian and Kendall about the latter's work ethic turned sour, Kim said in front of Kourtney and Khloe that the eldest Kardashian doesn't care about work and doesn't do as much as her other two Kardashian sisters (via YouTube).
Built-up resentment lead to an all out brawl
This jab by Kim Kardashian led to an explosive reaction by Kourtney Kardashian. The Poosh founder defended herself by saying that her sister has created a false narrative in her head before insisting that she'd better drop the topic. In a confessional, Kourtney said, "I don't want to hear this narrative anymore about this work ethic, and 'she's the only one with work ethic. And she's doing this this and this.' As if she's better because she works more ... we don't all have to do things the same way."
Kourtney then threw her water bottle at Kim before getting up and pushing her younger sister to the floor. Kim quickly got up and told her sister "don't ever come at me like that." The pair then began hitting each other as Kim warned Kourtney to never dig her nails into her again. The battle resulted in Kim finding a few scratches on her arm and Kourtney storming out of the room in tears (via YouTube).
The sisters are in a good place now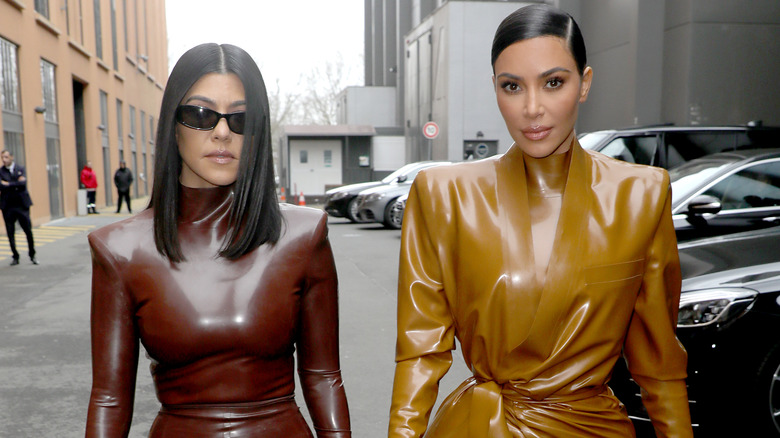 Pierre Suu/Getty Images
Following the broadcast of this epic sister battle, Kim Kardashian went on "The Tonight Show" to provide fans with an update (via YouTube). Kardashian told Fallon that the fight stemmed from a lot of built-up resentment from Kourtney Kardashian and her desire to stop filming "KUWTK." She also added that Kourtney is, "Not the type of person to make a decision and say 'okay guys I'm not gonna film' but she would come to work with an attitude every day and take it out on everyone."
She revealed that the clip of the girls fighting made matriarch Kris Jenner cry and lead to the family shutting down production for a week after the fight. While reflecting on the fight itself, Kardashian said, "I don't really ever resort to violence like that but she scratched me so hard." She added, "It's not my proudest moment, but we were going through it and she's made the decision to take time off now and I think she really needs it. And I think it'll be so much better for her." As fans of the show now know, the Kardashians decided to end the series after its 20th season, and Kim and Kourtney appear to be in a much better place.