Hypoallergenic Makeup Brands To Use If You Have Sensitive Skin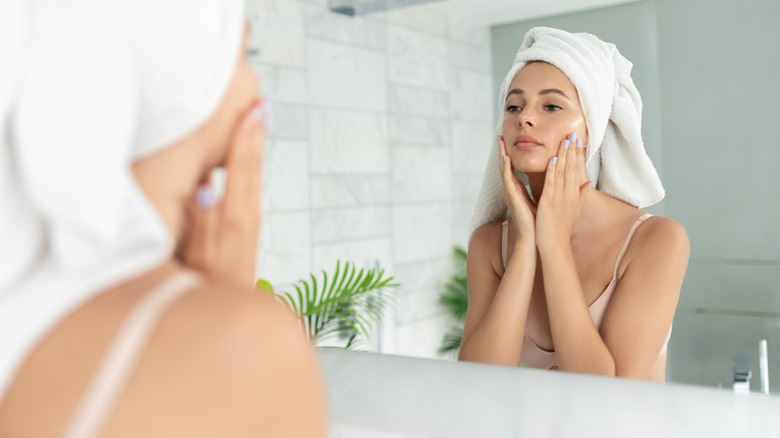 Shutterstock
We may receive a commission on purchases made from links.
Now more than ever before you can find a variety of makeup and skincare companies that are conscious of the ingredients being used in their products. The buzz over the last few years has not gone unnoticed, as more beauty brands are touting to be more ethical, environmentally friendly, and gentler on the skin. This is a pleasant perk for those who live with sensitive skin and allergies, as certain ingredients in a product, like blush or bronzer, can wreak havoc on the skin.
SELF reports that those who have sensitive skin should try products with fewer ingredients listed, and generally should avoid ingredients such as fragrances, preservatives, and botanical extracts, which have an increased chance of inducing an unwanted reaction. The outlet also shares that many dermatologists recommend those who have sensitive skin use mineral-based products, as they tend to have less ingredients and are typically non-comedogenic (less likely to clog pores).
You may be surprised to find that the term hypoallergenic, which may be marketed on your latest lipstick purchase, is not FDA regulated. According to the U.S. Food and Drug Administration's statement on hypoallergenic cosmetics, "There are no federal standards or definitions that govern the use of the term hypoallergenic. The term means whatever a particular company wants it to mean."
These makeup brands are made for sensitive skin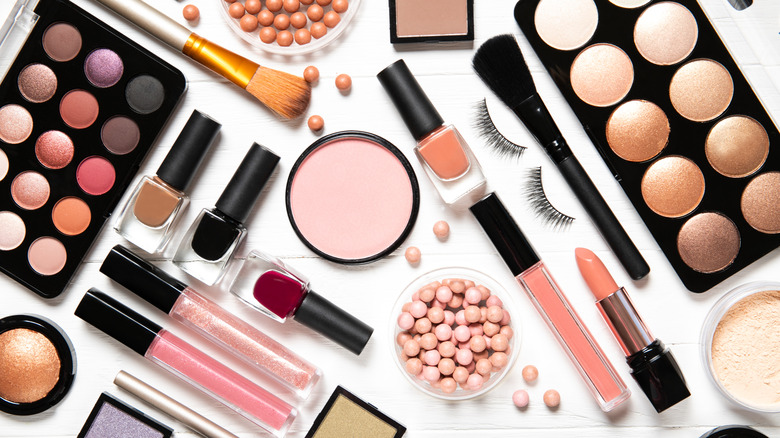 Shutterstock
Skin irritations can present themselves in a number of ways, including breakouts, hives, redness, burning, itchiness, and inflammation (via WebMD). There are many brands that take skin sensitivity into account and use ingredients that are more gentle. Byrdie recommends VMV Hypoallergenics, which ensures their products are free of at least 76 known allergens.
Board-certified dermatologist Joel Schlessinger, M.D., tells SELF that mineral makeup is a great option for those who need gentler ingredients, stating, "Since it stays on top of the skin, mineral makeup won't clog pores, making it a great option for those who are prone to acne." Colorescience, a mineral make-up and suncare brand recommended by SELF, contains no harsh chemicals and according to their website uses "pure, natural minerals, antioxidants, and botanicals." Another mineral makeup brand sans harsh toxins that SELF likes is Jane Iredale, whose motto is "Clean beauty has always been our foundation."
For those with sensitive eyes, Byrdie suggests giving Clinique's High Impact Mascara a try, as it is ophthalmologist- and allergy-tested, and free of known irritants like mineral oil and fragrances. Emily Newsom, M.D., a board-certified dermatologist at Ronald Reagan UCLA Medical Center, tells SELF that Tarte is another great brand to try, as the large line of beauty products is formulated without parabens, mineral oil phthalates, triclosan, sodium lauryl sulfate, and gluten!
Makeup brands for sensitive skin found in drugstores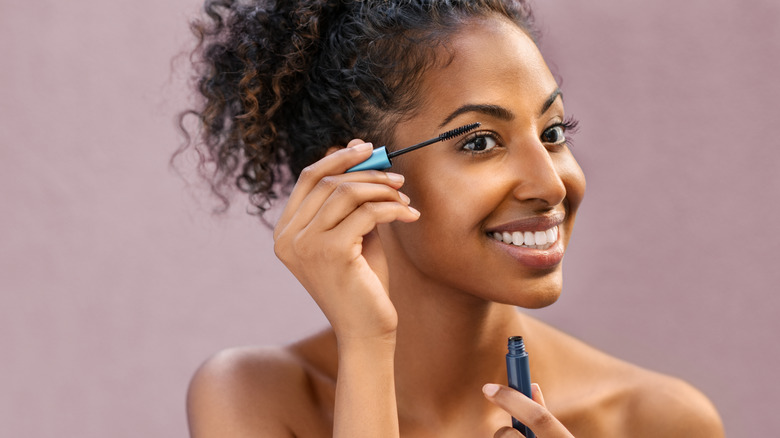 Shutterstock
Drugstore's have good options for those needing gentler products, as New York City dermatologist Michele Green, M.D., explained to SELF: "Burt's Bees is a drugstore makeup brand that is wonderful for sensitive skin because it is formulated without parabens and sulfates."  
Byrdie likes Almay Healthy Glow foundation for a budget-friendly face perfector as its hypoallergenic, dermatologist-tested, and fragrance-free. New York City-based dermatologist Sejal Shah, M.D., agrees, telling SELF that Almay is good for sensitive skin and is a brand that uses mostly gentle ingredients. Dr. Shah also recommends drugstore makeup brand Physician's Formula, saying it's a "brand shoppers with sensitive skin can trust." Neutrogena has a variety of products marketed for sensitive skin, as well as Bare Minerals, according to Cosmopolitan.
If your skin is temperamental, or you live with allergies, don't despair! There's a variety of gentler, hypoallergenic makeup brands you can test out and we are confident that you can find one that is right for you, and if you get frustrated reach out to a board-certified dermatologist who can best assist with your skin care needs.