The Truth About Melissa Gorga And Jennifer Aydin's Friendship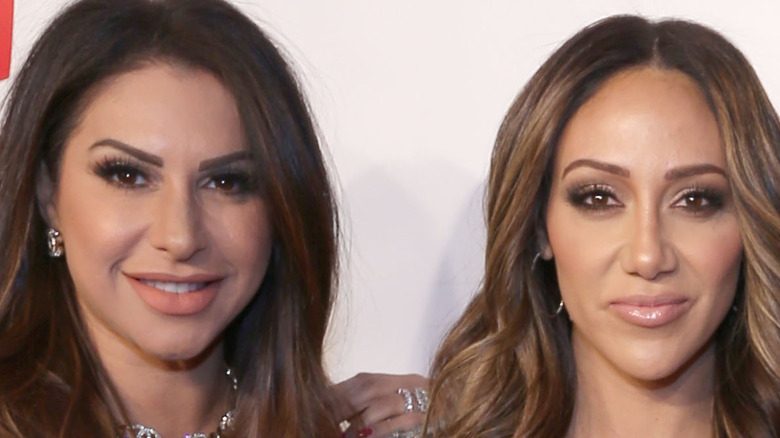 Manny Carabel/Getty Images
The drama between "RHONJ" stars Melissa Gorga and Jennifer Aydin has reached a fever pitch as their arguments dominate the series and the frenemies' social accounts. These two have clashed since Season 9 of "The Real Housewives of New Jersey" and the situation doesn't appear to be getting better.
Trouble began to brew during a fight in Cabo, but got really heated when Aydin threw dinnerware at Gorga during a meal in the Hamptons (via Reality Tea). It's been a downward spiral ever since as the two argue back and forth with Gorga calling Aydin "sloppy" and "fake" (per Page Six). Not one to back down from a fight, Aydin has suggested the Envy owner and mother of three creates fake storylines to try and stay relevant, according to Screen Rant.
Will the glass-breaking, silverware tossing ever stop between these two? A look at their friendship timeline suggests the housewives have been bumping heads since Jennifer Aydin joined the show in Season 9, and have never been chummy.
Getting in between family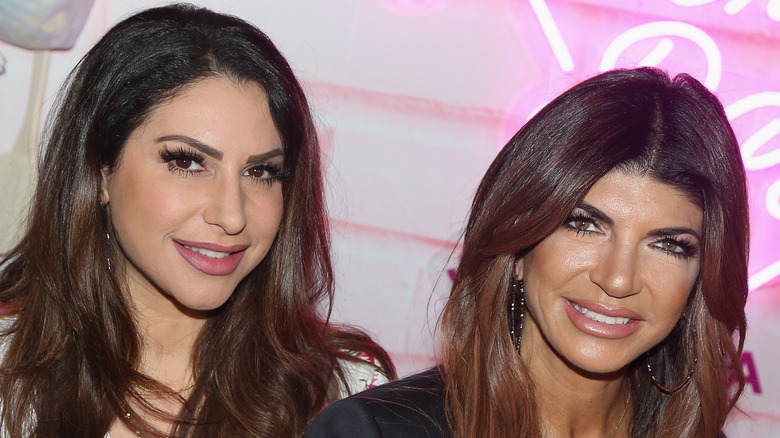 Bruce Glikas/Getty Images
The argument while at the Hamptons was only the start of the heated feud between these two, when Melissa Gorga stood up for Jackie Goldschneider after Jennifer Aydin implied she was cheap because she didn't go all out for her kids' party, according to The US Sun. The argument appears to have cemented the rivalry and divided the cast, with Gorga sticking with Aydin's nemesis Jackie and Margaret Josephs.
Adding fuel to the fire are Jennifer Aydin's remarks about Melissa Gorga using sister-in-law Teresa Giudice's celebrity status to land a spot on "RHONJ." In an Instagram post, the mother of five wrote in part, "Take a good look at what unbothered looks like. I'm on this show because of me – not because my sister-n-law or a more entertaining husband" (via US Weekly).
Gorga, meanwhile, has accused Aydin several times of trying to cause trouble between her and Guidice, with the most recent occurrence happening during a pool party. Reality Tea reports tensions started to mount when Aydin took Giudice's side during an argument between Melissa and Joe Gorga over Teresa never standing up to Joe Giudice when he bad-mouthed his brother and sister-in-law. Some arguments need to stay between family members and require no outside takes on the situation, however, Aydin is not one to keep her opinion to herself.
Bad-mouthing family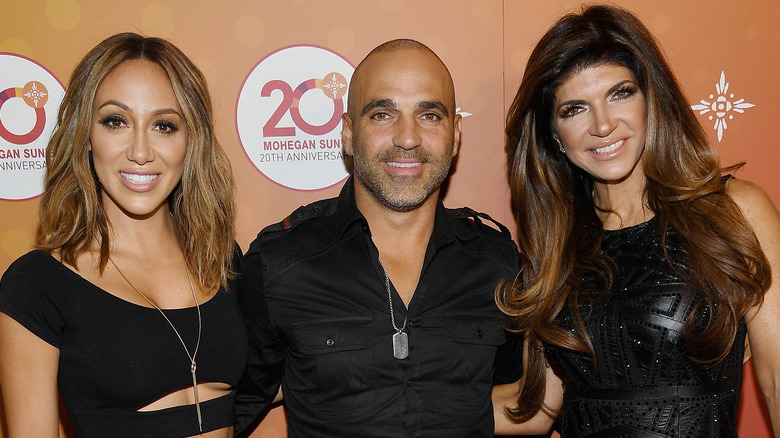 Dimitrios Kambouris/Getty Images
Aside from Jennifer Aydin becoming besties with Teresa Giudice, Melissa Gorga has expressed her belief that Aydin creates drama for the heck of it. Even going as far as "trying to cause riffs" in relationships, she posted on her Instagram page.
Of course, Aydin replied to Gorga's Instagram posts by calling her husband, Joe Gorga, "crooked," according to Heavy. Has Aydin never watched an episode of "RHONJ"? The cardinal rule of New Jersey housewives is never to talk about someone's marriage or family. Like, never. The "On Display" singer skirted that rule as well when she accused Aydin of throwing her mom under the bus (via Reality Blurb).
Obviously, Aydin also doesn't give a damn about rules after she brought back gossip to Melissa about Joe Gorga allegedly not paying Jonathan Steingraber for a speaking event, according to Reality Tea. Another wrong move for any real housewife since the messenger always takes the hit.
With Gorga sticking by Jackie Goldschneider and Aydin supporting everything Teresa Giudice does, even if it's spreading cheating rumors about Goldschneider's husband, Evan, a truce between these two seems to be unlikely (via People).