Inside Zoë Saldaña's Relationship With Bradley Cooper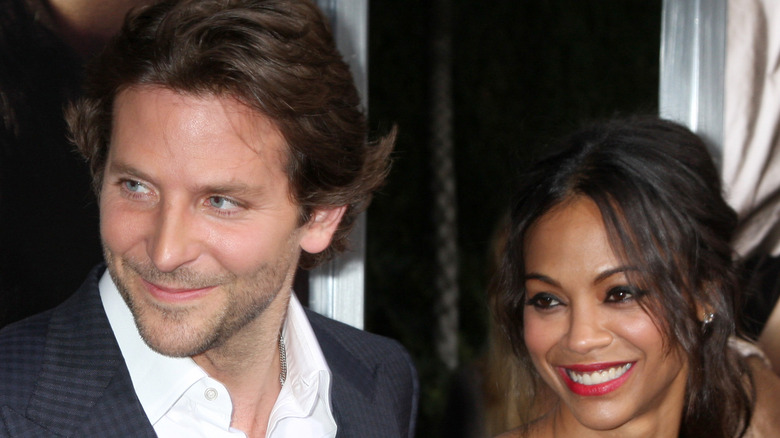 Shutterstock
Before they were ever a part of "Guardians of the Galaxy," Bradley Cooper and Zoë Saldaña dated in real life. The two met while filming "The Words" in 2011, according to Showbiz Cheat Sheet. Things heated up pretty quickly between the two, but fizzled out just as fast a year later, in December 2012. While Saldaña has said before to Marie Claire that, "There's a reason why you're called an ex," when discussing whether or not she remains close friends with her exes, the two would end up having to work together in 2014 for the first "Guardians of the Galaxy" film.
That's definitely the name of the game when it comes to Hollywood and dating. There are many exes who have had to work together after their breakups, like Lili Reinhart and Cole Sprouse on "Riverdale" and Joey King and Jacob Elordi in "The Kissing Booth" trilogy on Netflix. Now that it's been almost a decade since Saldaña and Cooper first dated, you might be wondering if the relationship between these two actors has changed at all.
Saldaña has said nice things about working with Cooper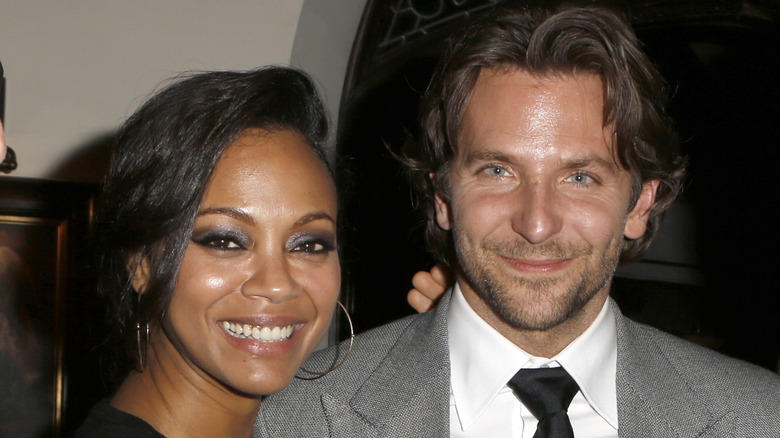 Jeff Vespa/Getty Images
It didn't take long for the "Avatar" actress to find true love after her split with Cooper. In 2013, Saldaña married Marco Perego while in "a beautiful place in [her] life" where she "found all [her] answers with him not in him" (via E! Online). A lot of that self-discovery could be attributed to her breakup from Cooper. When the two called it quits, she found herself not in a relationship, and in that time she "lost that fear of being alone." 
Saldaña may not stay friends with her exes, but she did have some pretty nice things to say about Cooper before their split in 2012. She told The Hollywood Reporter that "Bradley is a very dedicated and open professional." That matches up with some of the nice things Cooper's other costars have said about him. Jennifer Lawrence, who has appeared in three films with Cooper, has told ABC that the actor is "the best, and I love working with him."
Saldaña does have Lawrence beat out with the number of films she's starred in with Cooper, and the two are gearing up to start filming another one. The third installment in the "Guardians of the Galaxy" franchise probably won't be in theaters until 2023, according to Screen Rant. While they may not be close friends, these two have maintained a healthy and respectful working relationship for several years.