How To Build A Skin Care Routine For Normal Skin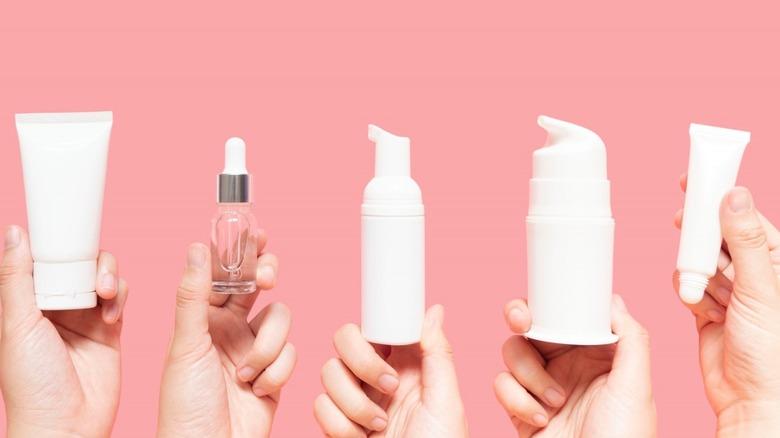 Shutterstock
We may receive a commission on purchases made from links.
If you look up skin care advice on the internet, chances are you will find steps or products that address pretty specific issues — such as dryness, oiliness, or acne. In fact, there are entire skin care regimens, sometimes with as many as 10 steps (hello, Korean beauty queens!) that revolve around eliminating blemishes or plumping up skin, according to Vox. But what about the lucky ones with "normal"  skin that doesn't require much tampering with? What products should they use to maintain their seemingly perfect complexions?
According to experts, these people have what it considered to be "balanced" skin (per Byrdie). Dermatologist Heather Woolery-Lloyd, creator of Specific Beauty, explained in another Byrdie article that the criteria for "normal" skin generally consists of no sensitivity, barely noticeable pores, and few to zero blemishes. This skin-type also faces little to no oiliness or dryness.
To absolutely no-one's surprise, this is not most people's reality. "In my 40 years of dermatology practice, I find the majority of people have some combination skin up until about 30, and the majority of people over 40 feel their skin is dry," said board-certified dermatologist Loretta Ciraldo, founder of the Dr. Loretta skin care line (via Byrdie).
However, for the few who do possess skin that always behaves, we have decided to help you build a skin care regimen that is ideal for your skin-type, based on expert advice.
Try these skin care steps for the morning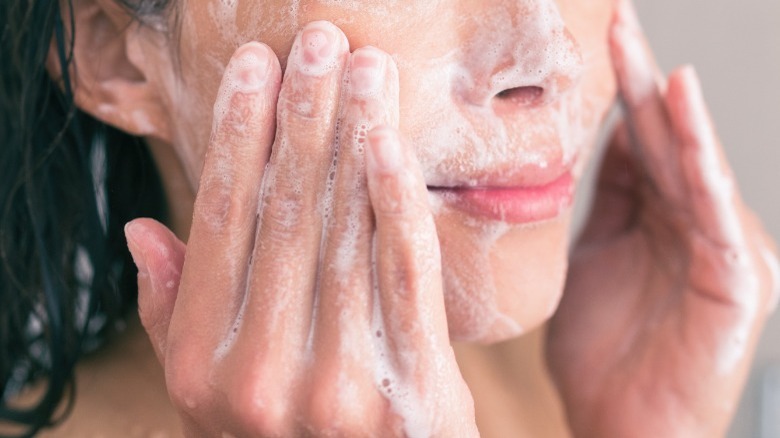 Shutterstock
If you have balanced skin then your morning skin care routine will definitely be simpler than those with, let's say, combination skin (yay, you!). However, you still need to maintain a regimen that protects your complexion.
First, you're going to want to start your day off with a gentle, sulfate-free cleanser, per Byrdie. You can't go wrong with Mario Badescu's Enzyme Cleansing Gel ($11), according to The Strategist. This product cleans your skin without over-drying it, and also helps to plumps it.
Next up is toner. You don't want to skip this step, as it helps to balance your skin's pH levels and tightens pores. Experts say to avoid alcohol-containing toners, as they can be too harsh on the skin and can strip it of its natural moisture (per Healthline). One solid choice for toner is Laniege's Essential Power Skin Toner for Normal to Dry Skin ($28), according to Byrdie. This vitamin-rich toner works great to remove dead skin cells and leaves skin revitalized. 
Lastly, you'll need a light moisturizer with an SPF of least 30 (just because your skin looks great doesn't mean you can ignore harmful UV rays!). Esthetician Renée Rouleau recommends looking for products that contain ingredients like dimethicone, panthenol, and sodium hyaluronate (AKA hyaluronic acid), via Byrdie. One such product is Supergoop! Superscreen Daily Moisturizer SPF 40 ($38, Sephora). This daily lightweight moisturizer is oil and silicone-free and formulated for every skin type! 
This regimen is ideal for nighttime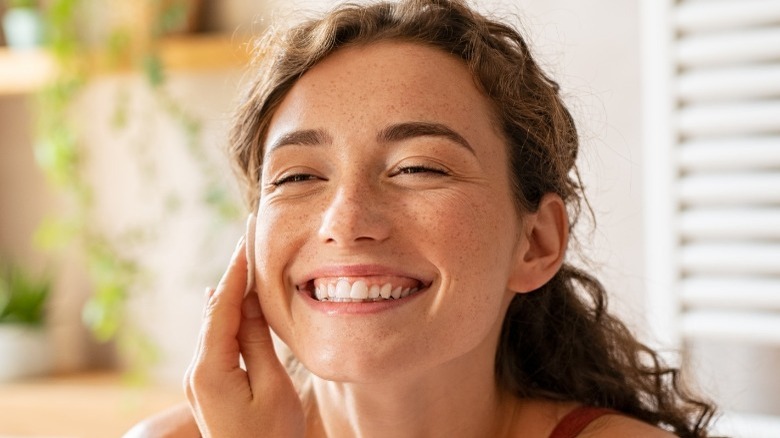 Shutterstock
Your routine for nighttime will be similar to that of your morning, with two exceptions. First, you're going to want to incorporate a serum into your regimen (you can apply this right after your toner).
"Serums are thin-viscosity topical products that contain concentrated amounts of active ingredients," Dr. Tsippora Shainhouse, FAAD, board certified dermatologist at SkinSafe Dermatology and Skin Care, told Healthline. You will want to use a serum that ideally contains antioxidants, vitamin C, and natural, revitalizing ingredients, according to Rouleau (via Byrdie). One recommended serum is Caudalie's Resveratrol-Lift Instant Firming Serum ($63.20, SkinStore). This serum contains hydrating and renewing ingredients such resveratrol, hyaluronic acid, and a vegan collagen alternative that visibly firms skin.
The next exception is that you will want to replace your morning moisturizer with a creamier evening moisturizer. While a lightweight lotion is ideal for the daytime, for the nighttime you will want to opt for a richer cream that really nourishes your skin while you slumber. One great option for normal skin that won't break the bank is CeraVe's Skin Renewing Night Cream ($19.89, Amazon). This ultra-hydrating, non-greasy lotion is packed with niacinamide and ceramides that help to brighten and restore skin.