The Vintage Beauty Trend 41% Of People Think Never Should Make A Comeback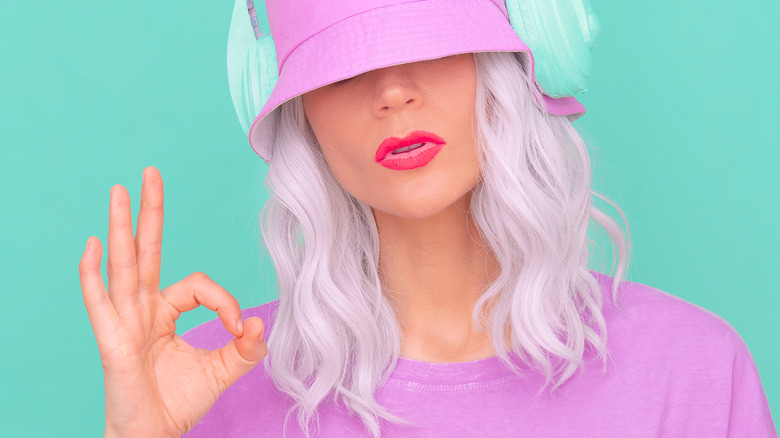 Shutterstock
Walk around any college campus today and you'll feel as if a time warp has propelled you back to the era of AOL Messenger, boy bands, and Britney and Justin. That's right: Gen Zers have officially given '90s fashion the comeback it rightfully deserves. For many of us, those golden years are still fresh in our memories, and a "comeback" may feel ahead of schedule. But here's a jaw-dropping and bubble-bursting statistic for you: The year 1990 is now farther away than the year 2050. Moreover, the majority of Gen Zers never took a single breath in what History calls "The Good Decade." For young stars like Olivia Rodrigo, Billie Eilish, Shawn Mendes, and many, many more, the '90s are basically antiquity.
According to The Polished Pearls, on average, styles come back into fashion every 20 to 30 years. If you do the math, it's past time to hang up those '80s mom jeans, scrunchies, and converse sneakers, and embrace the styles that followed in their wake. We're talking sheer dresses, we're talking knee socks, we're talking claw clips. Get ready to see a resurgence of sporty slides, bucket hats, cargo pants, mini backpacks, and matching tracksuits. Even plastic zig-zag hairbands made an appearance on Prabal Gurung's runway a couple of years ago, per Cosmopolitan.
But every time trends circle back around, there are some that should be forever buried in the past. Here are a few of the vintage beauty trends people think should be left off the comeback list, including the one that a whopping 41% of people agree on.
Super thin eyebrows: Fashion or faux pas?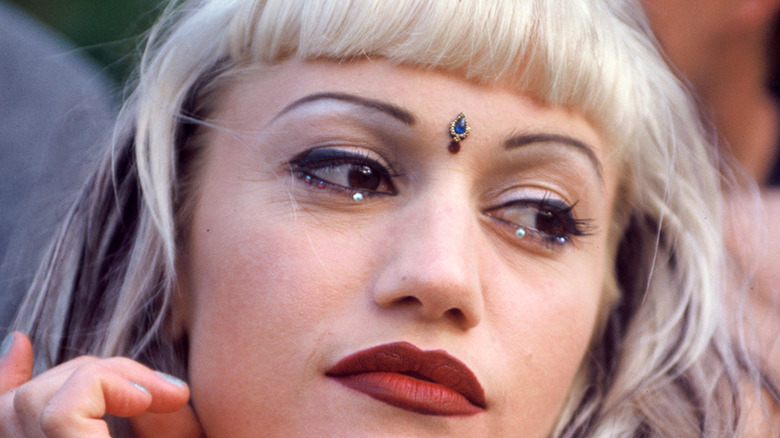 Tim Mosenfelder/Getty Images
Raise your hand if your or your mom's yearbook photo shows two pencil-thin lines where eyebrows should be. Unfortunately, many of us followed in the footsteps of Gwen Stefani, Kate Moss, Naomi Campbell, and other '90s luminaries who considered tweezers the essential beauty tool. Now, we're full of regret. According to a recent survey, 41.49% of the 699 respondents said super thin eyebrows should never make a comeback. Blue eyeshadow came in second with 20.89%, followed by dark lip liner on lighter lips (19.60%), and frosted lipstick (18.03%). However, there are some dissenters.
In 2020, Vogue Paris published an article about this tension, cataloging the humiliating-to-some history of how the skinny eyebrow trend began and how it's sneakily resurfacing as of late. The article traces the trend back to haute couture makeup artist, Kevyn Aucoin, who apparently also invented contouring and multicolored makeup. According to Vogue's projections, the newly released documentary, "Larger Than Life: The Kevyn Aucoin Story," may just catalyze the return of over-plucking. British Vogue seems to be on board, as it gave the one and only Rihanna razor-thin brows for its September 2018 cover, much to readers' dismay. "Rihanna, why are you trying to bring the skinny eyebrow back?" one fan tweeted. I refuse. I'm keeping my bushy brows for good now. You have no idea how long it took to eradicate the mistakes of the past. #pluckinghell." Well, what's your verdict?