How To Style Blunt Bangs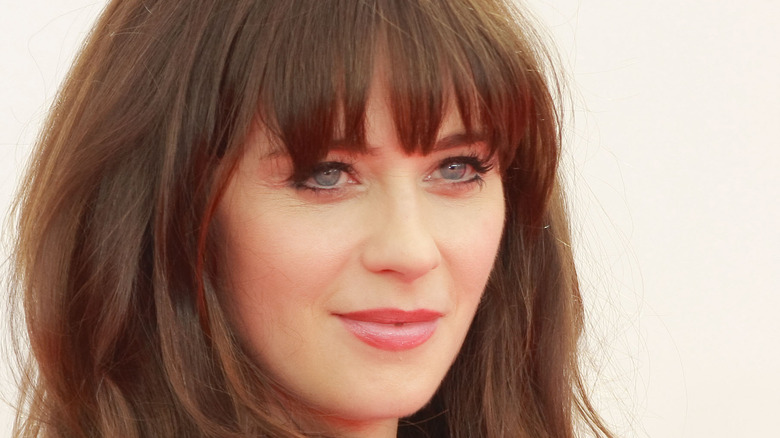 Shutterstock
So, you've made the switch to blunt bangs, but you're struggling to style them. Blunt bangs can become particularly unruly if they are ignored, with strange cowlicks and odd pieces sticking up in ways that they shouldn't. Fortunately, many people have been in your shoes and understand the struggles. With a few tricks up your sleeve, you should be able to remedy any wonky hairs and create the bold style of your dreams.
Blunt bangs tend to work best on those who have naturally straight hair, says L'Oréal Paris. You can also make this style work if your hair is thick and wavy. Just ask Zooey Deschanel, who says her bangs might look blunt but are actually "heavy bangs that have been thinned with shears or beveled with scissors" (via Glamour). If your hair is very curly or wavy, consider curly bangs or curtain bangs instead.
To make blunt bangs pop, it's all about the styling. All Things Hair recommends that you use a blow dryer with a flat nozzle, a round hairbrush, and a light moisturizer to reduce frizz. Just be careful of the moisturizer you choose and the face products you use. You don't want to cause your bangs to look oily or exacerbate face irritation and acne. To help avoid these issues, try not to let your bangs sit on your forehead until they are dry.
Blow dry blunt bangs quickly, and other styling tips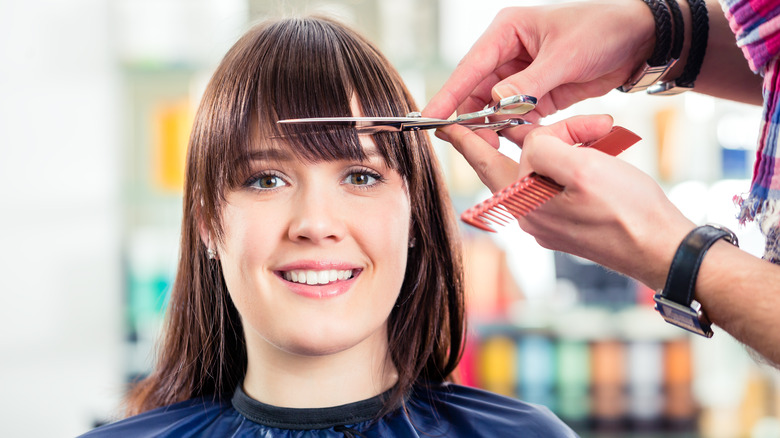 Shutterstock
As with other styles of bangs, blunt bangs look their best after a blow dry. Unlike other bangs, however, they need to be dried pretty quickly. "With this style, you really need to blow dry right away," says stylist Ryan Trygstad reporting for Byrdie. "This will make it easier to combat any cowlicks or irregular hairline patterns." Your blow-drying technique matters, too. Trygstad recommends holding your hairdryer over your head and blowing down onto your bangs. To help them fall naturally across your forehead when dry, the stylist also suggests brushing your bangs from side to side as you use your blow dryer.
To give your bangs a slightly curled, sleek look, use a rounded hair brush to curl them in toward your face as you blow dry. If your hair starts to get oily in the coming days, use a dry shampoo to help you keep grease in check (via All Things Hair). Lastly, you may need to get your bangs trimmed more frequently than the rest of your hair, to ensure that they are always in the right place on your forehead. Once every six weeks should do the trick. With these tips on hand, you should be able to rock your blunt bangs like you just stepped out of a salon.