The Truth About James Franco And Dave Franco's Relationship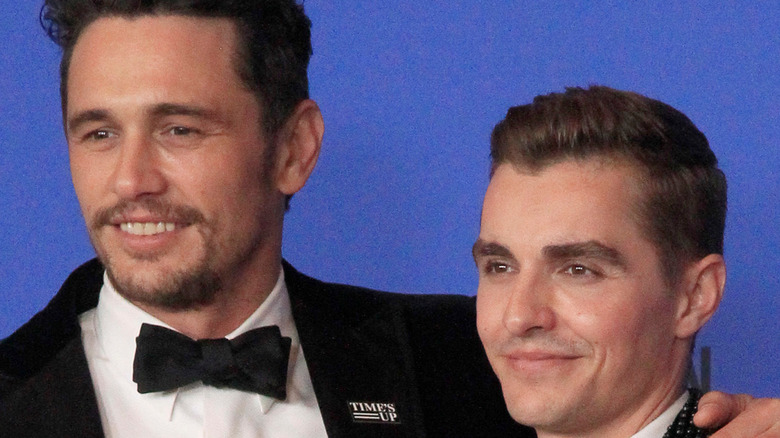 Shutterstock
Actor James Franco first made a name for himself when he starred in "Freaks and Geeks" and later went on to earn acclaim for his roles in "127 Hours," "Milk," "Pineapple Express" and more (via GoldDerby). But it took folks a moment to realize that James Franco was not the only actor in the Franco family: His brother, Dave, is in the business as well.
Dave Franco first began his career appearing on TV shows like "Greek", "Privileged", and "Scrubs" (via IMDb). For a long time, he actively worked to make his own name, one separate from his famous older brother — not wanting to get stuck in his shadow or simply be known as "James Franco's little brother."
"As much as I love and respect my brother, I've had to distance myself from him work-wise," Dave Franco told The Irish Times in 2016. "...He could tackle certain roles that I couldn't touch and vice versa. I think that's a great thing, because as much as I like being associated with him, I want to have credibility and my own career." 
Eventually, the two Francos did team up for the 2017 film "The Disaster Artist", which James Franco starred in, in addition to co-writing and directing (via The Hollywood Reporter)."Before I was halfway through the book ... I knew I wanted to play Tommy and I knew my brother would be perfect for Greg, that we had the right dynamic," James Franco revealed following the film's release.
Art imitating life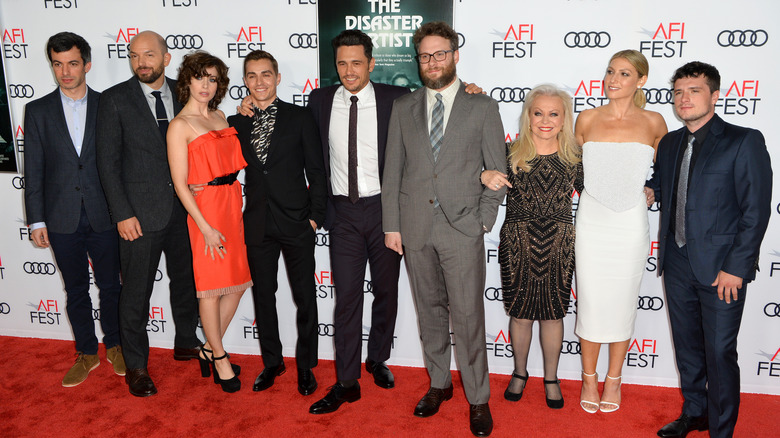 Shutterstock
At the Toronto International Film Festival, Dave said it "felt like the right time and the right project and the right dynamic" for them to appear together (via Entertainment Weekly). However, even when the brothers aren't collaborating, James still has an influence on Dave and his work 
In July 2020, Dave made his directorial debut with "The Rental", a horror movie that features brothers Josh and Charlie (played by Jeremy Allen White and Dan Stevens). Winning Charlie's approval is important to Josh — a dynamic that Dave has said he shares with his brother. "[He's] kind of shy about it and doesn't really know how much he wants [his brother's approval] but feels like he needs it, and there's all of these conflicting things," Franco shared during his appearance on "Popcorn with Peter Travers" (via CheatSheet). While Dave admitted this is not quite the case any longer, he said, "I think that's how me and my brother used to be."
After five women accused James Franco of sexual misconduct, former partner Seth Rogen has revealed he has no plans to work with James in the future (via NBC News). It appears Dave has not commented as to whether or not he plans to work with his brother again in the future.
If you or anyone you know has been a victim of sexual assault, help is available. Visit the Rape, Abuse & Incest National Network website or contact RAINN's National Helpline at 1-800-656-HOPE (4673).