Best Lip Colors And Application For Downturned Lips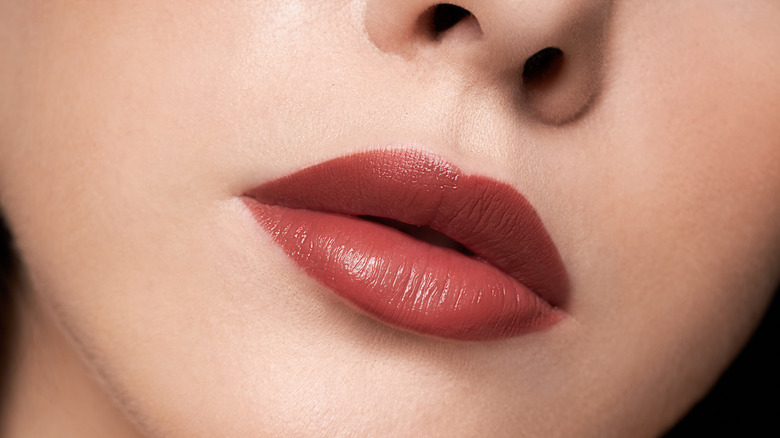 Shutterstock
Each and every lip shape has a set of tricks to create balance and fullness — whether you have some top or bottom-heavy asymmetry, a thinner pout, or downturned lips. If you have a downturned mouth, chances are you identify with stars like Natalie Portman or Kate Middleton and have lips that slightly angle downwards at the corners. If you want to bring your pout upwards, or just create more evenness, all you need is some lipstick, liner, and a few other unexpected tools for a perfect pucker. Curious? Grab your makeup bag and let's get started!
As per L'Oréal Paris, downturned lips have somewhat of a frown shape, but bringing them up into a natural smile is easy. One surefire trick is to grab some concealer, blending it into the corners of your mouth. Once you've minimized your corners, use any lip liner to create the illusion of an upturned mouth.
If drawing full new mouth corners sounds a bit daunting, Makeup First recommends that you avoid defining the lower lip corners and instead use concealer to blur the area and fill the space in with your lip color in an upwards motion. Meanwhile, according to Be, you should solely focus on drawing up the top lip instead.
The best tips for downturned lips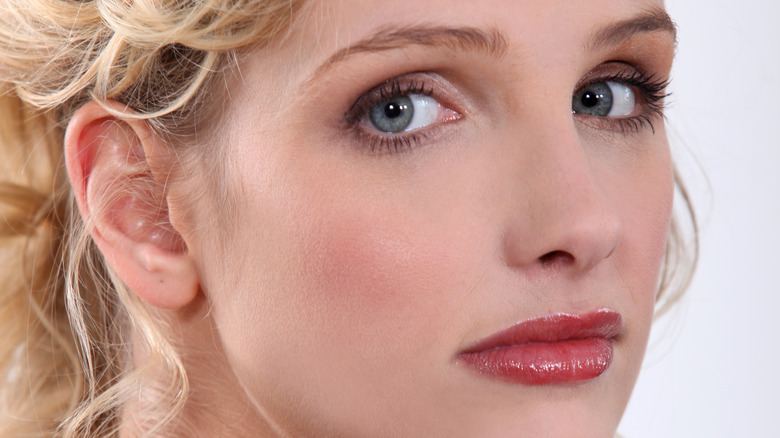 Shutterstock
Lifting up downturned lips is much easier than you may think, even if you don't have concealer on hand. According to Her World, any highlighter will do the trick as well. To lift up your corners, you should start by applying your highlighter on both sides of your mouth to make your upper lip's shadow virtually disappear. Next, you'll need a liner that matches your natural lip color. Using a true-to-you shade, draw inside your lip line, filling it in with liner or lipstick, and voilà!
Once your lips are contoured into an upturned shape, you can use a gloss at the center for a pouty, just-bitten look (via Byrdie). That being said, if you've already overlined your lips to make them look fuller, a gloss might do more harm than good. All-over glosses deflect light from your top lip, creating a thinner effect, so just using it in the center is key. Oh, and remember to blend everything in for a seamless look!