Here's Why Royal Fans Think Harry & Meghan's Daughter's Name Starts With This Letter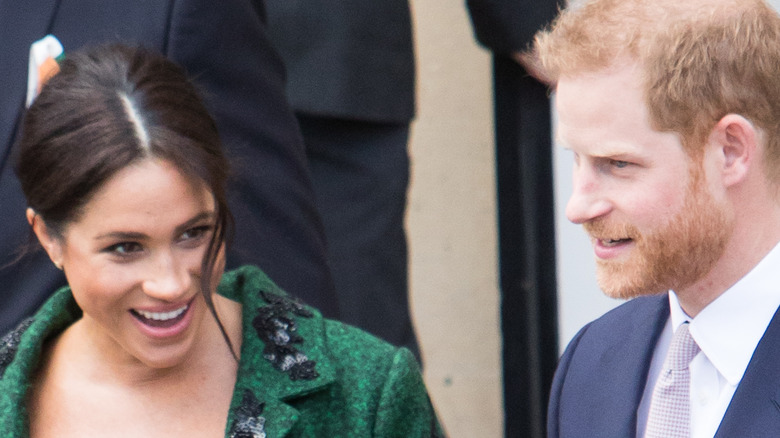 Shutterstock
Ever since Prince Harry and Meghan Markle revealed that they have baby number two on the way — and then shared in their interview with Oprah that they were having a girl — royal watchers have been wondering just what name they'll pick for their little one (via Oprah Daily). Many have suggested that the couple may choose to name their daughter after one of their royal family members. Suggestions have included Diana, after Harry's late mother, and Elizabeth, after his grandmother the queen.
One of the most popular picks is Philippa, for Harry's grandfather who died in April 2021 (via CNN). According to Jessica O'Reilly of the U.K. gambling site Ladbrokes, many are even willing to put money on it (via People). "The support for baby Philippa is showing no signs of slowing down," O'Reilly told People. "We've been forced to trim the odds again that it's the name for Harry and Meghan's daughter."
But the betting sites show those aren't the only options — and many of the names start with one letter in particular.
Fans suspect Harry and Meghan's daughter's name will start with an A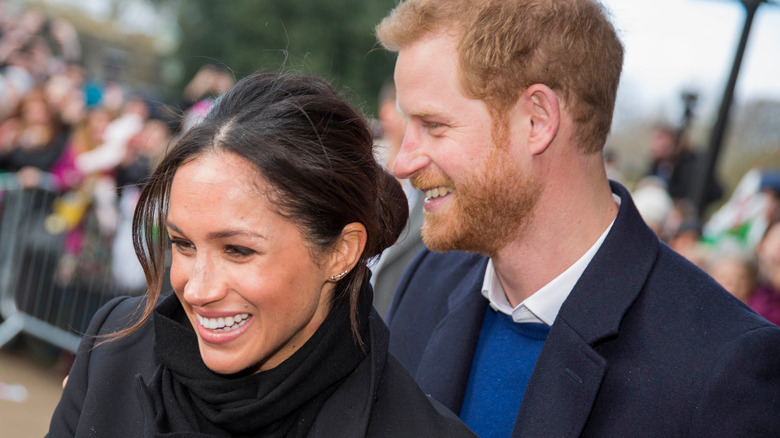 Shutterstock
According to People, Allegra, Alexandria, and Alice are all popular picks for the couple's second child. HuffPost reports that U.K. betting companies are also featuring the names Abigail and Anne as possible choices. Fans seem to have hit on the letter A because of the moniker the parents picked for their first child, a son they named Archie Harrison Mountbatten-Windsor (via BBC). However, there is also some proof they like A names.
During Meghan Markle's first pregnancy in 2019, the couple visited a school together, and they fielded all kinds of baby name ideas from the children there (via People). One girl, a 7-year-old named Megan Dudley, bonded with Markle over sharing the nickname Meg, and she had her own suggestion to make. "I asked her whether she would call her baby Amy if she has a girl, and she said, 'That's a really pretty name, I like it. We'll have to think about it,'" Dudley told reporters (via People).
It's possible fans are way off base — after all, nobody expected the couple to pick the name Archie — but it sounds like 7-year-old Dudley just might be onto something.