This Is Why Meghan And Harry Don't Have A Nanny For Archie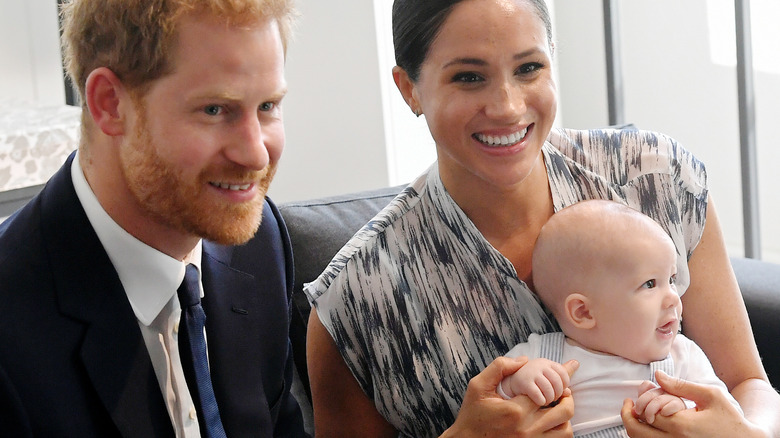 Pool/Getty Images
Wealth and fame bring privileges that the rest of us take for granted. One of them is being able to get professional help for the chores and other needs that one doesn't have the time, energy, or interest in doing. Take the royals, for example: You know that the queen has barely touched a broom or mop in her life. And while Prince William isn't afraid to get his hands dirty, he's far too busy to cut the expansive lawn and trim the topiary at his Anmer Hall home; a professional landscaper takes care of that (via Hello!). 
Child care is another area where the rich and famous typically pay for a helping hand. The royals are no exception: It's traditional for palace parents to hire nannies to care for their little princes and princesses, and the best ones may stay with the family for years. William and Kate have relied on Maria Teresa Turrion Borrallo since Prince George was an infant, according to Hello!, and now she minds Princess Charlotte and Prince Louis as well. However, William's younger brother hasn't fared so well in the nanny department.
A new British TV series, "A Royal Baby: From Cradle to Crown," explores the births, milestones, and upbringings of several generations' worth of palace offspring. Naturally, Prince Harry and Meghan Markle are included in the mix. Via the Daily Mirror, royal biographer Omid Scobee is one of the experts interviewed, and he confirms some details about the Sussexes — such as their disastrous early experiences with nannies.
Meghan and Harry may be parenting without outside help
After the birth of their first child, Archie Harrison Mountbatten-Windsor, the Duke and Duchess of Sussex decided to be full-time, hands-on parents rather than bring a nanny into the mix. However, after a few weeks of those classic sleepless nights, the couple relented and hired a night nurse to help with the process of getting Archie to sleep longer hours at night.
It proved disastrous; as Scobee wrote in his biography of the couple, "Meghan and Harry were forced to let the nurse go in the middle of her second night for being unprofessional and irresponsible." (He repeats the story in the TV documentary.) The new parents brought another night nurse onboard shortly afterward, but they still couldn't relax at night. Eventually, they opted to hire a part-time daytime nanny (she didn't live in their home) for the duration of their time in England.
Now settled in California and officially discharged from their royal duties, Meghan and Harry are expecting their second child soon. Via the the Daily Express, no one seems to know whether the Sussexes currently have childcare help with Archie, or whether they plan to hire any once their daughter is born. Doting grandmother Doria Ragland is said to have an active part in Archie's life, so it may well be that Harry and Meghan will continue to rely on her rather than a professional caregiver. If so, that would be just one more way in which this couple has broken with royal tradition.