How To Style Wavy Bangs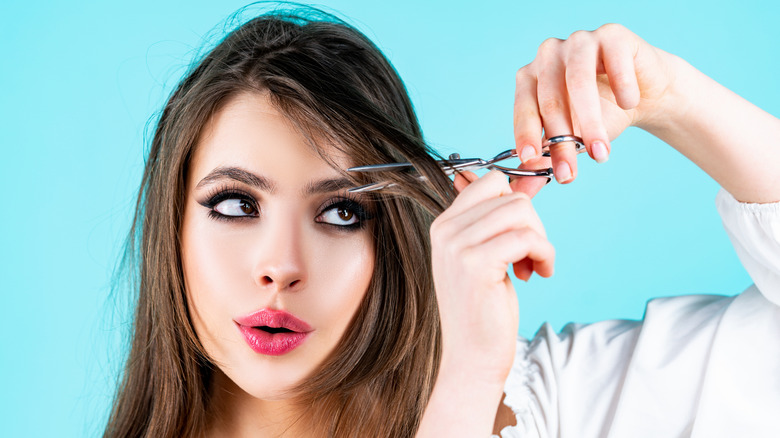 Shutterstock
It's been a long quarantine, and you might be one of the many who has come out of it donning a bold new hairstyle. If you recently opted for bangs and are struggling to style your new 'do, there are a few things to take into consideration. For wavier hair, you'll want to resist the urge to take a flat iron to your fringe to create an ultra-straight look. The trick is to blend the bangs with your natural texture, which can be easier said than done.
For the perfect wavy-hair look with bangs, you can blow them out and part them for a polished vibe that still frames your face with volume and movement. For a more undone look, you'll want to find the right products for your hair to make your texture pop all around and leave the bangs wavy to blend with the rest of your locks (via Byrdie).
The length of your bangs can change everything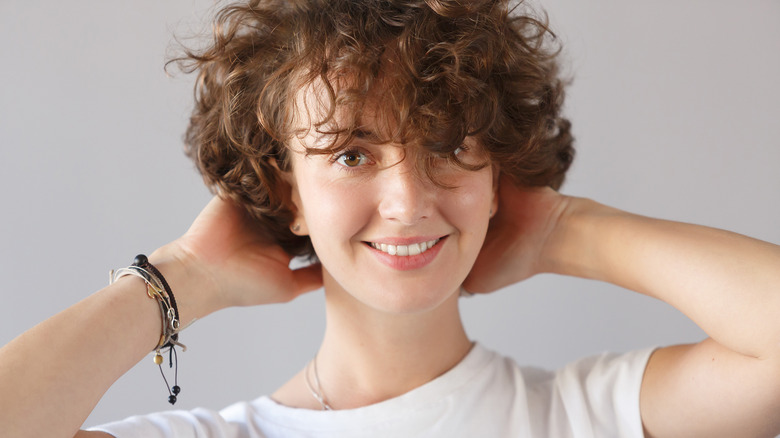 Shutterstock
Before you begin the styling process, you'll want to make sure the cut of your bangs is right for you, your hair, and your desired outcome. For a wavy style, a longer bang cut that gives a nod to the iconic styles of the '70s will be best. A longer length will provide you with more versatile options as well. Celebrity hair stylist Ryan Trygstad, explained to Allure, "I find [people with naturally curly hair] have more options with a longer length, like wearing it to the side or a center part."
If you're looking for a shorter length for your hair, the outlet notes that you'll still want to start at a longer length to see how your hair's texture reacts to your new short-in-the-front style. It's always better to start long and gradually work your way up to your desired length at your next trim.
Find your products and be prepared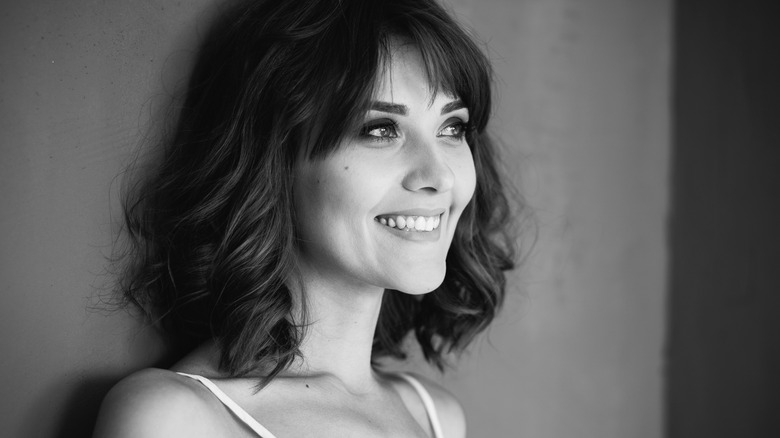 Shutterstock
Hair Romance notes that applying curl cream while your hair is still wet and twisting your curls into position can help get your hair to lay where you want it to, and that it's not a bad thing to apply a little bit of a heat treatment to your fringe if it's not quite cooperating.
It's also important to take note of the amount of humidity you'll experience depending on where you live (via Allure). Hair Romance suggests that you wait until the summer months have ended to give a new style a try, and if you can't wait, don't get caught in the humidity without bobby pins.
As with the rest of the hairs on your head, it's important to be gentle with your bangs. Since the hair that frames your face is especially delicate, you'll want to resist your desire to towel dry after a shower, (via Hair Romance). A light blast of cool air from hair dryer should do the trick, and air drying is a great option as well.
Whatever your style of choice is, be sure to choose the product and styling process that's right for you. Bangs can be tricky, but if done right, they're the perfect accessory for any ensemble and makeup look.