Where Does The ACE Family Live And How Big Is Their House?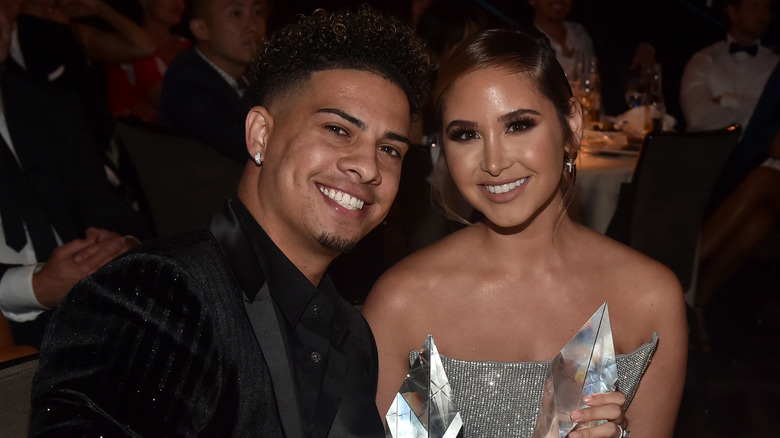 Alberto E. Rodriguez/Getty Images
It's no secret that YouTube money is no joke. What was once a fun hobby to kill time has swiftly turned into an incredibly lucrative way of making money, even serving as the main source of income and subsequent career path for many people. According to the Irish Times, some of the most popular YouTubers are making anywhere between $15 and $30 million for their videos, content creation, and sponsorships.
One of the richest and most popular YouTube channels as of 2020 is The Ace Family, which comprises husband and wife Austin McBroom and Catherine Paiz, and their two daughters. Their content consists of vlog style videos that follow the family's everyday adventures, content that their nearly 18 million subscribers seem to love, per Distractify. With such impressive success, the family is worth about $22 million as of 2020 (via Financhill), which has afforded them quite a lavish lifestyle. Therefore, we can't help but wonder where the family lives and what their home must look like.
The ACE Family merged two houses to make their home
In 2019, the ACE family shared that they were going to be building a home in Los Angeles. More specifically, the house is in the heart of Encino, California, on a hilltop in Woodland Hills, according to Youtuberfacts. The house they're now living in actually used to be two separate homes, which they had requested to be merged into one gigantic space (via Famous Celebrity Homes). At 20,000 square feet, the house sits on about 1.2 acres of land and boasts an impressive 12 bedrooms, 13 bathrooms, a pool, a game room, and a home theater, per Celeb Answers. The couple kept the construction hidden for quite a while before sharing the news, having allegedly started the construction in 2018, but not sharing it until 2019.
One of the most popular types of videos shared and enjoyed on YouTube are home tours, in which influencers take their subscribers through the ins and outs of their gorgeous mansions. YouTubers such as Emma Chamberlain, James Charles, Jenna Marbles, and Shane Dawson all jumped on this lavish trend — and of course the ACE family couldn't help but follow suit. When the family eventually decided to share their stunning new home in 2019, they posted a YouTube video entitled, "THE ACE FAMILY OFFICIAL HOUSE TOUR!!! **FINALLY**," which was over an hour long and currently has nearly 22 million views.
Here are some of the stunning amenities featured in their mansion
According to Youtuberfacts, the ACE Family's home cost them a whopping $10 million. The source adds that all of the bathrooms within the house have stunning and bespoke floor-to-ceiling showers, as well as walk-in closets that many can only dream of. In addition, the house also had its very own gazebo, as well as a sauna, home gym, and balcony. And if that wasn't enough, the ACE Family decided to add a mini-golf course at the back of the house.
But the incredibly lavish home doesn't quite sit well with everyone. Some people on social media have criticized the family for bragging, and that the space is way too large for a family of four. One Twitter user called out the family for unjustifiably complaining, saying, "Throwback when the ACE Family complained that in their old house, their master bedroom wasn't connected to the gym and they had to walk across the mansion to get to it ... Because a gym is for exercise....but the walk across the mansion is too much work y'all #acefamilycancelled."