Brooklyn Nine-Nine Fans Are Buzzing About Stephanie Beatriz's Big Family News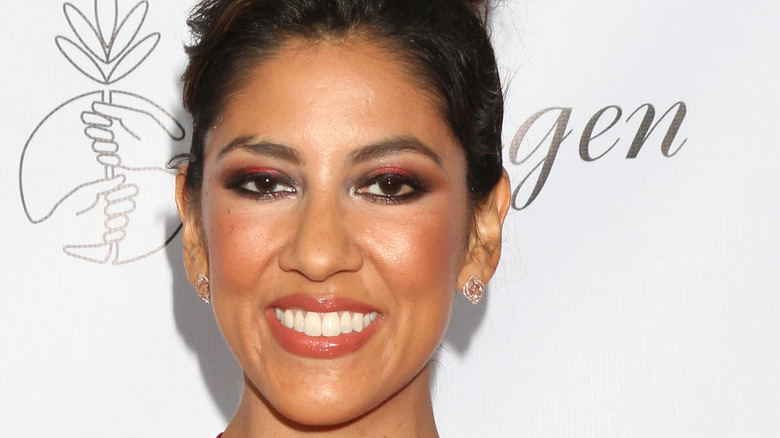 Shutterstock
Exciting news for "Brooklyn Nine-Nine" fans! Your favorite detective in Brooklyn's 99th precinct is going to be adding one more to the team. Stephanie Beatriz, who plays Detective Rosa Diaz on "Brooklyn Nine-Nine," is pregnant with her first child. She and her husband, Brad Hoss, shared the exciting news with People. The couple have been married since 2018, which have been nothing but blissful for the two, with Beatriz sharing, "I never would've gotten to the place where I would've even been open to Brad as a partner if it hadn't been for my time on 'Brooklyn Nine-Nine" (via People). 
Fans couldn't be more excited for Beatriz. One person tweeted, "for years Stephanie Beatriz has said her dream storyline for Rosa would be that she gets pregnant and how she learned so much from seeing Mel/Chelsea when they were pregnant on set so the fact that she got pregnant on the last season of b99 just makes me SO!! Happy!!!" Another shared a meme saying that as soon as they saw that Beatriz was pregnant, they couldn't help but cry.
But Stephanie Beatriz didn't always envision herself as a mother or even a wife. She told People, "I didn't think that a committed partnership was really for me. I couldn't really see kids. It wasn't that I was closed off to it. It was more that I couldn't quite see how a baby fit into the life that I was building." But everything changed when she met her husband. 
Beatriz maintains that she is just as queer as she has always been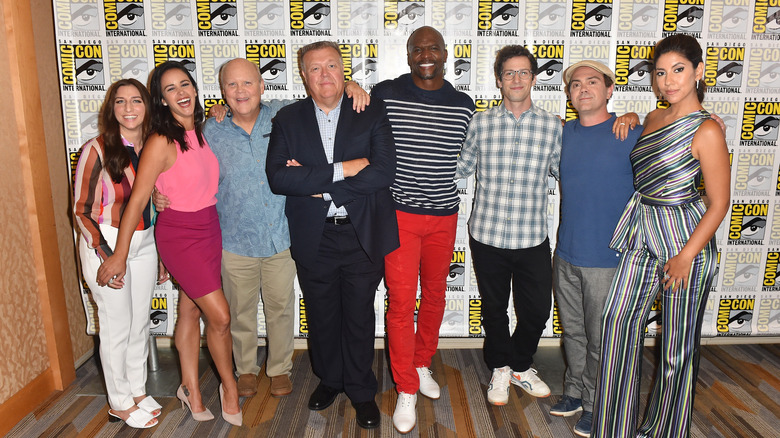 Jerod Harris/Getty Images
While "Brooklyn Nine-Nine" might seem like just another sitcom to some, true fans of the show understand the interesting effect that the show seems to have on real life; Stephanie Beatriz has experienced this first hand, believing her role as Rosa to have had a massive effect on her personal life. In addition to finding a wedding dress perfectly suited for her that was literally called the "Rosa," (via People), Beatriz ended up coming out as bisexual in real life which was eventually written into her character arc, as well.
According to Vulture, Beatriz had come out on Twitter in 2016, writing a simple "Yup" in response to a post she retweeted from Bust Magazine of Aubrey Plaza in "Parks and Rec" saying, "I fall in love with girls and guys. I can't help it." Fans couldn't tell if Beatriz was serious or not, and in response to this query, she wrote, "yes, y'all," per Advocate.
Beatriz knew from a young age that she was bisexual
Beatriz later explained to Vulture that she knew she was bisexual ever since her mother took her to see a Frida Kahlo exhibit at the Houston Museum of Art when she 11, where all she did was "stare at the boobs." She added, "Museums were probably the root for me because it was free rein to stare at the beautiful bodies in all the paintings."
Beatriz explained that she was approached about making Rosa bisexual, she couldn't have been more excited. "[Dan Goor] called me and said ... 'Would you be open to us exploring a story where Rosa comes out as bisexual?' And I was like, 'Absolutely. Yes. I'm so excited! Yes! Yes! Yes!' It was like, tens, tens, tens across the board."
But being pregnant doesn't negate Beatriz's bisexuality at all, she says. In her eyes, she isn't "any less queer" due to her pregnancy or marriage to a man. "I was able to be my fullest, most authentic self around Brad," she gushed to People. "He's extremely empathetic and open."