Inside Rob Lowe's Marriage To Makeup Artist Sheryl Berkoff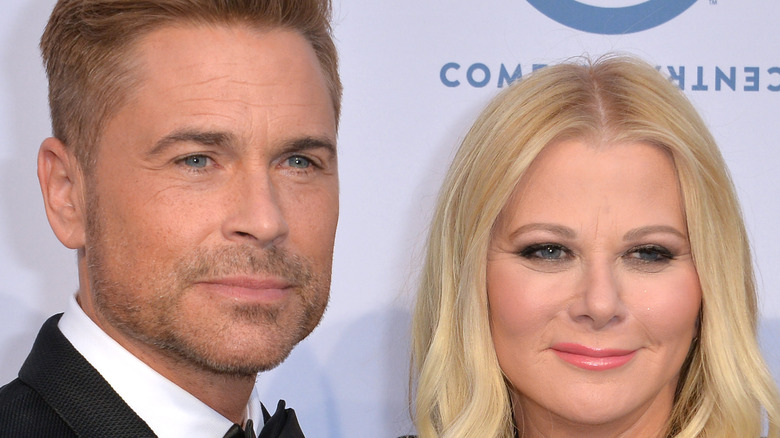 Shutterstock
What do Patrick Dempsey and Rob Lowe have in common? To start, they were both born in the '60s, share the same profession, have dreamy blue eyes, and age like fine wine. They were also both ABC's top picks for the part of Dr. Derek Shepherd on Grey's Anatomy, but Lowe told People he turned the part down, a move he believes cost him around $70 million. But one lesser-known similarity between the two handsome Gen X actors is that they're both married to celebrity makeup artists. 
While Dempsey wed celebrity makeup artist and hairstylist Jillian Fink more than two decades ago (via Good Housekeeping), Lowe and his wife Sheryl Berkoff have them beat, as they've been happily hitched for not one, not two, but three entire decades, per Gossip Cop. However, the trek to the aisle wasn't exactly smooth sailing. Here's everything you need to know about the successful makeup artist's long-lasting marriage to your mom's '80's TV crush.
The couple didn't hit it off straight away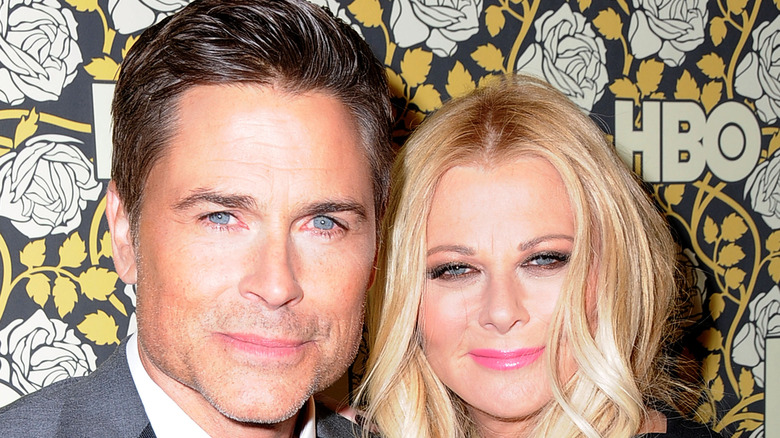 Barry King/Getty Images
As Gossip Cop reports, Rob Lowe and Sheryl Berkoff's relationship got off to a rocky start. They first met back in 1983 after mutual friends set the pair up on a blind date, but when not a single spark flew, the pair went their separate ways. Little did they know, their paths would cross again seven years later on the set of the 1990 film "Bad Influence," when Berkoff was hired to do Lowe's makeup. The second time was the charm for the lovebirds and they began seriously dating, eventually saying "I do" in 1991.
Although Berkoff was killing it in her career as a fashion and jewelry designer, per Gossip Cop, the years in between point A and point B were filled with hardship for Lowe, as he spent much of it dealing with alcoholism and a highly publicized sex scandal (via Bustle). The star talked to Haute Living about how his first monogamous relationship pulled him through that dark time. "It made me examine how I was living my life," he recalled. "That led me to getting sober, which led me to changing my life — giving me everything I now have." Lowe credits his wife for his 25 years of sobriety.
He also encourages his fans to not settle for anything less than the love he's found. "I always say to people, 'If there's any way to marry your best friend, do it,'" Lowe told Haute Living. "'Cause the rest of it comes and goes, and I was very lucky there."