Think Twice Before Buying Your Spices At Costco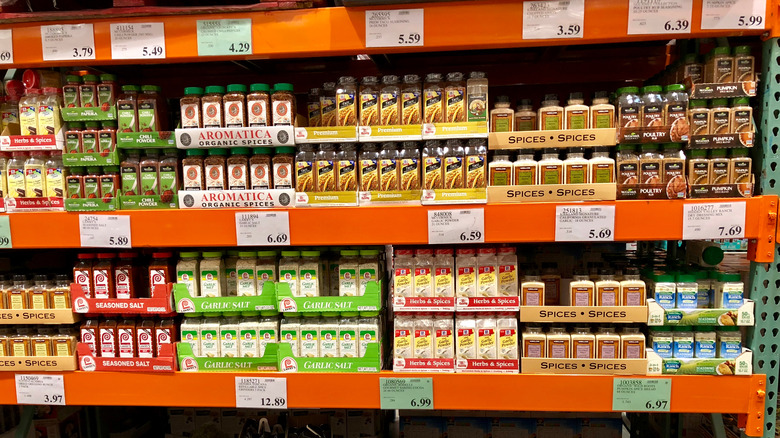 Shutterstock
If you're a Costco member, chances are you shop there often, taking advantage of the membership you pay for each year. You probably enjoy Costco's generous return policy, and you might even appreciate some of the weird items available at the warehouse retailer. You probably also know that the deals on many of Costco's Kirkland brand products like almonds and bacon can't be beaten (via Reader's Digest). 
There are plenty of bargains in bulk buys you might make at Costco, and while it is tempting to toss a large bottle of your favorite spice into your cart, there's a good reason why you shouldn't purchase spices there, according to USA Today. There's no denying that these large containers cost far less per ounce than their counterparts at your favorite grocery store. However, unless you do a lot of cooking, using an extraordinary amount of spices, there's a reason why these cheaper per ounce jars may end up costing you money in the long run (via Epicurious).
Here's how buying bulk spices could cost you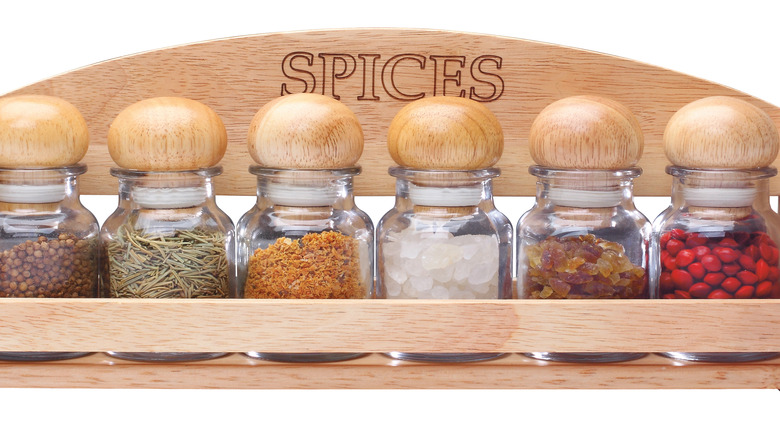 Shutterstock
While buying spice in bulk is much cheaper per ounce than buying them in regular sizes, it could end up causing you storage issues, and the herbs could lose their efficacy before you use them, Epicurious reported.  Rhoda Boone, the food director of video for Epicurious and Bon Appétit, urges shoppers to "[b]e realistic" when buying in bulk. "Check the expiration date. If the item has one, think about if you'll really use the amount you're buying in that time. You're not really saving money if you're going to throw spoiled food away."
Often, you'll find that you use spices in pretty small quantities, so, having 16 ounces of something might be more than your household needs. Cathy Erway, a food writer and the author of "The Art of Eating In: How I Learned to Stop Spending and Love the Stove," explained why spices aren't a great buy at Costco or other warehouse stores. "Large quantities of dried spices might seem way more economical, but if you're not planning to use it like a commercial food processing plant, then it'll get stale and lose its oomph after a few months," Erway said. One exception is if it's a spice you use in multiple meals every day. If that sounds like you, then you will likely save money buying it in larger quantities.