The Other Gilmore Girls Actress That Almost Played Rory
Lauren Graham and Alexis Bledel grabbed attention as Lorelai and Rory Gilmore on the fan-favorite series "Gilmore Girls." The actresses had such great chemistry on screen that they really seemed like they could be mother and daughter, and the chemistry was still there for the Netflix revival of the series in 2016, per CBC. 
During the show's seven-year run, the two characters won over viewers with their highs and lows, as well as their sometimes quirky love for coffee and breakfast food. Of course, their love lives always seemed to be a mess as well, but they were always there for each other as a shoulder to cry on, a trusted advisor, and a best friend (via Radio Times). 
In the past, Graham has gushed over her fictional daughter and the actress who portrayed her. While speaking to Glamour in 2016, the "Mighty Ducks: Gamechangers" star revealed that she always believed Bledel was the best choice for the role of Rory. "I also thought [she was] perfect for the character. Perfect," she explained. "I thought we hit it off, and I thought that in enough ways, we look alike. I was always impressed by how much just natural ability she had from the beginning." 
However, the cast was almost very different. In fact, another familiar "Gilmore Girls" actress was nearly cast as Rory before Bledel snagged the part.
Liza Weil was almost cast as Rory Gilmore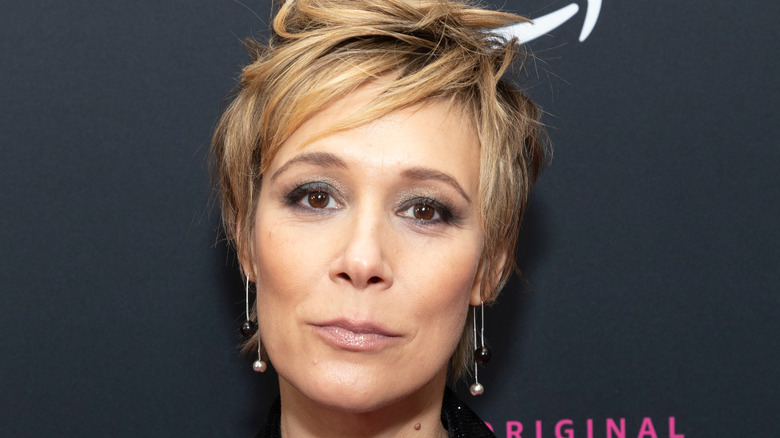 Shutterstock
Although it's hard to imagine anyone else but Alexis Bledel playing Rory Gilmore, another actress nearly landed the role. Liza Weil, who ended up playing Rory's prep school frenemy Paris Geller, auditioned for the part. However, execs ultimately decided that Bledel was better suited to embody Rory. 
Weil opened up about the situation during a 2015 cast reunion at the ATX Television Festival in Austin, Texas. "I got a call and they were like, 'They really liked you but it wasn't quite right. But if [the show is picked up] maybe they'll find something for you to do,'" Weil said, per Mashable. "I thought that was probably the end of it."
However, the show ended up being a hit, and producers made good on their word. They created the character of Paris, a wealthy, high-strung girl who Rory befriends at Chilton Academy. The character was reportedly written with Weil in mind, which she revealed felt "very flattering." Of course, Weil went on to appear in bigger roles on other television shows such as "Scandal" and "How To Get Away With Murder" (via IMDb). She was also cast in "The Marvelous Mrs. Maisel," which was created by "Gilmore Girls" developer Amy Sherman-Palladino, per Screen Rant. 
While Weil would have likely done a great job with the character of Rory, it seems safe to say that viewers are happy with the choice to cast Bledel in the part, with Weil as her feisty, over-achieving friend.