The Truth About Carey Hart's Tattoos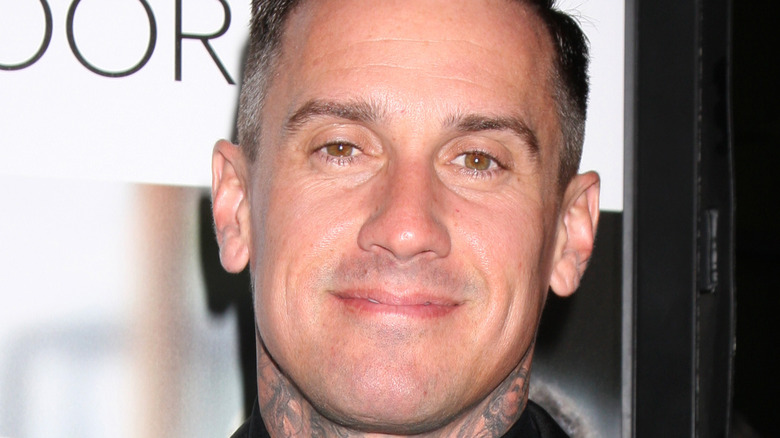 Shutterstock
Pink and Carey Hart just celebrated their daughter's 10th birthday (via People). It was a big day for Willow Sage Hart, who recently shared a heartfelt moment with her mother onstage during the Billboard Music Awards last month. Before Pink was honored with the 2021 BBMA's Icon Award, the "So What" singer and her daughter performed together to her song "Cover Me In Sunshine" while flying through the air (via E! Online). 
Along with Willow, Pink and Carey Hart also have a son together — Jameson Moon Hart. The two also just celebrated their 15th wedding anniversary in January, according to People. Pink says the secret to their success is that they've "really grown up together." The two actually began dating in 2001, and according to PopSugar, got matching tattoos together on their second date. With that kind of commitment, you could tell these two were serious from the start. Carey even has another tattoo dedicated to his wife.
Carey Hart has said his neck tattoos are his 'most meaningful'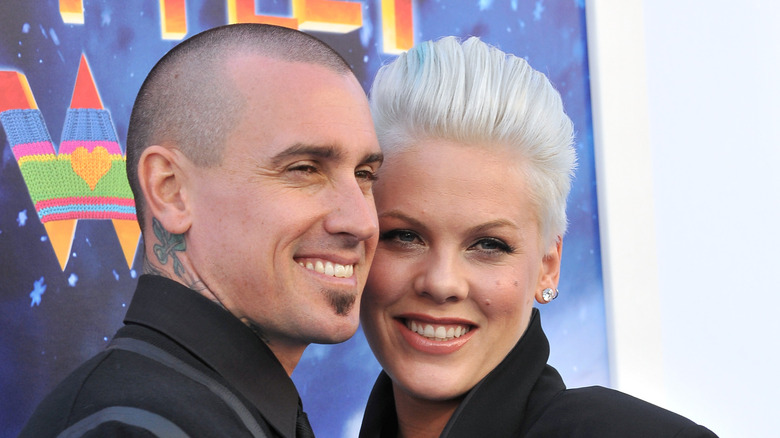 Shutterstock
The professional motocross rider has about 20 tattoos on his body with different meanings (via Body Art Guru). Along with his matching "Tru Luv" tattoo with Pink, Carey Hart also has the singer's real name — Alecia — tattooed on his lower jaw. His entire neck is actually dedicated to his family members with their names throughout. Near the "Alecia" is a "Willow" and "Jameson" for his kids, and there's a "Tony" tattoo for his brother who died in a motorcycle accident in 2008 (via TMZ). Out of all his tattoos, Carey has said that the ones on his neck are his "most meaningful" (via Inked). 
For his father, who was diagnosed with cancer, Carey had his name, "Tom Hart," tattooed on the back of his neck to show his support. Right below that is a heart tattoo, surrounded by flames, yellow rays, and purple and blue wings. This tattoo that takes up his entire back is meant to represent the Sacred Heart of Jesus and showcase Carey's religious views. The biggest piece Carey has is his left sleeve that is meant to represent his hometown of Las Vegas. It has a collage of different Vegas hotels and the iconic "Welcome to Las Vegas" sign. 
Carey's love of tattoos is so great that he even opened his own tattoo company, Hart & Huntington Tattoo Co., that has four shops where you could get your own meaningful ink.