Here's What Rosamund Pike's Net Worth Really Is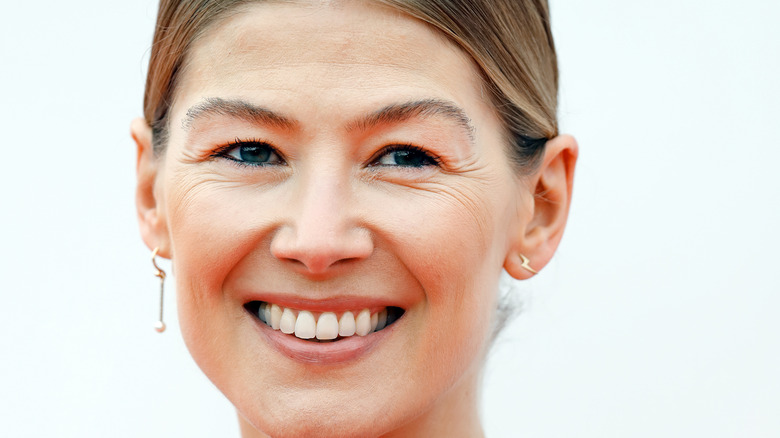 Max Mumby/indigo/Getty Images
Rosamund Pike — who is outspoken in many ways — got her first role on screen in 1998 as Celia in the television movie, "A Rather English Marriage." Since then, she's played a Bond girl, a Bennet sister, and a scam artist, according to IMDb. She won the award for best actress in a musical or comedy motion picture at the 2021 Golden Globes after being nominated twice before. It was her role as a shady con artist with a get-rich-quick plan, Marla Grayson, in "I Care A Lot" that won her the award. She's starred in some blockbuster movies and made it her mission never to be typecast.
The New York Times outlined that Pike grew up in London with two parents who were opera singers — that was where she first saw storytelling in action. She appeared in James Bond's "Die Another Day" in 2002 and "An Education" in 2009. However, The New York Times highlighted that it wasn't until she starred in "Gone Girl" in 2014 that she really got her breakthrough.
"It gave me the chance to learn more about screen acting than I ever had before," she said. "I was allowed to show every part of being a woman — to be extreme, dangerous, sweet, compliant, vulnerable. It was the first time I could achieve a freedom on-screen that I had only previously felt on-stage."
Since then, The Guardian outlined that Pike has taken on a role as the war correspondent, Marie Colvin, in "A Private War." So after all this work, what is Pike's net worth?
Rosamund Pike has never been typecast and it's paid off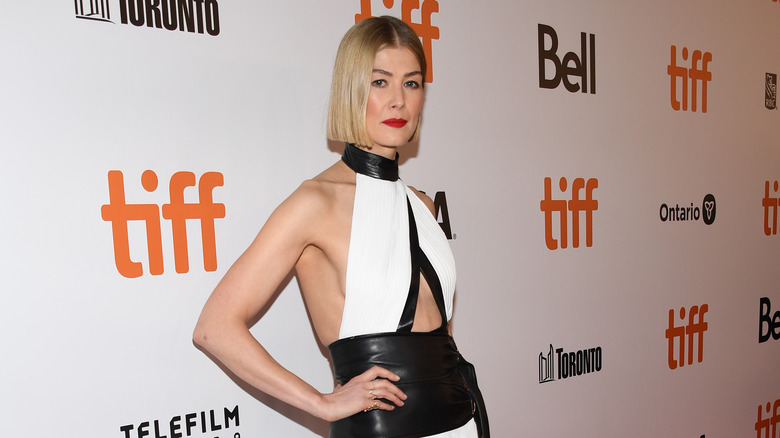 George Pimentel/Getty Images
In an interview with The Guardian, Rosamund Pike said, "You never regret saying yes. That's our motto in life at the moment — because you don't look back on your life and remember the things you said no to." This has led her to longevity in her career and to roles across the spectrum of comedy, thrillers, and period dramas. 
Perhaps because of this variety, Celebrity Net Worth has estimated that across her career, Pike has accumulated an impressive net worth of $6 million. It would seem that the story behind a character drives Pike's interest in projects and speaking to Grazia about her role in "I Care A Lot," she said, "I thought 'this is this is just the most interesting thing I've read for ages.' I mean, this is a remarkable character. I was completely riveted by Marla, and I couldn't believe the ingenuity of her plan."
Her career may have already spun over two decades, but Pike assured Slant that she's only just getting started. "I'm really playing the long game, as I want to be around in my 80s doing this job," she said. "People probably think I'm in a rush, but I don't think that I am. I've continued to do the things that interest me."