Inside Hulu's New Documentary On Erika Jayne And Tom Girardi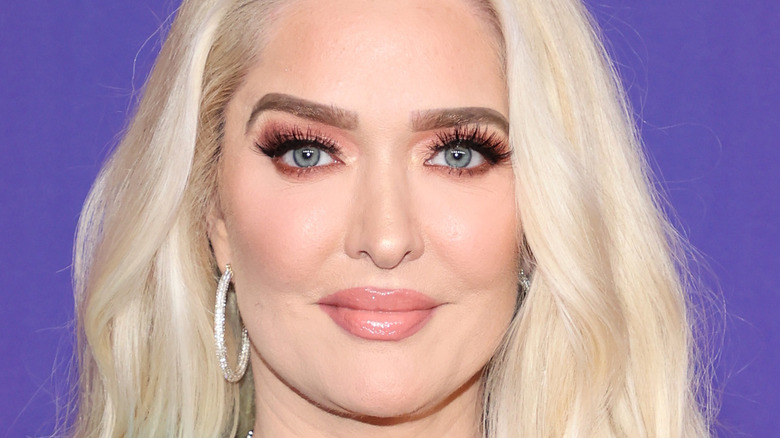 Amy Sussman/Getty Images
We could have guessed that the divorce between "Real Housewives of Beverly Hills" star Erika Jayne and her husband Tom Girardi was shocking enough to garner its own TV documentary. And now, it has, with Hulu announcing it will stream "The Housewife and the Hustler" starting June 14, 2021 (via E! Online).
For those who missed it, Jayne announced she was divorcing Girardi after 21 years together in November of last year (via Us Weekly). Their split came as a shock to fans, as the reality star previously gushed about Girardi, telling People in 2018, "What was really important to me was my relationship. Tom wasn't going to change. He was a grown man. It really was two people coming together who really enjoy each other's company. Tom is so bright. He understands the trick to life. I love getting his advice."
That the marriage was ending was far from the most shocking part of the story, with news emerging that Girardi, a lawyer, was being sued for allegedly embezzling funds intended for family members of victims of a plane crash. Then came the news that Girardi, age 81, had been diagnosed with dementia and Alzheimer's.
So, what aspects of this real-life drama will "The Housewife and the Hustler" cover?
What fans can expect to see in the documentary about Erika Jayne and Tom Girardi
According to Page Six, the filmmakers behind "The Housewife and the Hustler," an ABC News Originals production, were able to get their hands on inside details of the divorce between the "RHOBH" star and her estranged husband. Viewers will hear voicemails and see deposition tapes, as well as see never before released court documents.
As E! Online reports, in a trailer for the documentary the question is posed as to what Jayne knew about Girardi's alleged shady legal dealings before their divorce proceedings were initiated.
According to People, the film will also delve deeper into the couple's exorbitant spending habits during the marriage. The outlet also notes the interesting timing of the documentary, given that Jayne is currently starring in the 11th season of "RHOBH," and she is set to address her divorce from Girardi (via Women's Health).