What You Need To Know About Martin Truex Jr.'s Girlfriend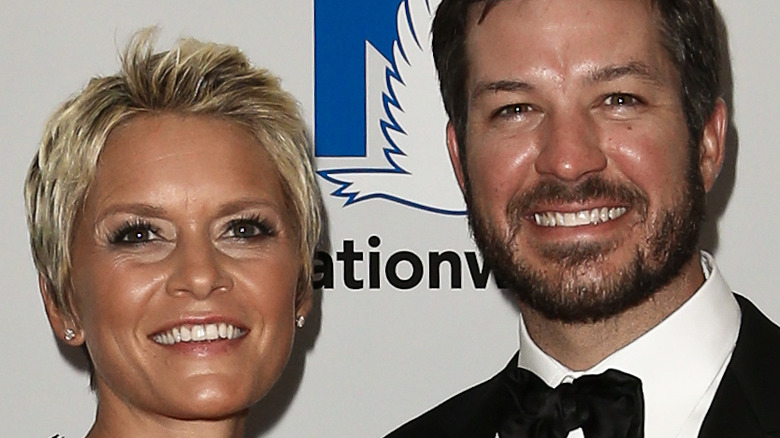 Shutterstock
NASCAR driver Martin Truex Jr. and girlfriend Sherry Pollex have been going strong since 2005, but unfortunately, their decade-and-a-half-long courtship has been plagued by hardships due to Pollex's bouts with cancer. Nearly 10 years into her relationship with Truex, when Pollex was just 35 years old, the boutique owner was diagnosed with Stage 3C ovarian cancer. At the time, as Pollex later recalled to Southern Living, she was told by a doctor that if she didn't get to a major medical center, she was going to "be dead by Christmas." 
Luckily, Pollex made it through Christmas after embarking on chemotherapy treatments and initially beat the grim diagnosis. Then, ahead of Christmas 2020, she was faced with a recurrence of the disease. "My cancer tends to be very smart [and] learns to mutate itself against the drug," Pollex explained to Southern Living. However, Pollex has proven herself a fighter, time and time again.
Sherry Pollex was involved in philanthropy well before her cancer diagnosis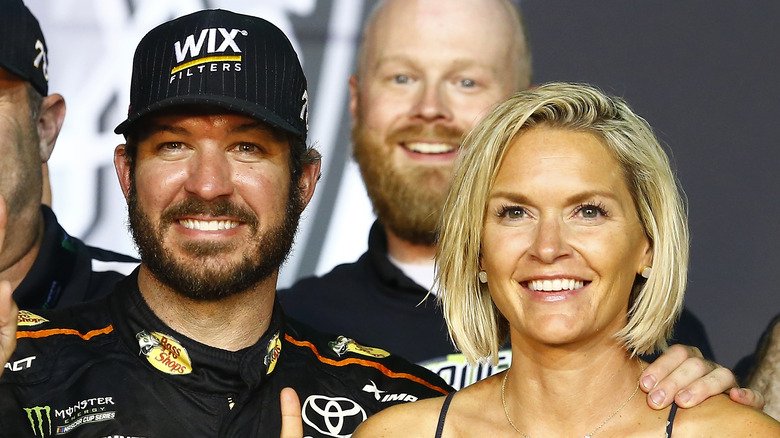 Shutterstock
At the NASCAR site, viewers can check out a gallery of photos featuring Martin Truex, Jr. with girlfriend Sherry Pollex by his side at various events, both on the race track and off. "There really wasn't anything that I loved more in life outside of philanthropy than fashion," the boutique owner said, via Southern Living. It was her love for fashion that spawned her Catwalk for a Cause fundraiser, an event she started years before her cancer diagnosis. She got the idea because she wanted to raise money for cancer awareness, but wanted to pursue avenues besides the usual golf or poker tournaments. From there, the organization invited children who were undergoing cancer treatment to walk in the show.
"So, people could actually see where their money is going. This is who you're donating to. You're directly affecting our community, and these children, and their lives," she said, with the idea to "engage the whole NASCAR community" and even beyond it. 
Since the start of her relationship with Truex many years ago, Pollex has teamed up with the NASCAR driver and created the Martin Truex, Jr. Foundation to raise awareness for pediatric and ovarian cancers, and also opened the Sherry Strong Integrative Medicine Oncology Clinic in North Carolina, as NBC Sports reported. The clinic is "a holistic center that addresses the physical, emotional, spiritual, and environmental needs of cancer patients to promote health and wellness," per SpeedSport.