How Erin Napier Is Trying To Normalize Baby Formula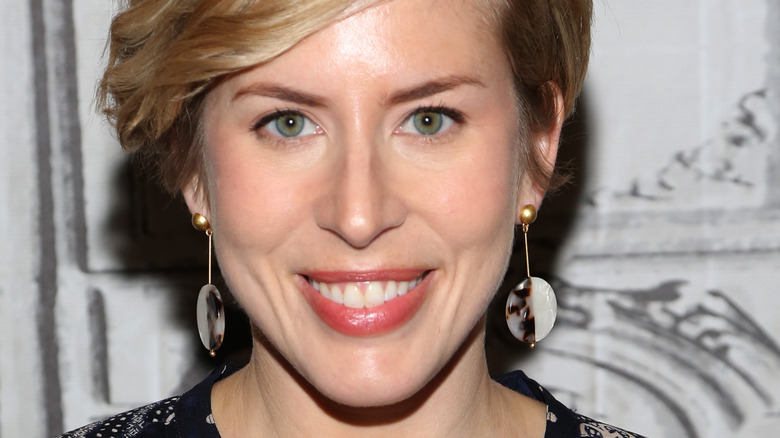 Manny Carabel/Getty Images
HGTV stars Erin and Ben Napier announced late last month that they had welcomed a second child, Mae. The new parents of two told People at the time, "While we are excited to have another daughter to love, we are more excited to see the bond she and Helen will have. They're already so in love with each other!"
Now, in an Instagram post, Erin is sharing words of encouragement for moms like her who are unable to breastfeed, or choose to use baby formula instead. "Don't let anyone make you feel less than or belittled because of it," she wrote in the honest post, which adorably shows her giving baby Mae a bottle (via People).
The "Home Town" star then shares more about her positive experience with formula, writing, "Helen was a formula baby and has no allergies, has always been a healthy weight, no big sicknesses, slept through the night by 6 weeks, smart as a whip, and is just as in love with and attached to her mama as her breastfed friends are to theirs."
Erin Napier's followers overwhelmingly support her post
Napier's post ends with the reality star writing, "Formula is our friend at this house! Just watch as these little matchstick legs get chunky and strong." From there, the designer's followers were quick to support her in the comments section.
"As a lactation consultant I support ALL moms and help with whatever feeding method works best! Moms are all wonderful!!" one fan wrote. "We can only do what we can do and we should support and another," someone else wrote in part. Yet another supporter said, "Good for you... there should never be shame for women who can't or choose not to breast feed."
And as another follower noted about Napier's husband, when it comes to formula feeding, "It also gives Ben an opportunity to bond."
It's worth noting Napier is not the first celebrity mama to open up about her decision to formula feed, with Jana Kramer, Beyoncé, and Jennifer Lopez sharing this option worked best for them as well (via Baby Gaga).
Meanwhile, this is not the first time Napier has opened up about her parenting journey, sharing a "weird" selfie of her 32-weeks-pregnant barely-there bump a few months before Mae was born.