Here Are Serena Williams' Beauty Must-Haves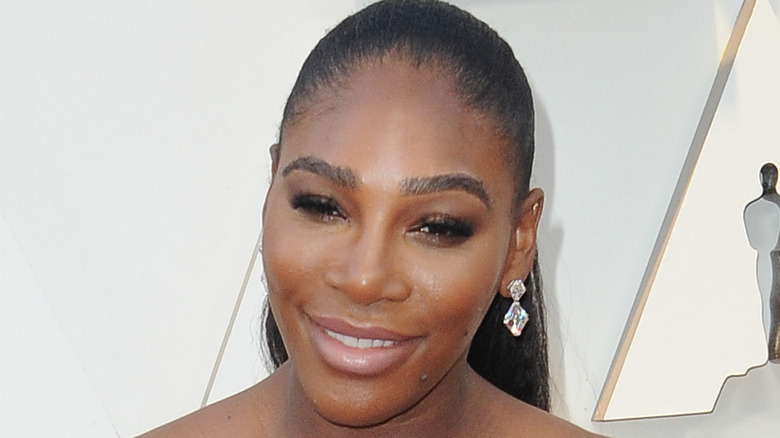 Shutterstock
Serena Williams has been wowing tennis fans and the world with her athletic abilities on the court and glamour off the court for more than two decades. Ever since she won her first major tennis championship at the young age of 18 in 1999 (via Biography), Serena and her older sister, Venus Williams, have been mesmerizing spectators with their strength and their beauty.
Serena — who has a stunning net worth — has also taken her tennis fame and turned it into a lucrative career as a fashion entrepreneur. She's helmed several clothing lines over the years and, in 2018, launched yet another one, simply named "Serena" (via Women's Wear Daily). With that fashion love also comes a passion for beauty and all the products that go with it. Like so many, Serena — who's had a stunning transformation — has a love for cosmetics, and she has a skincare routine down to achieve her fabulous looks day in and day out. And, of course, there are beauty items she just can't do without.
Serena Williams swears by these beauty products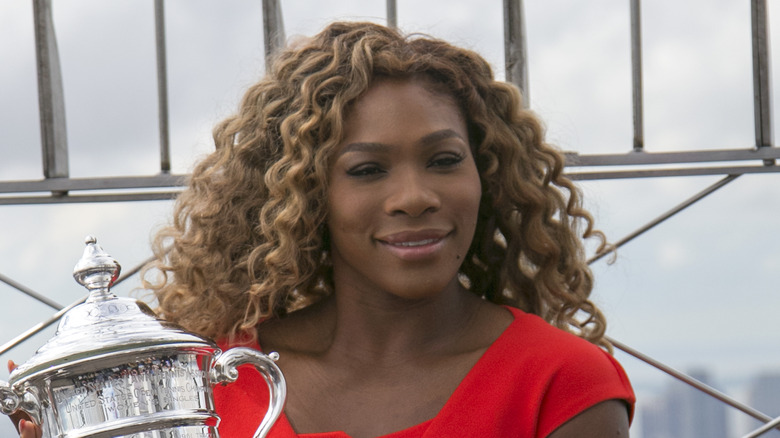 Shutterstock
As a stellar athlete, an entrepreneur, and a mom, Serena Williams admitted self care can be hard, but with the right beauty products, she managed to get it right. For those red carpet celebrity looks, Williams swears by the NARS concealer, as well as eyebrow and lip products from Anastasia Beverly Hills and Huda Beauty. The tennis player also loves cosmetics from Bobbi Brown and MAC (via Into The Gloss).
For everyday wear, Williams goes for a more natural look. "I have this whole natural vibe. Just a little concealer, just a little brow, just a little contour, just a little lip. Natural. That's it. And obviously mascara," she told Into The Gloss. "I don't do foundation — I just use concealer and blend it, which keeps it kind of natural but still fabulous."
Williams also makes sure to care for her skin when not wearing any makeup at all. Her skincare routine involves cleansers, toners, sheet masks, moisturizer, and eye cream. Next comes her gorgeous hair, which Williams said she takes good care of using either coconut oil or argan oil.
"I'm such a beauty junkie — it's pathetic, actually. Honestly, I love going to Sephora — I could spend hours in there. I think every girl can, though," she said.