The One Beauty Product Laura Dern Can't Live Without
Shutterstock
Laura Dern has been a fixture of the Hollywood scene for decades. Since her breakthrough performance in David Lynch's "Blue Velvet," the 54-year-old actress has transformed in front of our eyes. She has graced the covers of dozens of magazines, walked the most exclusive red carpets, and received the highest honors in film and television in front of millions of people. To look her absolute best in these situations, Dern prioritizes her skincare routine. She told Into The Gloss, "My skin has always been extremely sensitive — very reactive to the sun, to products. My face goes through a lot between having to wear a lot of makeup and traveling, so I know when something is consistently helping my skin or consistently hurting it."
Luckily, while working on the set of the hit HBO series "Big Little Lies," the Academy Award-winner discovered a brand that worked wonders for her skin (via Fashionista). While shooting Season 2, a makeup artist introduced Dern — who has a stunning net worth — to the True Botanicals Pure Radiance Oil. After three months of using the product, she noticed it transformed her skin and has used it ever since.
Laura Dern's go-to skincare product has a ton of benefits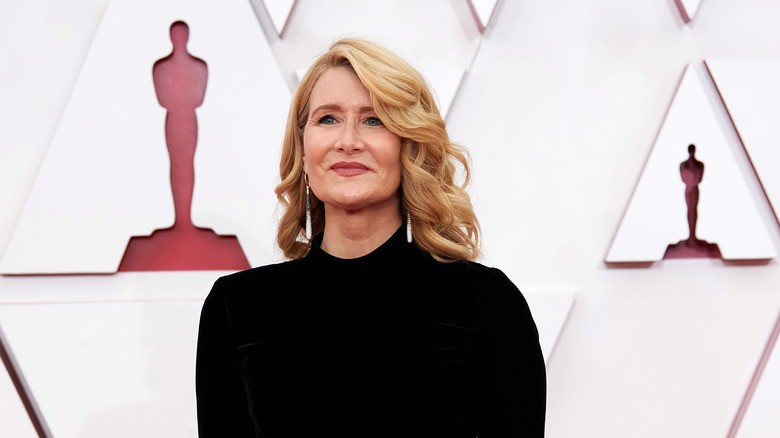 Handout/Getty Images
Laura Dern spoke about the magic of the True Botanicals Pure Radiance Oil while preparing for the 93rd Academy Awards (via Yahoo). Dern shared a clip of her makeup artist applying the oil to her face. She said on the brand's Instagram, "I love Pure Radiance Oil for what it does to my skin. Smoothing, balancing, firming. I'm seeing how much better my skin is, how much prettier makeup lays on it."
A full-sized bottle of the product costs $110 on the company's website. The best-selling oil promises to reduce the appearance of fine lines and wrinkles, as well as increase hydration levels. True Botanicals recommends the product for people with dry skin or combination skin. The elixir is made of a blend of 14 seed oils and Omega 3- powerhouses. It's also hypoallergenic and non-comedogenic. The brand suggests users apply three to eight drops of the product to moist skin. For morning use, you should follow the product with sunscreen, and for nighttime application you should use the Renew Repair Nightly Treatment.