The Real Reason Prince Harry's HRH Title Is Being Erased From This Event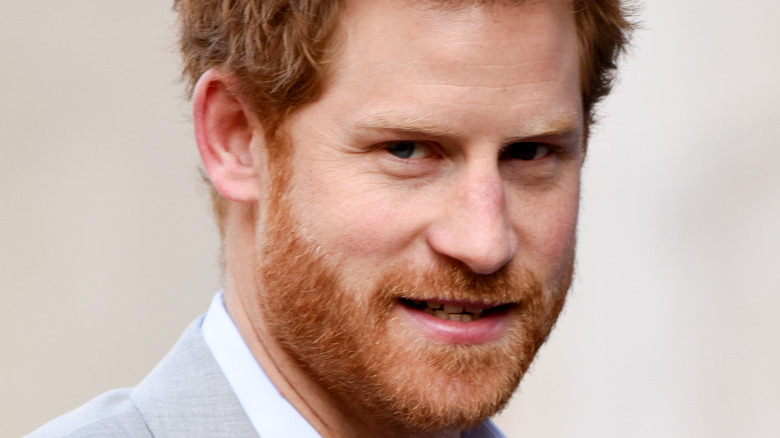 Shutterstock
The Duke of Sussex is now facing the consequences of his break with the royal family. According to The Guardian, Prince Harry's royal title will be removed from the Princess Diana Wedding Dress Exhibition at Kensington Palace. The Diana exhibit featured placards that read "Lent by HRH [his royal highness] the Duke of Cambridge and HRH the Duke of Sussex." However, the placards will be changed to remove the HRH before Harry's title. According to the Sunday Times, the incorrect wording was included due to an "administrative error" and is set to be corrected immediately (via Express).
This decision comes as a shock to some, as the historic arrangement made at the Sandringham "summit" (via USA Today) agreed to allow the Duke and Duchess of Sussex to keep their HRH titles but forgo using the word "royal" in any activities, commercial ventures, etc. "The Duke and Duchess of Sussex will retain their 'HRH' prefix, thereby formally remaining known as His Royal Highness The Duke of Sussex and Her Royal Highness The Duchess of Sussex," reads the couple's website. "The Duke and Duchess of Sussex will no longer actively use their HRH titles as they will no longer be working members of the family as of Spring 2020." Like mother, like son? In the '90s, Princess Diana was stripped of her royal title after her divorce from Prince Charles (via The Baltimore Sun). This decision was reportedly made by Prince Charles. According to Reader's Digest, Queen Elizabeth voted for Princess Diana to keep her HRH title following the divorce.
This is the first time Princess Diana's wedding gown has been displayed in 25 years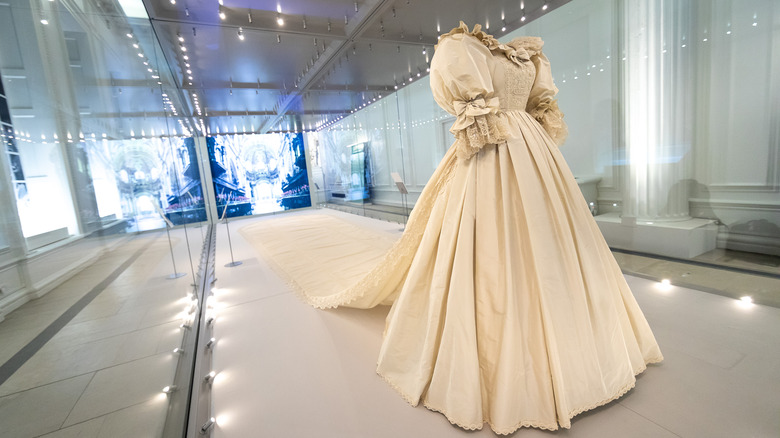 Tim P. Whitby/Getty Images
The temporary exhibit, titled "Royal Style in the Making," opened on June 3, 2021, and will continue through the new year (via Express). The exhibit aims to give viewers an inside look at what it's like to design an outfit for royalty, from start to finish. According to Insider, this is the first time Princess Diana's wedding gown, designed by David and Elizabeth Emanuel, has been displayed in 25 years. In addition to Princess Diana's iconic dress, which has a record-breaking 25-foot train, the exhibit also includes the pink suit she wore as she departed on her honeymoon (via The Guardian).
What makes the controversy over official titles all the more confusing is that Prince Harry and his brother, Prince William, loaned these pieces to the exhibit. Even so, the royal family found it imperative to let it be known that Prince Harry is now sans HRH in his official title. It seems royal life is quite the soap opera.