The Real Reason Trump's Reinstatement Claim Is So Wrong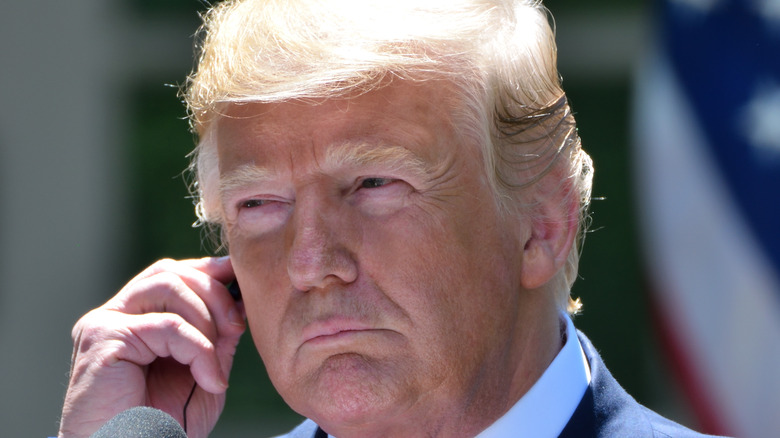 Shutterstock
Depending on where you look, the Internet can be a source of credible, up-to-date information, but what was once referred to as the 'information superhighway" can also be a place where rumors, conspiracies, and disinformation abound. 
In the last week, the Internet has been full of talk that the Supreme Court was preparing to "reinstate" Donald Trump as President of the United States, and that this would happen in August, before the Labor Day weekend. It's not clear just who started the rumor, but Business Insider names the first person to spread it — and have it gain traction — as MyPillow CEO Mike Lindell who first made a name for himself selling direct marketing pillows, but has since been known as Donald Trump's greatest supporter (via Associated Press).
While Lindell and other Trump supporters can continue to invoke reinstatement as an option, Trump himself is reportedly aware that this is not going to happen, at least according to Corey Lewandowski, Trump's first campaign manager.
There's 'no provision under the constitution' where Trump can be reinstated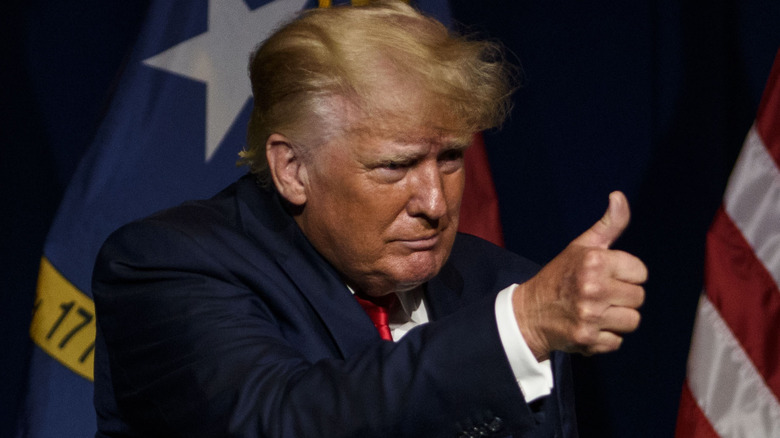 Melissa Sue Gerrits/Getty Images
Corey Lewandowski, who is still close to the former president, tells Fox News that he and Donald Trump are in regular contact. He says he has spoken to the former president "dozens, if not more than 100 times since he has left the White House and I have never had that conversation about him being reinstated." Lewandowski added, "I know of no provision under the constitution that allows it to occur, nor do I know of any provision under the constitution that allows an individual who lost an election to come back in if a recount is dubbed inaccurate" (via The Guardian).
The Associated Press stresses that there is "no constitutional or legal mechanism" to restore Trump to the presidency unless and until he wins the next presidential election in 2024. 
As Florida Senator Rick Scott, who is also the chairman of the National Republican Senatorial Committee put it, "Joe Biden is the duly elected president of the United States. We follow the Constitution in this country. Joe Biden is the president of the United States. We went through the electoral votes, we went through that whole process, and Joe Biden is the president."
Recent events are worrying election experts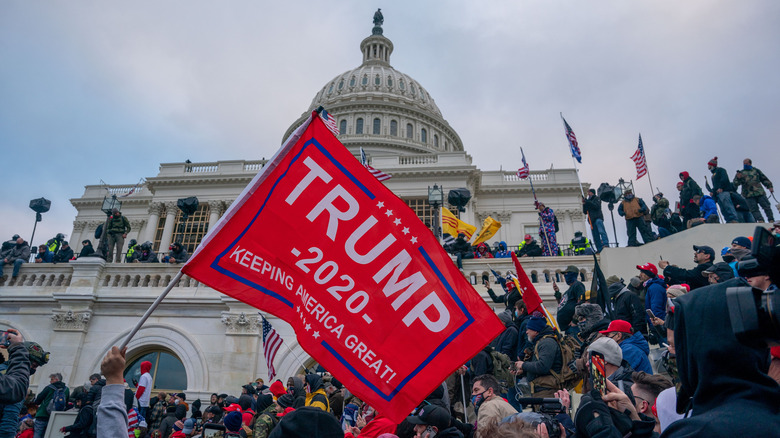 Shutterstock
Some election experts say they are more worried today than they were before Donald Trump left office in January, when Trump supporters stormed the U.S. Capitol to try and disrupt the Electoral College vote count. One such expert is Edward Foley, who teaches law at The Ohio State University. "I'm more concerned about this now than I was on January 7. It seems that, over the months, the lesson has not been 'never again,' but how to be more effective next time," he told The Associated Press (via The Birmingham News).
Author and Harvard political scientist Steven Levitsky also took aim at the GOP, saying, "We have to face the facts that Republicans — obviously with exceptions — have become an authoritarian party. It's impossible to sustain a democracy in a two-party system when one of the parties is not willing to play by the rules of the game" (via The Birmingham News).
But there are those within the GOP, like Kentucky's former secretary of state Trey Grayson who say these fears are overblown, saying, "Both sides are really amping up their rhetoric to amp up their bases, [but] there's clearly a lot more bad stuff going on my side now."
And while Republican officials at the local and state levels have demonstrated they are still willing to do the right thing, election law expert Rick Hasen warns, "There are a lot of warning signs. It is a very dangerous moment for democracy."