What Does Carrie Underwood And NEEDTOBREATHE's I Wanna Remember Mean?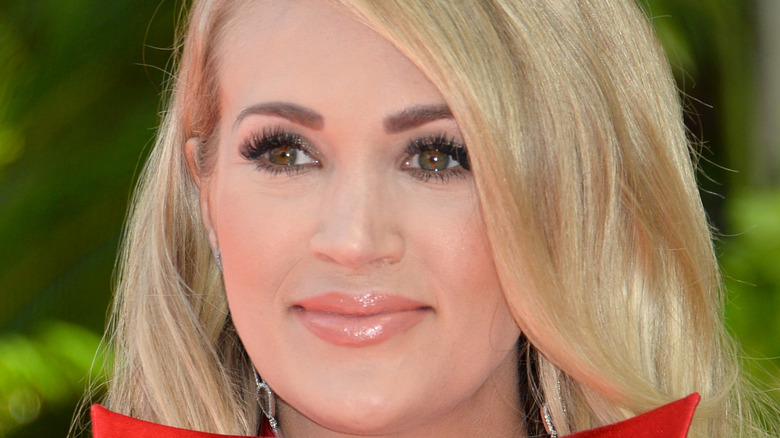 Shutterstock
Carrie Underwood recently posted some behind-the-scenes footage on Instagram of her recording her latest single, "I Wanna Remember," with her "friends from NEEDTOBREATHE." The country singer and American Christian rock band are set to perform the song at this year's 2021 CMT Music Awards, according to The Christian Beat. They are among other artists and nominees like Kelsea Ballerini, Lady A, and Luke Bryan who will be taking the stage on June 9, 2021 to spotlight some of the biggest artists of today with country music's next generation. 
The first time Underwood and NEEDTOBREATHE actually performed "I Wanna Remember" together was for the music video, according to CMT. NEEDTOBREATHE said that they "were equal parts excited and nervous" to be performing with the country music superstar, and even admitted Underwood was "the ultimate pro and made the video shoot easy and super fun." "I Wanna Remember" is actually from NEEDTOBREATHE's upcoming album, "Into The Mystery," set to release on July 30 (via YouTube).
'I Wanna Remember' is a nostalgia-filled song for those moments you want to cherish
While NEEDTOBREATHE's "I Wanna Remember" may seem like a romantic song, the rock band has said that it's more of "a soundtrack to some epic life moments for people in all walks of life" (via Talent Recap). It's a nostalgia-filled song, according to The Christian Beat, that will have you reminiscing. NEEDTOBREATHE even asked Underwood to be a part of the song, because they "felt like her small town roots and humble beginnings were the perfect addition to this song." 
With lyrics like "You wanna do something to remember" and "I take a picture in my mind so we're always together," the song describes a moment that's so special, you want to remember it forever (via Genius). Even Rolling Stone points out that NEEDTOBREATHE's singer, Bear Rhineheart, sings about trying to remember specific details like "the moonlight on fire and the clothes we're in." This is song is the perfect summer anthem when you're making tons of memories you "wanna remember."