Here's The One Thing Meghan And Harry Asked For After Lilibet Diana's Birth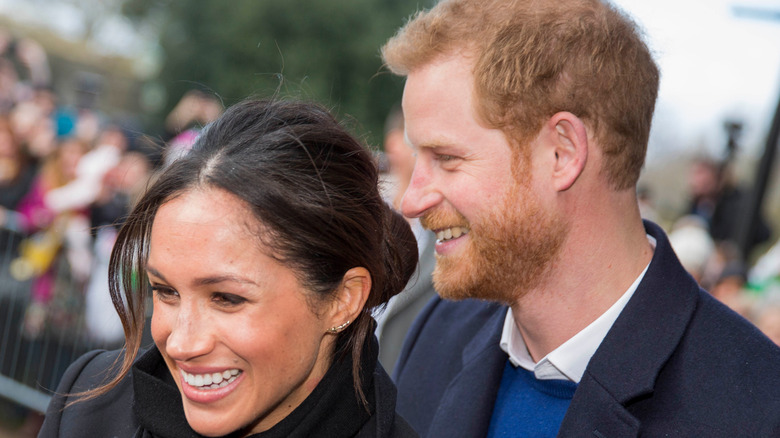 Shutterstock
Prince Harry and Meghan Markle are celebrating the arrival of their new baby girl, Lilibet Diana, and they are asking fans to mark the occasion with them, not by sending presents but by doing something far more impactful.
In the release announcing the birth of Lilibet Diana, the couple informed the public that their daughter came into the world on Friday, June 4. Harry and Meghan also went out of their way to thank followers for their "continued kindness and support during this very special time for our family." Notably, Buckingham Palace was one of the first entities to celebrate the birth of Lilibet Diana via tweet, indicating that "The Queen, The Prince of Wales and The Duchess of Cornwall and The Duke and Duchess of Cambridge are delighted with the news." Princess Eugenie, with whom Harry stayed while in the U.K. this past April, publicized her congrats via an Instagram story. "We couldn't be happier for you all," Harry's cousin wrote.
We're not sure how neighbor and friend, Oprah, marked the occasion. If it's any indication, when Lilibet's big brother was born, she gave baby Archie a library of books (via Good Morning America). Meanwhile, according to an insider who spoke to US Weekly, the Duke and Duchess of Cambridge are rumored to have sent a gift to their new niece. It's not clear when the entire royal family is expected to meet (and dote on) baby Lili in person, although both Meghan and Harry are expected to attend Queen Elizabeth's Platinum Jubilee next summer (via Observer).
Harry and Meghan don't want the public to send baby Lili presents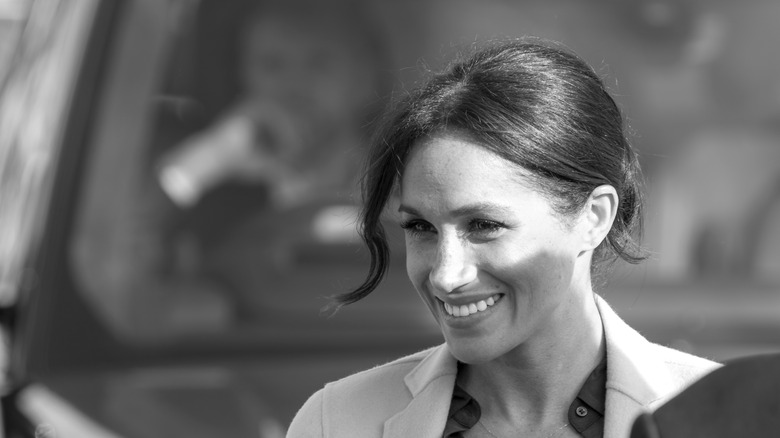 Shutterstock
As for those who want to send more than just their well-wishes? The Duke and Duchess of Sussex have guidance for them on their Archwell Foundation website, too. "For those inquiring on sending gifts, we would ask that you support or learn more about these organizations working for women and girls: Girls Inc., Harvest Home, CAMFED or Myna Mahila Foundation."
The organizations named in the couple's request all work towards improving the lives of women across the world. Through education and opportunity, they raise funds for women experiencing homelessness, or lack access to opportunities. Notably, these are all causes that Meghan championed during her pregnancy with Lilibet Diana. In a videotaped appearance for the "Global Citizen's VAX Live: Concert" in May, Meghan told her audience that, "When we think of [Baby Lili], we think of all the young women and girls around the globe who must be given the ability and the support to lead us forward" (via People). Meghan added that "Their future leadership depends on the decisions we make and the actions we take now to set them up, and set all of us up, for a successful, equitable, compassionate tomorrow."
The Duchess of Sussex's dedication to women's rights issues predates her second pregnancy, of course. She spent much of her time as a working royal to — as Markle herself once put it — "shine a light on women feeling empowered" (via The Guardian).
Harry and Meghan made a similar request on Archie's second birthday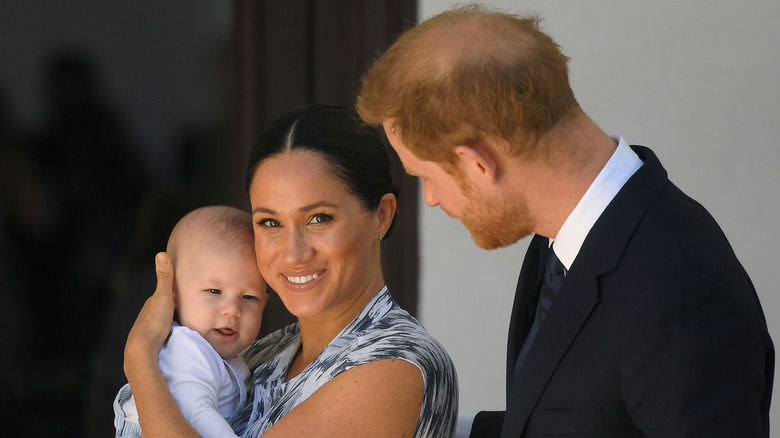 Pool/Getty Images
Even if Lilibet Diana were to receive presents, royal protocol around unsolicited gift-giving is complicated, at best. Buckingham palace stipulates that "no gifts, including hospitality or services, should be accepted which would, or might appear to, place the Member of The Royal Family under any obligation to the donor." And, perhaps because of this, it's not the first time the couple has asked supporters to donate to causes important to them to mark a special occasion. When Prince Harry and Meghan Markle's son Archie turned two in May 2021, they sent a shoutout to fans asking them to donate to the global vaccine effort against COVID-19. Cosmopolitan quoted a source close to the couple as saying, "They want Archie to grow up understanding the importance of giving back. Harry and Meghan feel so blessed to have such an articulate and caring child."
Before becoming a royal, Meghan marked memorable occasions in a different way. In 2015, after Meghan's show "Suits" had been renewed for Season 3, she picked up the Cartier French Tank Watch. "I totally splurged and bought the two-tone version. I had it engraved on the back, 'To M.M. From M.M.' and I plan to give it to my daughter one day. That's what makes pieces special, the connection you have to them," she told Hello!. Since Harry also has his mother's Cartier Tank watch (via Vanity Fair), it appears Lilibet Diana is set to become the proud owner of two pricey watches.