How To Style Curly Bangs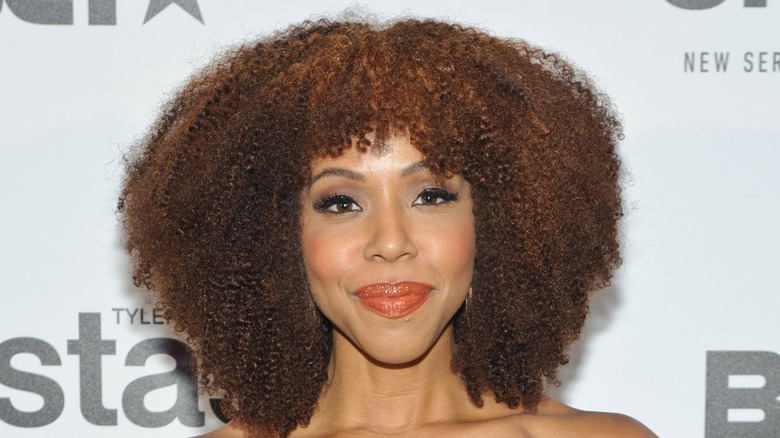 Timothy Hiatt/Getty Images
Nothing quite says "wow" like curly bangs — they look effortless and unique. They frame the face more softly than blunt bangs, but give your hair more shape than curtain bangs. Even if your hair is more on the wavy end than the curly end, the movement created by your hair texture ends up making your style look chic and flirty.
There's just one catch — curly bangs can quickly turn into messy bangs. As explained by stylist Ryan Trygstad in Byrdie, "It's all about using your styling products while your hair is quite damp." The idea is to shape your curls while they're wet, instead of curling them with a hot iron or blowing them dry. This will give you the most control over each individual curl, reducing frizz, and keeping your hair healthy. However, learning how to style your bangs when wet can take some getting used to. Too much product can cause oily hair and inflamed skin on your forehead, while not enough can lead to poofy frizz. Learning the right styling techniques will help you shape your hair exactly the way you want.
How to shape and style your bangs when wet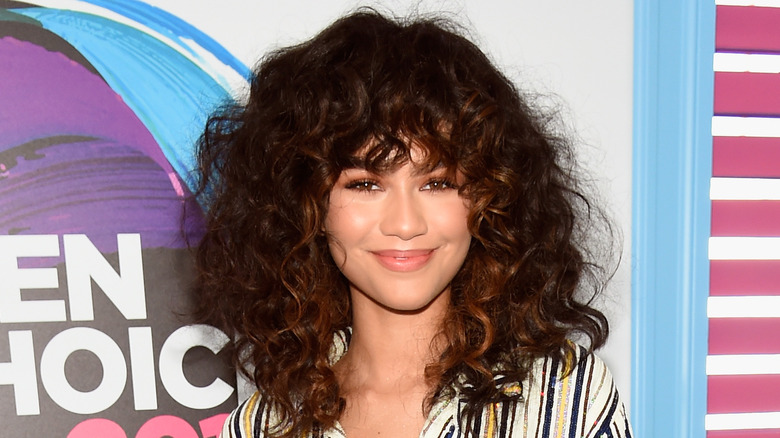 Kevin Mazur/Getty Images
Before you style your curly bangs, it's important to see a stylist who can properly trim and shape them. It's difficult to tell just how long your bangs need to be when wet, because they will shrink when dry. For this reason, many stylists prefer to trim curly bangs once they have been styled and dried, per Allure. Mane Addicts noted that if you're unsure of how short you want your bangs to be trimmed, start off long. You can always go shorter later.
Once your bangs are at the right length, you can begin styling. YouTuber Kelly Shahbazian, of Joy Before Her, likes to clip up her bangs while she styles the rest of her hair. When she's ready, she unclips her bangs, wets them down with a sprayer, and applies a leave-in cream and then a gel. She then uses a brush to evenly distribute the products through her strands. 
From there, Kelly begins to individually finger-coil each curl in her bangs, twisting and spiraling the strands with her fingers. This ensures that her bangs will have perfect, spiralized curls when dry. Depending on your curl pattern and texture, you might prefer to simply scrunch your curls upward and then use a heat diffuser to dry. Playing with multiple wet-styling techniques will help you find the best method for your hair so you can wear your fringe with confidence.